Last week, Microsoft started rolling out the modern Photos app on Windows. While the modern Photos app has several new editing tools, it removes the built-in "Video Editor" and replaces it with a web-based Clipchamp.
If you try to access the old video editing app built into the old Photos app, you'll see a new pop-up confirming that "Microsoft Video Editor is no longer available in the Photos app".
In a new pop-up message, which shows up when trying to access "Video Editor", Microsoft tells us, "Microsoft Video Editor is no longer available in the Photos app. Your previous video projects can be accessed by downloading the Photos Legacy app in Settings. For new videos, unleash your creativity with Clipchamp."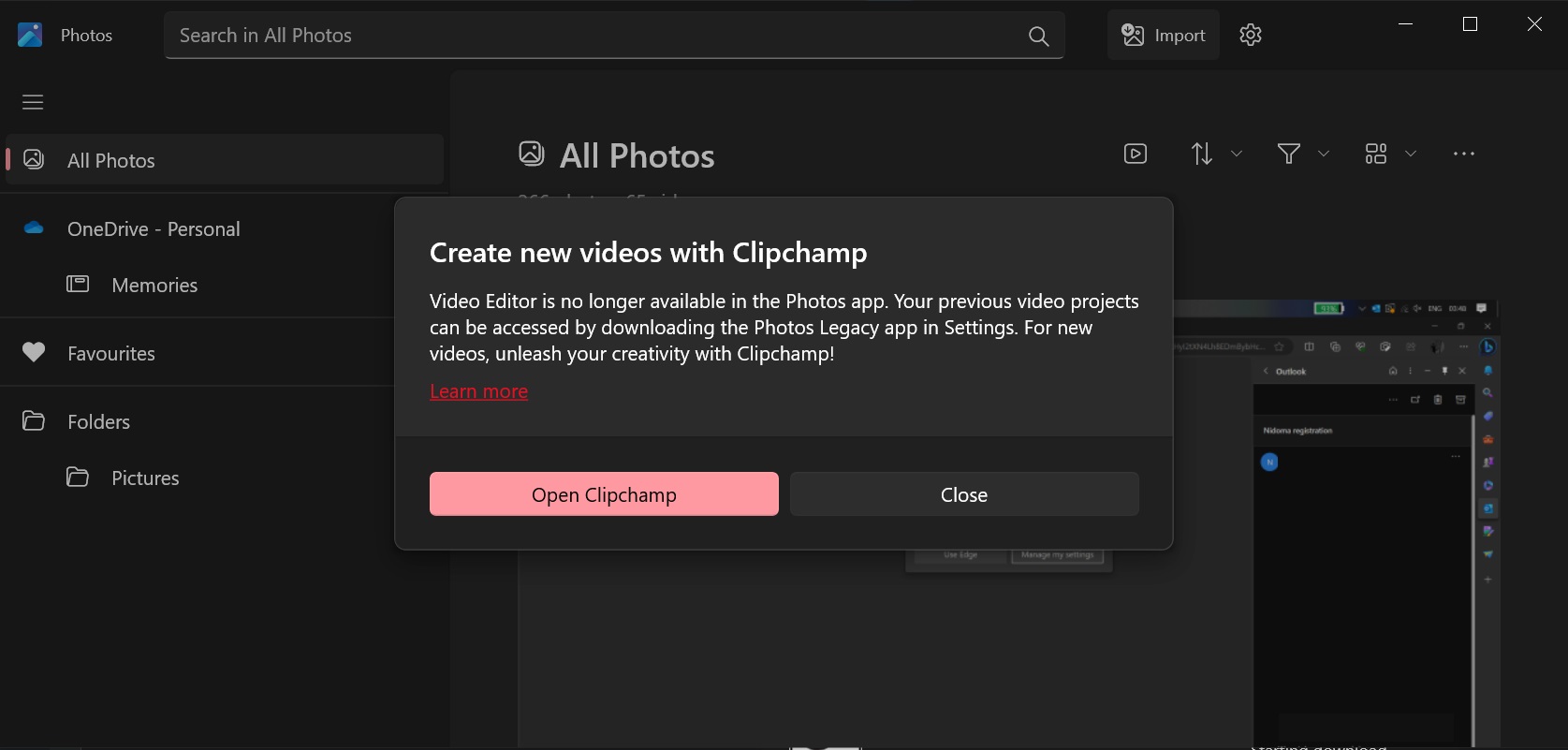 While it's possible to download the Photos Legacy app from the Microsoft Store and bring back the original Video Editor, it's fair to assume the days of the old Video Editor or Photos app are numbered, and you'll have to migrate to the newer versions at one point.
It's also worth noting the "Photos Legacy" is an old version of the Photos app built for Windows 11, and it's not the original Windows 10 Photos app. Installing the original or Windows 10's Photos app is no longer possible, which offered features like a "Clarity" slider and more.
Here is what's going on:
Microsoft has discontinued and replaced Windows 10's Photos app with Windows 11's modern Photos app.
In 2021, Windows 11 shipped with a new Photos app (now called Photos Legacy), but a modern version of the Photos later replaced this.
Photos Legacy and new/modern Photos apps do not support some Windows 10 Photos app features like the "Clarity" slider and Spot fix.
Modern Photos app does not ship with the original/old video editor; instead, you must use Clipchamp. If you want to use the original editing functionality, download Photos Legacy.
Clipchamp replaces the original video editing experience
Microsoft wants everyone to use web-based Clipchamp instead of the old Video Editor. This move shouldn't come as a surprise, as the company warned of the upcoming changes via a notification on Windows 10, as shown in the below screenshot.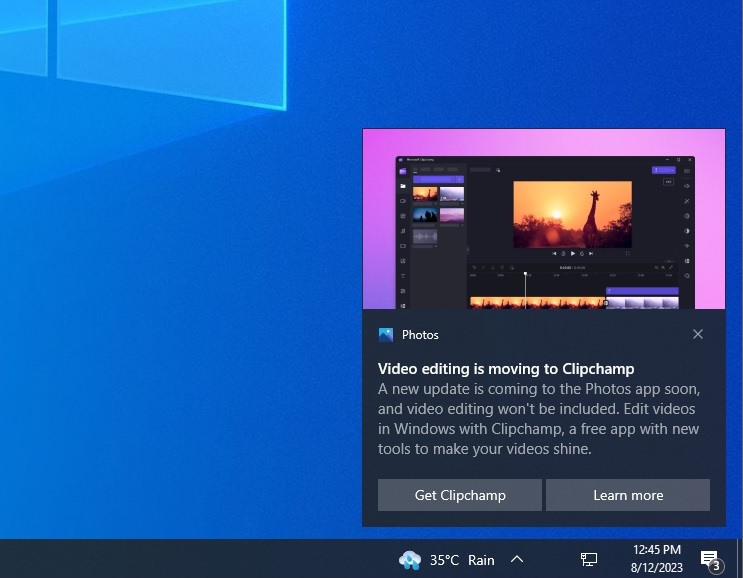 In a statement to Windows Latest, a Microsoft engineer also confirmed the roll-out of the new Photos app, replacing the Video Editor with Clipchamp: Video editing is not included in this update, but users can edit videos with Clipchamp—a free, powerful, user-friendly app with tools and effects to make their videos shine.
Clipchamp, a web-based app that runs inside the Microsoft Edge WebView container, may remind you of the days of Microsoft's Movie Maker tool. Movie Maker no longer exists, but Microsoft is pitching Clipchamp to replace all your video editing needs.
Unlike Windows 10's Video Editor, Clipchamp has several advanced editing features; anyone can create professional-looking videos. While Clipchamp simplifies editing videos, the retired Windows Video Editor has a separate fan base.
Some people preferred Windows 10's Video Editor for simplicity and because it encoded videos in much smaller sizes than Clipchamp. While it's still possible to use the retired Video Editor by downloading Microsoft Photos Legacy, the company will likely remove the Video Editor in future.
In a post on Feedback Hub, users argued and questioned Microsoft: "Why is the Clipchamp exported video 5 times the size of the photo "legacy" video editor?".
"I created a video using the same pictures, text and mp4 with Windows "photo legacy editor" and Clipchamp. The resulting exported files were 1GB for "photo editor" and 5GB for Clipchamp. WHY is the file size so different? They are both 1080 HD MP4s. When I upload to YouTube, the "photo editor" version uploads in less the 25 minute due to size while the "same video" created by Clipchamp, being five times larger, take over an hour! I much prefer "photo editor" and I was so frustrated that I had to download "photo video editor" as the "legacy" version," one user noted.
The new Photos app removes Video Editor from Windows 10/11 and is rolling out to the general public on all supported operating system versions. You don't have to sign up for the Windows Insider program; the update is available for everyone.