Surface Laptop Studio is set to launch later this year and boost significant hardware upgrades, according to benchmarks and documents seen by Windows Latest. The Surface Laptop Studio 2 is on the cards for the 2023 release, and it may ship with Nvidia's GeForce RTX 4060.
Benchmarks for the Surface Laptop Studio 2 on Geekbench, a popular benchmarking portal, have confirmed the device's specs. Microsoft may skip Surface Laptop Studio 2 with AMD hardware this year, as we do not see a reference to the AMD SKU in benchmarks or internal documents.
Microsoft is testing the device with 11th-Gen Intel Core i7-11370H and 64GB of RAM, which provide a massive jump in overall hardware specs. One model may feature Intel's powerful Core i7 13800H (13th gen) with GeForce RTX 4060, 64GB of RAM and up to 2TB of SSD storage.
Similarly, Microsoft may use 13th-Gen Core i7-13700H in the lower-end models.
Based on the benchmarks and references, we believe this could be the possible lineup of Surface Laptop Studio 2, but it's always subject to change:
Intel Core i5, 16GB RAM, 256GB storage.
Intel Core i5, 16GB RAM, 512GB storage.
Intel Core i7, 16GB RAM, 512GB storage.
Intel Core i7, 32GB RAM, 1TB storage.
Intel Core i7, 32GB RAM, 2TB storage.
Intel Core i7, 64GB RAM, 2TB storage.
Of course, these models will also feature Intel Iris Xe graphics, included in the 13th-gen lineup.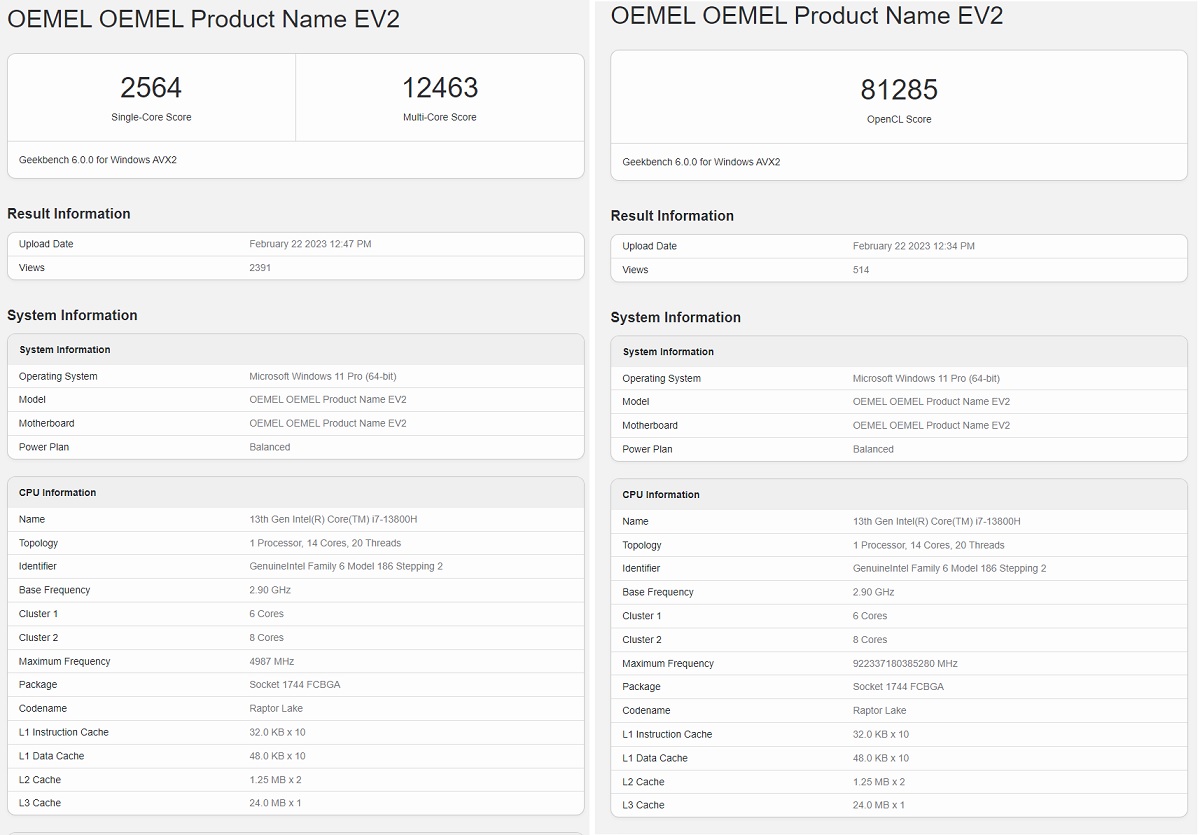 The benchmark of the high-end model confirmed a single-core score of 2,564 and a multi-core score of 12,463. The multi-core score is almost twice of the original Surface Laptop Studio, which has a multi-core score of around 6,000 and a single-core score of about 2,000.
Significant changes to the device's design won't exist as this update focuses on performance and configurations.
Microsoft won't launch the Surface Duo 2 successor in 2023
While Surface Laptop Studio is getting its successor in 2023, Microsoft has no plans to update the popular Surface Duo lineup.
Microsoft has given up on the 'dual-screen' approach and plans to use a traditional foldable screen seen on Samsung, Honor, Xiaomi and other phones. The next Surface Android device will likely feature an internal foldable screen with an external cover display, all put together by a 180-degree hinge.
And yes, Microsoft has cancelled the Surface Duo 3.
Microsoft is exploring new Android hardware options. There are prototypes of traditional smartphones running Android and Microsoft's Android experience. However, plans are subject to change, and Microsoft may not launch its phone anytime soon.
Microsoft is also working on deeper Android and Windows integration to differentiate its Android offering from other OEMs like Xiaomi and Samsung.
Update: This article has been refreshed with new details.