Microsoft's engineers use a secret feature called "StagingTool", a command-line tool that unlocks hidden features in Windows 11 and allows them to send feedback to the program managers.
In a recent now-deleted post on Feedback Hub discussing a new setting feature in Windows 11, Microsoft accidentally unveiled details about a hidden app called "StagingTool." This command-line tool, primarily used by Microsoft's engineers, can unlock hidden features within the operating system.
The company leaked details of the app in a post titled "Sign in without a password when my device powers on". As the name suggests, the post discussed a feature that allows users to access their system immediately upon power-up without the need to enter a password, and it has been developed for users in China.
While the focus of the Feedback Hub post was the new "Sign in without a password" feature, Microsoft's mention of "StagingTool" has caught our attention.
Meet StagingTool, Microsoft's secret app to test Windows 11 features
In explaining the steps to enable the new settings feature, Microsoft revealed how features could be activated using the StagingTool. These steps were meant for Microsoft's internal testers, but the company accidentally published them on a public platform and deleted the post later.
StagingTool is designed for use by Microsoft's developers and engineers, not for general consumers. Using it requires you to be familiar with command-line tools and testing environments, as it could potentially brick your device if you accidentally turn on some features.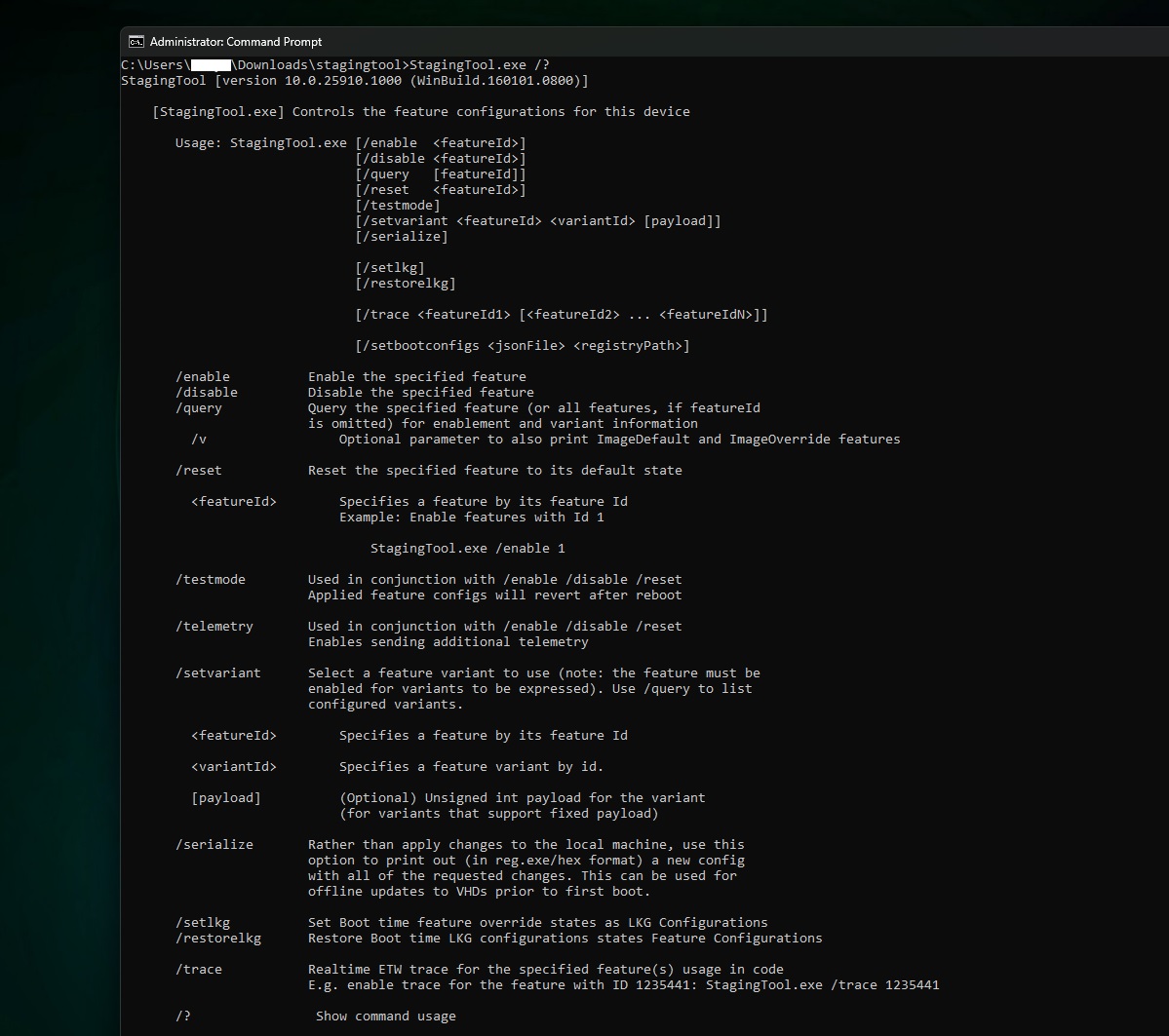 Microsoft's leaked instructions for StagingTool revealed its use for enabling two features: 'Autologin after Restart' and 'Moment_Feature_Sept23'.
How to use StagingTool
To enable these features, Microsoft says you will need to install StagingTool from Microsoft's internal site. Once you have the StagingTool, you can enable the features by running specific commands in the terminal.
The StagingTool uses various commands to play with features, including enabling or disabling them, querying them for information, and resetting them to their default state.
Each command is executed by adding their keyword after "StagingTool.exe" in the terminal line. For instance, to enable a feature, you would type "StagingTool.exe /enable <featureId>" where <featureId> represents the ID of the feature you wish to enable.
Other available commands include '/disable' to turn off a specific feature, '/query' to request information about a feature, '/reset' to restore a feature to its default state, and '/setvariant' to select a feature variant to use.
Some commands, like '/testmode', '/telemetry', and '/trace', have special uses, such as sending additional telemetry or providing a real-time trace for the feature's usage in code.
The tool also provides commands for managing Boot time feature override states, restoring them, and even making offline updates to Virtual Hard Drives (VHDs) before first boot using '/serialize'.
While all this might seem complex to average users, for tech enthusiasts and developers comfortable working with command-line tools, StagingTool provides a handy way to dig into and manage hidden Windows 11 features.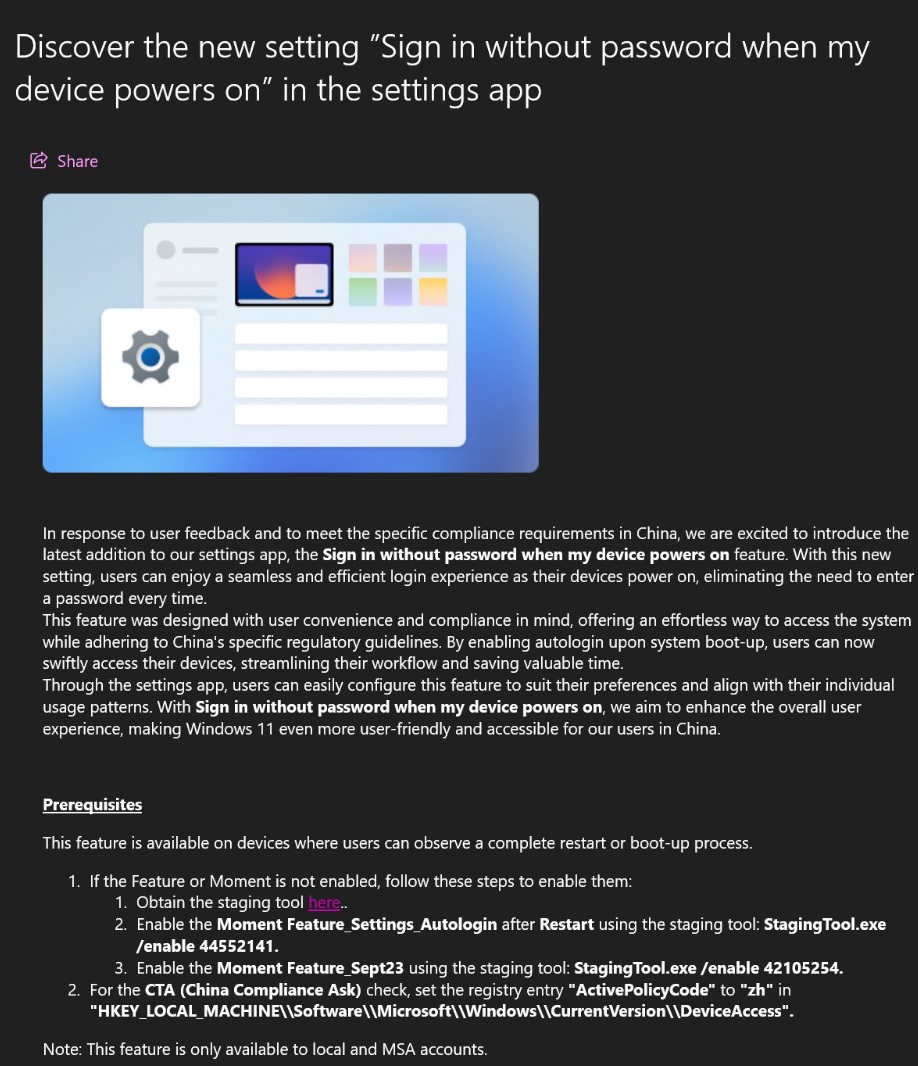 In this case, the commands are StagingTool.exe /enable 44552141 and StagingTool.exe /enable 42105254 for enabling 'Autologin after Restart' and 'Sept23' features.
Here, StagingTool.exe is the executable file of the StagingTool, /enable is the operation that the StagingTool should perform, and 44552141 and 42105254 are the identifiers (Feature IDs) for the features that should be enabled.
Finally, the 'Autologin after Restart' feature is noted to be specifically designed for compliance with Chinese regulations and is only available for local and Microsoft Account (MSA) users.
This feature allows users to log in without entering a password when their device starts up, which can be particularly helpful for streamlining workflows and saving time. The registry entry "ActivePolicyCode" should be set to "zh" to activate this China Compliance Ask.
The leak also confirmed Microsoft uses "Moment" codenames for Windows 11 feature updates.