Windows 11 KB5028185 is here, and it comes with many new features, including Moment 3. Installing this update via Windows Update will turn on hidden Windows 11 Moment 3 features. Microsoft has also published direct download links for Windows 11 KB5028185 offline installers if you do not want to install it via Windows Update.
KB5028185 for Windows 11 is a mandatory security update, and it will download or install automatically in the next few days or when you check for updates. However, unlike the last few mandatory security updates, Windows 11's July 2023 Patch Tuesday release brings Moment 3 to everyone.
Understanding the recent changes to Windows 11 updates approach is necessary before deep diving into Moment 3 hands-on. First and foremost, Windows 11 has switched to a "one update per year" approach, which means Microsoft will publish only one big feature update for the OS.
Microsoft doesn't want the operating system to become boring, and it has been pushing some new features via monthly cumulative updates, internally known as "Moments" or "Windows 11 feature drops". So far, Microsoft has released three such updates since 2021, and it plans to roll out another Moment update in the fall.
To grab the July 2023 Update with the Moment 3 enablement package, go to Settings > Windows Update and check for updates. You'll see the following patch:
2023-07 Cumulative Update for Windows 11 Version 22H2 for x64-based Systems (KB5028185)
If you're on Windows 10, Microsoft has released KB5028166 with many bug fixes and quality improvements.
Download Links for Windows 11 KB5028185
Windows 11 KB5028185 Direct Download Links: 64-bit.
Windows 11 KB5028185 (Build 22621.1992) changelog
Windows 11 22H2 Build 22621.1992 brings all Moment 3 features to production, including improvements to the Taskbar and notifications. For example, a new icon to the Taskbar will notify users when their device is actively using a VPN (virtual private network) connection.
The VPN shield icon appears on the system tray but doesn't work with many virtual networks. Microsoft has restricted the shield icon to VPNs configured using native VPN connections. In other words, if you use a third-party VPN app that doesn't support Windows 11 settings, you won't be able to notice the VPN taskbar integration.
The last Moment update shipped in February, and while it's nice to see another feature drop, it also means Microsoft doesn't have a lot of new features to offer. For example, the improvements in Moment 3 are not that 'exciting.
There are quite a few tweaks here and there in KB5028185, including a new button in toast notifications to copy two-factor authentication codes. You can click the copy button to copy the code directly from desktop push notifications. A similar feature is already available on mobile OSes, and it's finally heading to Windows 11 with today's update.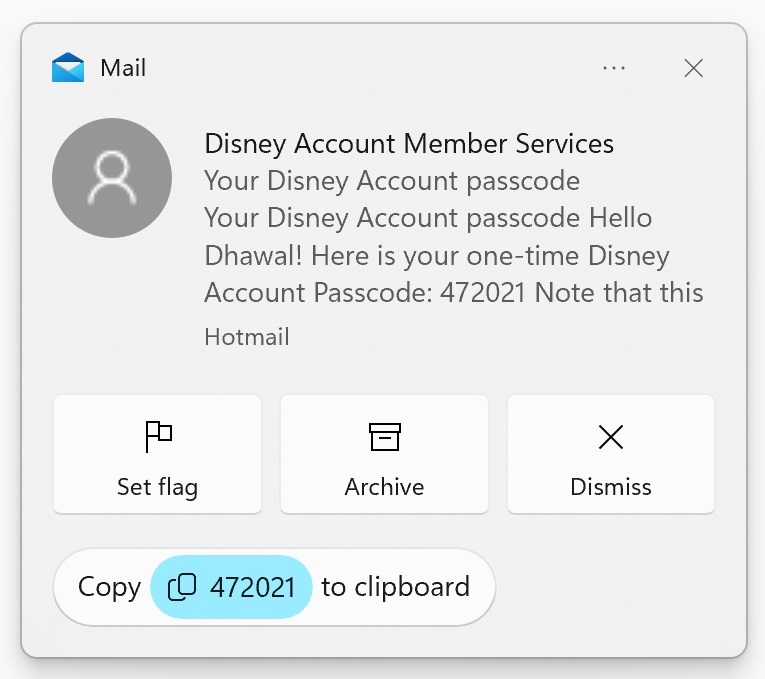 Microsoft is also adding new features to the Taskbar. For example, a new option has been added to create a live kernel memory dump. This feature allows you to generate data and troubleshoot issues while continuing to run the operating system normally. Still, only those familiar with kernel debugging could use the feature.
Here is a list of all bug fixes in Windows 11's latest update:
Improves reliability of Windows after the OS update, along with enhancement in the reliability of the Desktop Window Manager (DWM).
In terms of fixes, this update resolves an issue preventing devices with less than 3.5 GB of RAM from receiving Microsoft Intune push notifications.
It also addresses a problem that caused certain apps to stop working when attempting to scan a barcode.
Several issues affecting Microsoft's Narrator have been fixed, including a problem that prevented it from retaining scan mode when users switch between browsers and a glitch that led to incorrect state readings when an option button selection was cancelled.
The update also rectifies a problem with Microsoft Teams that prevented users from receiving alerts about missed calls or messages.
Additional fixes include addressing excessive HTTP traffic issues with msftconnecttext.net and Spooler service malfunctions when printing using specific workspaces.
The update fixes a problem affecting Azure Virtual Desktop and Windows 365 users where the correct location for a Remote session might not be displayed in a user's virtual machine or Cloud PC.
In addition to the bug above fixes, Microsoft has also added the ability for user accounts to open an elevated Windows Terminal using an admin account that has not signed in before.