Windows 10 KB5028166 is now available for version 22H2, the last supported operating system version. This update is available for everyone and can be downloaded via Windows Update, but Microsoft has also published direct download links for Windows 10 KB5028166 offline installers.
KB5028166 for Windows 10 is a security patch, and it doesn't have a lot of changes to mention, but it does come with plenty of bug fixes and a few improvements. For example, Microsoft is introducing many new features for Microsoft Defender for Endpoint in Windows 10 with today's Patch Tuesday update.
Installing Windows 10 July 11, 2023, update will advance systems to Build 19045.3208 or Build 19044.3208 if you're still on version 21H2 (Enterprise or Education edition). It is essential to understand that Windows 10's July 2023 cumulative update has all the fixes and improvements from June 2023 preview.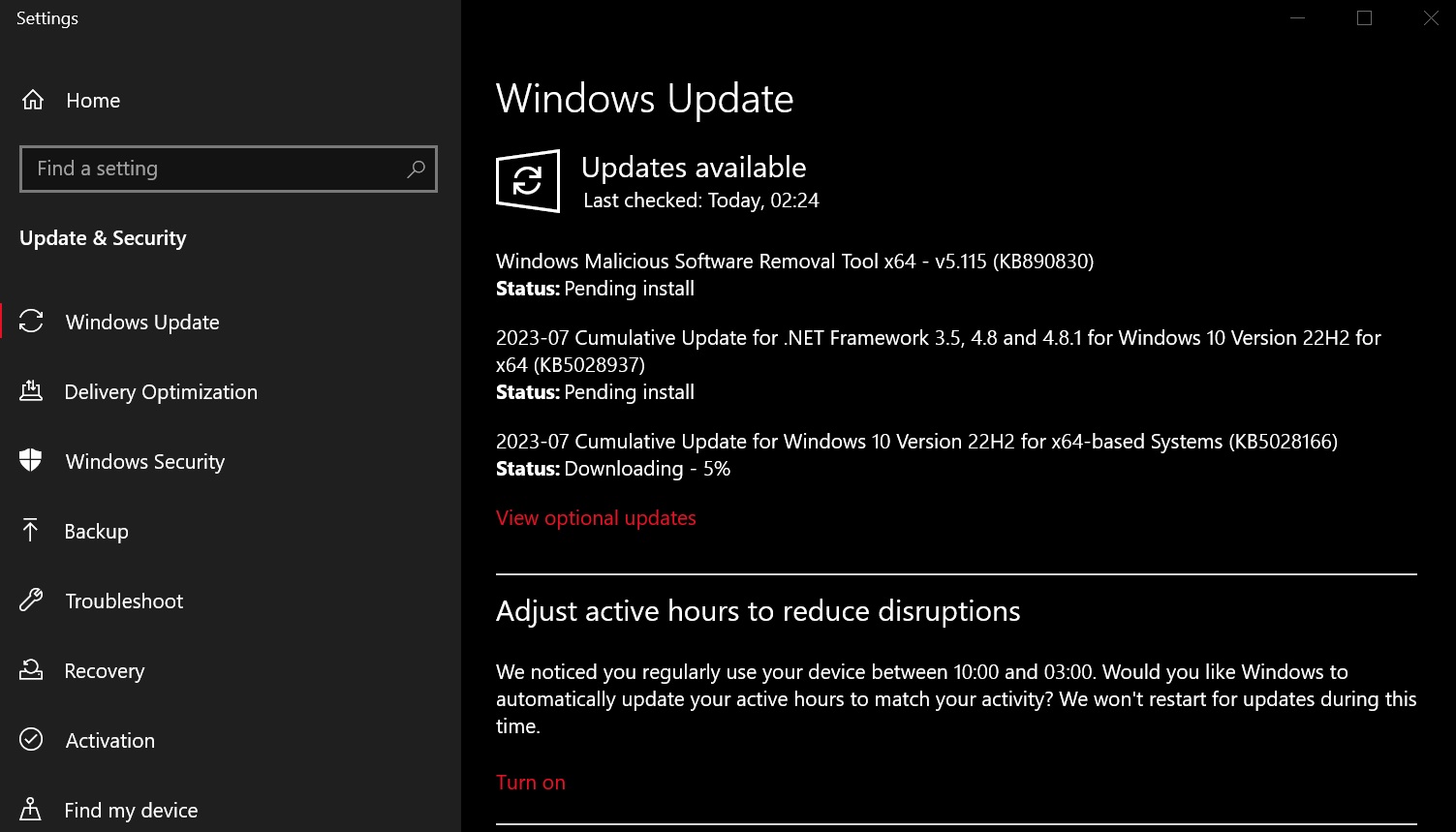 It means if you have already installed June 2023 preview update, you won't be getting the significant changes in the update. That's because your device already has those bug fixes or improvements. However, Microsoft has promised the update will fix many security issues with Windows 10.
If you check for updates today, you'll see the following update:
2023-07 Cumulative Update for Windows 10 Version 22H2 for x86-based Systems (KB5028166)
For Windows 11 users, Microsoft has published KB5028185 with tons of new features, including kernel debugging in Task Manager and more.
Download Links for Windows 10 KB5028166
Windows 10 KB5028166 Direct Download Links: 64-bit and 32-bit (x86).
Windows 10 KB5028166 (Build 19045.320) Full Changelog
Windows 10 Build 19045.320 doesn't have a lot of changes. Still, there are plenty of bug fixes and notable tweaks, like the ability to authenticate across Microsoft's services like OneDrive or Azure.
For some systems that rely on Chinese fonts, Microsoft says those devices should expect quality enhancement. Microsoft hasn't revealed how Chinese fonts will look better on Windows 10, but the company says it has begun using GB18030-2022, designed to make Chinese fonts cleaner.
Another change related to the Standard Chinese Characters List, where Microsoft has confirmed implementing implementation level 2 of GB18030-2022). You should expect regular, light, and bold font experience, but if you switch to Dengxian, an optional font, Windows will make the fonts look sharper.
Windows 10's July update has a lot of bug fixes, such as a fix for an issue where scheduled monthly tasks may not run on time during daylight savings. Another bug has been fixed that should improve the reliability of the Desktop Window Manager (DWM). Microsoft has also resolved issues affecting the Spooler service, the tib. sys driver.
Finally, a bug that led to Start menu crashes, broken Windows Search experience, or even a flawed approach to Azure AD authentication has been fixed.
The other bug fixes have nothing to do with the 'consumer' experience of Windows, but the release notes confirmed Microsoft had fixed an issue with the "Smart Card is Required for Interactive Logon" account option. A bug in the OS blocked users from connecting to Remote Desktop Services.
Known issues in Windows 10 July 2023 update
Microsoft is aware of at least one issue that has been known since last year. As you're probably aware, a bug in Windows installations created from custom offline media removes Microsoft Edge Legacy but does not install Chromium Edge.
This can be fixed by manually installing Microsoft Edge and only affects custom offline media consumers never use.
Evil-forced upgrades are back, but you can manually upgrade
Microsoft has ended support for Windows 10 version 21H2 and is no longer eligible for monthly updates. June was the last security update for consumer editions of version 21H2, and users need to upgrade to the last supported version of Windows 10 – 22H2. Or those with supported hardware are recommended to shift to Windows 11.
We haven't seen reports of forced Windows 10 22H2 upgrades, but PCs still running the unsupported version will soon have a forced update rolling out via Windows Update. These forced upgrades cannot be skipped as "Windows Update will automatically initiate a feature update" when the device is detected using an unsupported OS.
Many people dislike forced upgrades, but everyone must patch their systems regularly. When the update plug is pulled, and security issues remain unpatched, you shouldn't keep using the PC unless you're not planning to connect to the internet.
The July 2023 update is unavailable for Windows 10 21H2, but you can get the patch by installing version 22H2, which is just an enablement package.