A new patent application has revealed how Microsoft plans to build a new Surface Book, which will be significantly better than MacBook. A future generation of Surface Book could soon feature a trackpad that doubles as a drawing pad. This development has been gleaned from a new patent application from Microsoft.
I spotted the new patent over the weekend and took a closer look at 30 pages application to understand the plans of Microsoft. The company plans to improve the touchpad to better support Surface Pen for drawing directly on the touchpad, and you can switch between the main display and the touchpad while drawing.
There are multiple drawings and examples, but one example is pretty interesting. It talks about a Surface Book-like device with a trackpad that can be connected to the Surface Pen and used as a drawing pad. In some examples, the primary display and touchpad can be used with a pen to draw in apps.
Deep dive into Microsoft's new patented Surface Book with a touchpad that could be used as a drawing pad
The patent application outlines a new version of the Surface Book or a similar device, including a trackpad that functions as a drawing pad when used with a Surface Pen. This feature is currently absent in Apple's MacBook or Microsoft Surface, although Apple has previously tried extending the touchpad using Apple Pencil.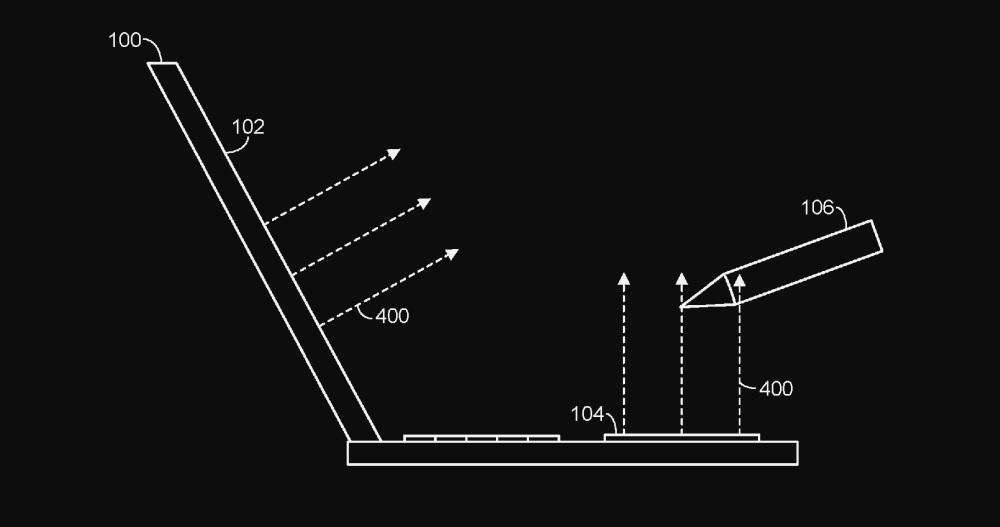 In layman's terms, the patent explains that users can use a Surface Pen to interact with the main touchscreen of the 2-in-1 hardware. The stylus can control the device in various ways, like directly touching the surface of the display or hovering close to it.
The patent describes how a computing device, like the Surface Book, can connect with a separate device, such as a stylus. This connection forms a channel where one device can send data to another.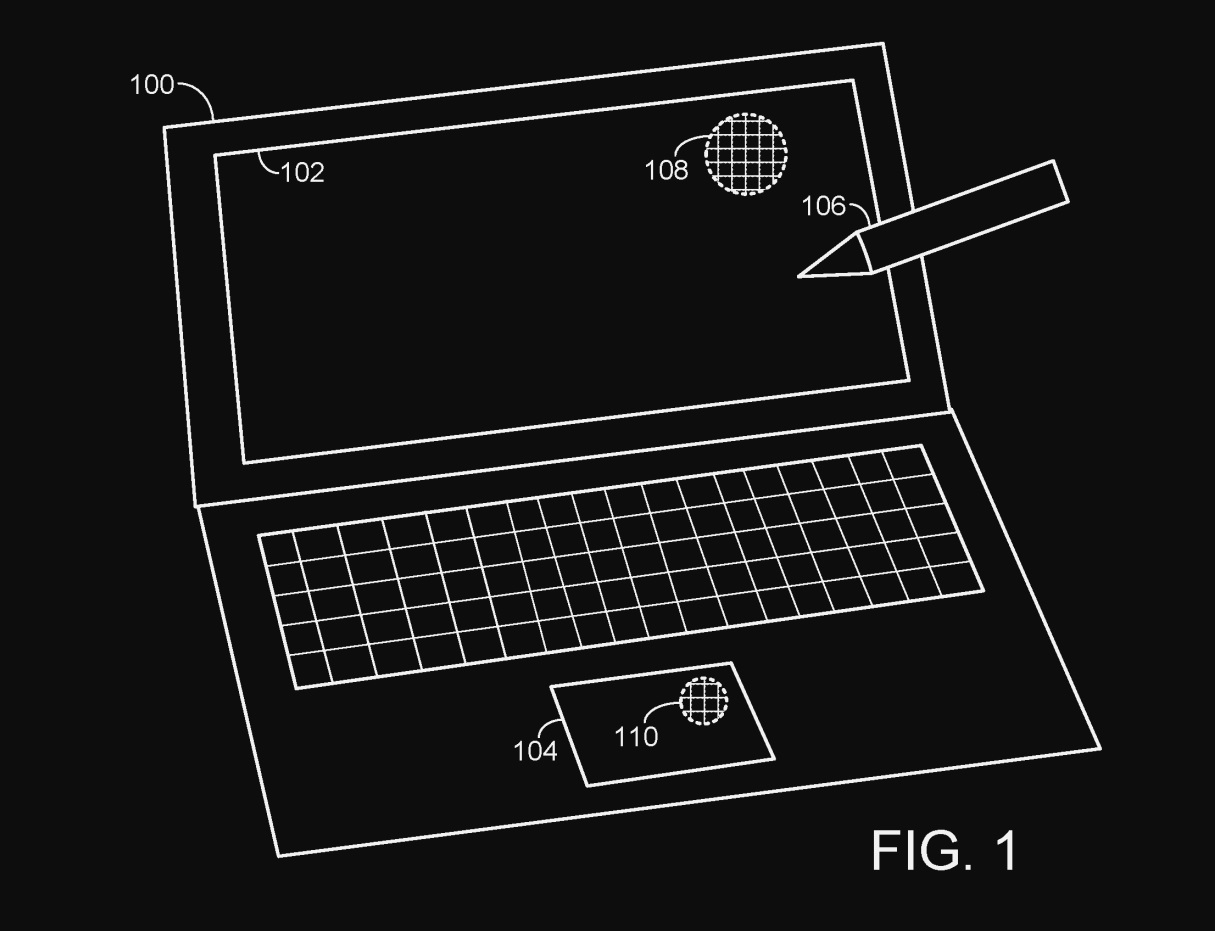 For instance, a physical button on the stylus can command the computing device to open a particular application. Similarly, the stylus can provide touch or hover inputs to the touch-sensitive display to interact with apps like Photoshop or draw lines and shapes.
The patent emphasizes that the Surface Book and Pen are paired, ensuring that inputs from the stylus affect only the paired computing device and not any other nearby devices.
It further discusses a scenario where you may want to use the same peripheral device, like a stylus, with another device simultaneously. For instance, you may want to use a stylus with your personal Surface Book, a coworker's device or a shared office device. In such situations, you may prefer to use similar settings across devices or want different settings depending on their current host device.
The patent acknowledges the need to establish the connection between the devices quickly to ensure the user's preferred settings are applied promptly and to avoid any control inputs affecting an unintended device.
Finally, the patent highlights that while the active stylus is one example of a "separate peripheral device," the system can work with various other peripheral devices.
In conclusion, this patent suggests that Microsoft is making the Surface Book a multi-device for creators that could redefine the experience. However, it's important to note that a patent doesn't necessarily guarantee that such features will appear in a final product.
We have also spotted Surface Duo 3 patents featuring a Galaxy Fold-like device, but we're yet to see a similar device from Microsoft.