In February, Microsoft announced Bing AI (OpenAI's ChatGPT) for its search engine and Microsoft Edge on Windows 11 and Windows 10. Microsoft has confirmed it has made several improvements to Bing AI to make it more accurate and capable than ChatGPT or GPT-3.5.
Following a recent Edge update, we spotted Bing AI ads within the browser's address bar. This strategy draws attention to the service and encourages users to explore the AI-driven features Bing offers instead of using Google's Bard, the search engine giant's answer to ChatGPT.
Microsoft has begun experimenting with showing more ads or recommendations when users visit bard.google.com, the homepage of Google's ChatGPT-like Bard. The pop-up can be distracting and somewhat annoying, and it will appear every single time when you open Bard.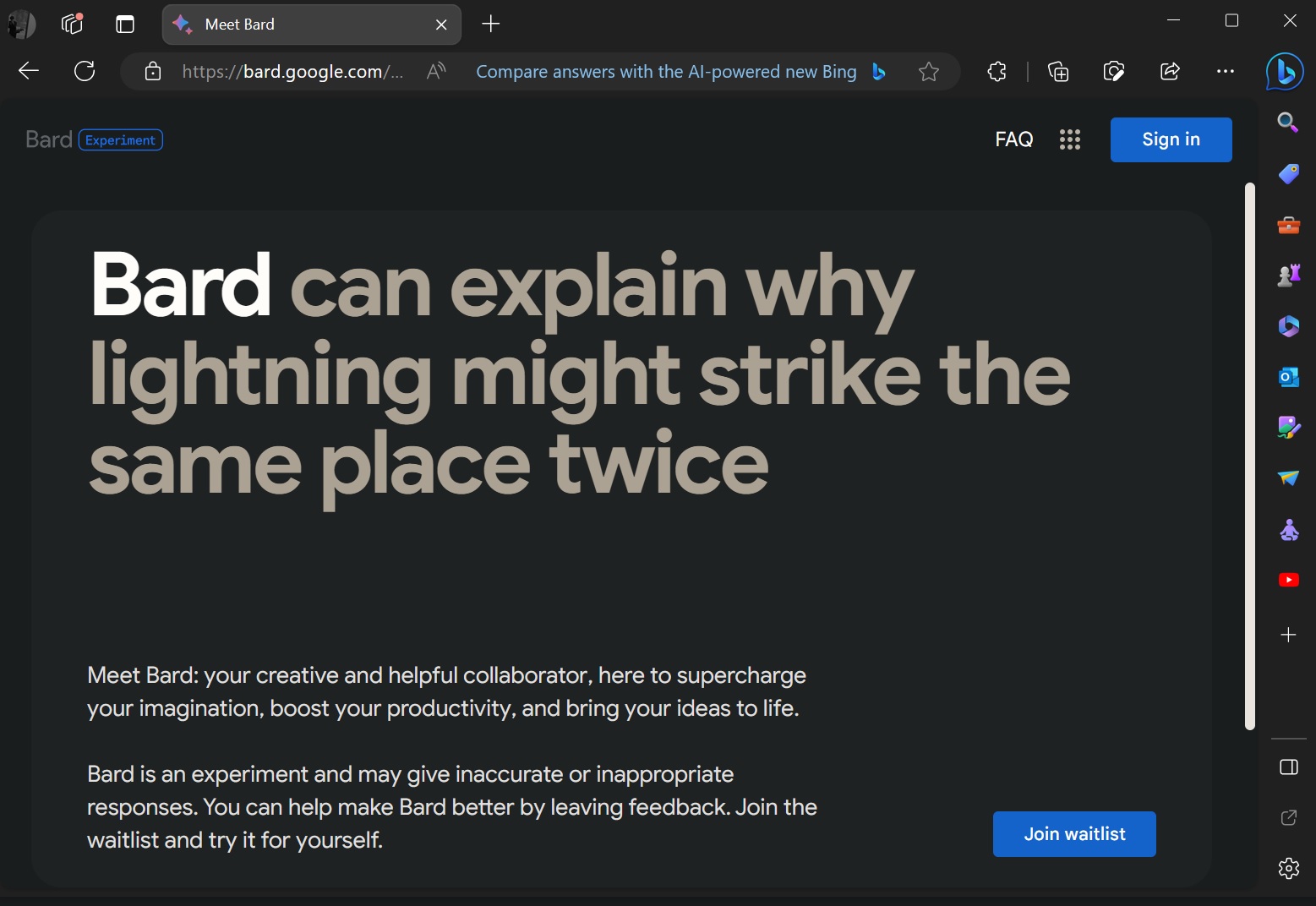 When Bard is open in the browser, the Microsoft Edge address bar pop-up appears, prompting users to "Compare answers with AI-powered Bing."
By clicking on the pop-up, users can view Bing AI in a split-screen mode alongside Bard, with Bard on the left and Bing AI on the right. Microsoft aims to encourage users to compare the results, as it believes Bing AI performs better than Google Bard.
However, removing the "Bing" icon, which appears in the address bar when Bard is open in the tab, is impossible. While the company may hope to attract users to Bing AI by directly competing with Google Bard, these ads may be seen as intrusive and could make users feel overwhelmed or irritated.
To increase the market share of its Edge browser, Microsoft has previously employed various tactics, including offering $10 gift cards to users who opted for Edge's Edge Bar over Google Chrome and other rival browsers.
Edge holds approximately 10% of the desktop browser market share, and Microsoft is exploring various strategies to attract more users.
Google aggressively promotes its services, too, just like Microsoft
It's important to note that Microsoft is not alone in this approach, as Google has also engaged in similar tactics.
Microsoft's strategy mirrors Google's past actions, where the search engine giant displayed Chrome ads within Gmail when users accessed the email service using Edge. Google has also been known to promote Chrome through advertisements in Google Search when visited using Edge, showcasing an even more aggressive marketing approach.
In conclusion, while Microsoft's decision to display ads targeting Google Bard in the Edge browser could potentially annoy some users, it's crucial to recognize that Google has engaged in similar practices.