Windows 11 KB5022845 is now available for download on PCs running 22H2, and it comes with some notable changes, including a new .NET Framework experience. You can grab the update via Windows Update or go to the Update Catalog, where Microsoft has posted direct download links for Windows 11 KB5022845 offline installers.
KB5022845 is a security update but comes with several non-security bug fixes. It prepares the devices for the next "Moment" update, which is due to arrive in March 2023, per sources familiar with the development. If you skipped January 2023's preview update, you'd also receive those fixes and changes today.
So what are the major bug fixes in Windows 11 22H2 Build 22622.1265? Microsoft says it fixed an issue where apps could stop responding when you use a mouse and keyboard, and the OS' Input Method Editor (IME) is active in the background. Another bug has been fixed that prevents users from searching a file based on its content.
Windows 11 Build 22622.1265 fixes an issue where pictures cannot be searched through the search bar on the taskbar. A bug affecting game controllers has been fixed. This issue prevented some systems from invoking sleep mode when the device was connected to a controller.
If you check for updates, you'll see the following update on the screen:
2023-02 Cumulative Update for Windows 11 Version 22H2 for x64-based Systems (KB5022845)
(On Windows 10, you'll get KB5022834 with identical bug fixes, and Windows 11 21H2 is getting KB5022836).
Download Links for Windows 11 KB5022845
Windows 11 KB5022845 Direct Download Links: 64-bit.
Windows 11 KB5022845 (Build 22622.1265) important changelog
Microsoft is integrating the .NET Framework update into the new UUP-based Windows Update packages. Windows 11 22H2 will use UUP to enable a smooth update experience which means fewer reboots, and Microsoft also promised greater control over optional updates, including .NET Framework patches.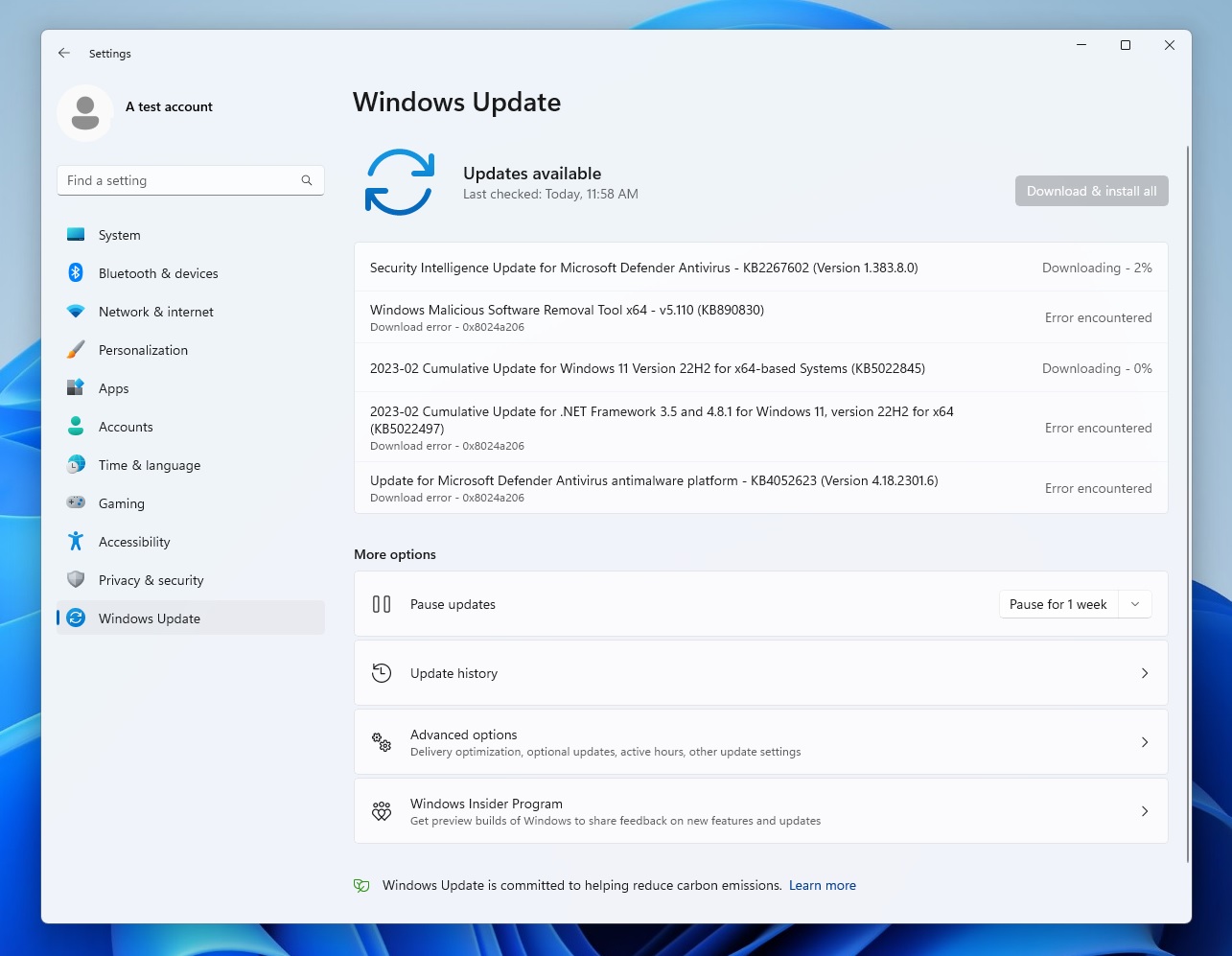 As highlighted by Microsoft, Windows 11's new feature changes how .NET Framework updates are offered. Users will find optional .NET Framework updates under Settings > Windows Update > Advanced options > Optional updates page. You can choose what to install by going to the Optional updates page.
Microsoft noted that users were previously offered these updates when they checked for updates.
This automatically installed .NET Framework preview updates, forcing users to restart their devices. Integrating .NET Framework updates into optional updates allows users to enjoy fewer updates, fewer reboots and a more dynamic experience.
In addition to the new .NET experience, Windows 11 Build 22622.1265 also comes with several important bug fixes, including an issue affecting Search and searchindexer.exe. A bug that randomly stopped users from signing in or signing out has been fixed.
Microsoft has also fixed a that causes conflict between two or more threads. This is popularly known as a deadlock.
Microsoft has also fixed an issue affecting systems with firmware Trusted Platform Modules (TPM).
Here's a list of all bug fixes and improvements in Windows 11 22622.1265:
Fixed an issue that affects the Resilient File System (ReFS).
Fixed an issue that affects devices subject to Microsoft Exploit Protection Export Address Filtering (EAF).
Fixed an issue where Microsoft Edge WebView2-based apps couldn't display certain content properly. It also affected widgets on Windows 11.
Fixed an issue that affects a Group Policy for Expanded Toasts.
Microsoft is aware of a couple of known issues in this release. For example, a bug prevents some users from downloading Windows 11 version 22H2 through Windows Server Update Services (WSUS) servers.
While the update will download to the WSUS server, the bug prevents it from seeding to client devices. Microsoft noted that the issue resulted from the accidental removal of required Unified Update Platform (UUP) MIME types. The company is working on a fix which will be published via a cumulative update soon.
Moment 2 update for Windows 11
Microsoft is already working on the second big update for Windows 11 22H2, codenamed "Moment 2". The company is planning as many as three updates for Windows 11 22H2 in 2023, and the first update, "Moment 2", is expected to drop at some point in March.
Like Moment 1, which added tabs to File Explorer, Moment 2 is expected to ship with a few minor new additions, such as support for seconds in the taskbar clock. If you've been part of the Windows Insider program, you're already familiar with the new changes, but it's not yet clear what will be included in the final release of Moment 2.