Windows 10 KB5022834 is heading to PCs as part of the February 2023 Patch Tuesday security cycle. This release is about bug fixes as Microsoft continues to bet on Windows 11 and beyond. Microsoft has also published the update on MCU so that you can find direct download links for Windows 10 KB5022834 offline installers easily.
KB5022834 is a Patch Tuesday update that doesn't come with exciting new features, but there are plenty of bug fixes and improvements to check out. For example, Microsoft bundles all improvements from January 2023 preview, making February 2023 Patch Tuesday a big release.
So what's new in the latest update for Windows 10? As per the release notes and our testing, Windows Settings app is getting a new update that enables OneDrive integration similar to what we already have on Windows 11. The alerts will appear when your cloud storage reaches its limit.
Microsoft is also letting users manage their OneDrive storage and add additional storage to the plan directly from the Windows Settings. Another important change in the update is linked to the taskbar. As per Microsoft, Windows 10's February 2023 update fixes issues that cause Explorer and taskbar to stop responding.
This update can be installed on any device running Windows 10 20H2 or newer. If you're on version 22H2, you will get Build 19045.2546. Likewise, those still on Windows 10 version 21H2 will get Build 19044.2546. Version 20H2 is getting Build 19042.2546 today.
(There's also a new update for Windows 11 with identical bug fixes. If you're on Windows 11 22H2, you'll get KB5022845. Windows 11 21H2 (original release) is getting KB5022836).
On Windows 10, you'll see either of the following updates when you check for updates today:
2023-02 Cumulative Update for Windows 10 Version 22H2 for x64-based Systems (KB5022834)
Or
2023-02 Cumulative Update for Windows 10 Version 21H2 for x64-based Systems (KB5022834)
Download Links for Windows 10 KB5022834
Windows 10 KB5022834 Direct Download Links: 64-bit and 32-bit (x86).
You can visit the above link to open Microsoft Update Catalog, which lets you download the update package over a secure connection. Thanks to changes made to the MCU portal, the download links won't be blocked anymore in Google Chrome.
You can download the update in .msu format and double-click on it to apply the changes to the system.
Windows 10 KB5022834 (Build 19045.2486) Full Changelog
With today's update, Internet Explorer has finally been removed from Windows after more than 27 years of service. The retirement of Internet Explorer happened on June 15, 2022, comes 26 years and 10 months. And today, it's finally going away from the Windows operating system after its release on August 15, 1995.
Back in the 90s, Internet Explorer was preinstalled on all Windows PCs. Those who bought a new computer at that time mostly used Microsoft's web browser as it was the default program for browsing the internet on a desktop. It was nonetheless successful to bundle Internet Explorer with Windows, but it was also controversial.
Microsoft has turned off the old browser with February 2023 Windows 10 update. According to Microsoft officials, a Microsoft Edge server-side update will facilitate the smooth transition to the new browser.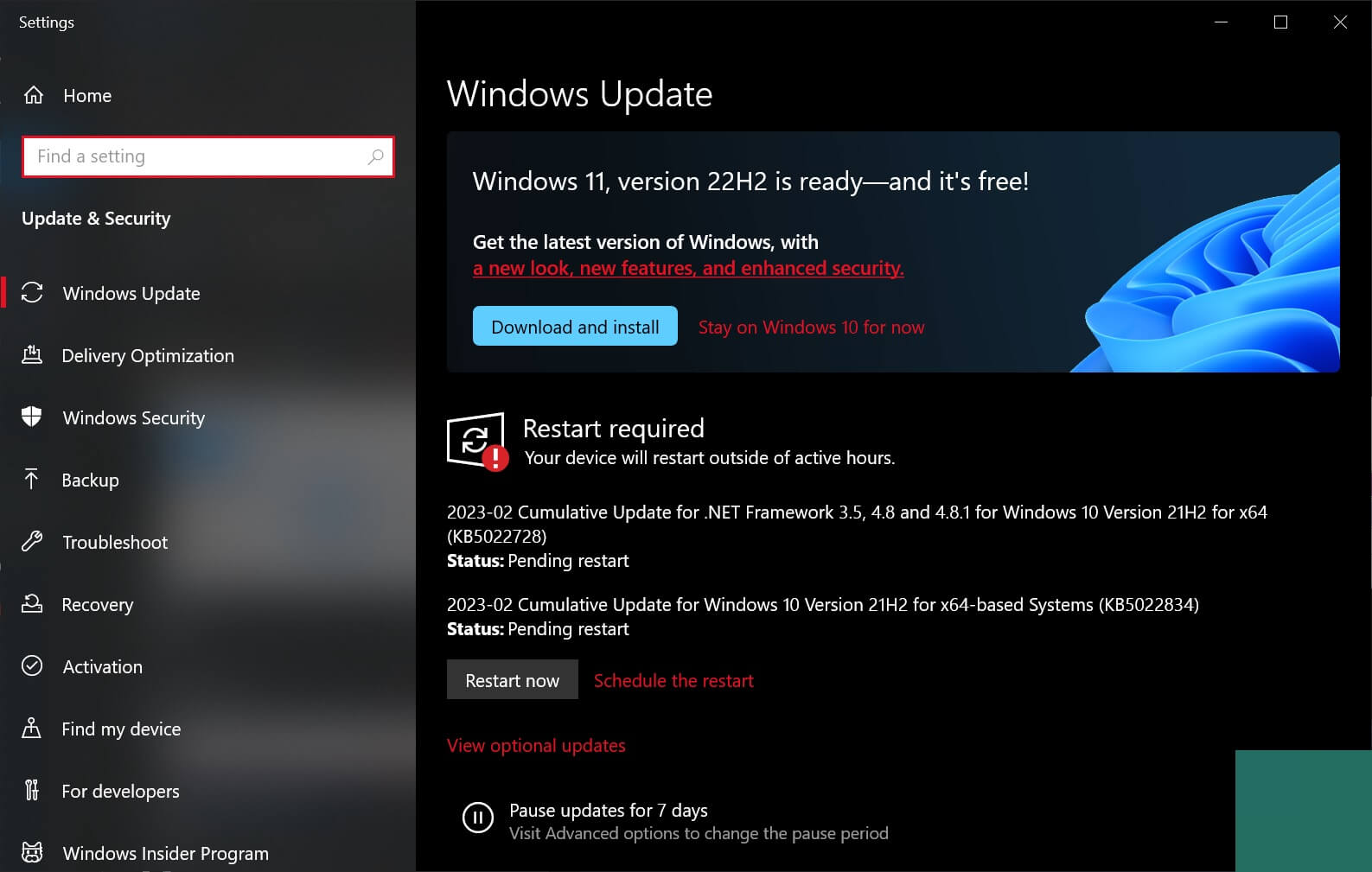 Windows 10 Build 19045.2486 also comes with a new change – better Fast Identity Online 2.0 (FIDO2) authentication, which no longer fails when you try to sign in. Another bug fix in the update should resolve Windows Search problems, including a related bug where the OS stops users from signing in or signing out.
Microsoft is fixing an issue where the DNS suffix search list would not work, and the parent domain might be missing.
Here's a list of bug fixes in Windows 10 Build 19045.2486:
Fixed an issue where Task View causes the desktop to stop responding.
Fixed an issue that degrades a memory location.
Fixed an issue where Windows Defender Application Control (WDAC) user mode policy ran into issues.
Fixed an issue where printing does not work in landscape mode in Edge.
Fixed an issue where Resilient File System (ReFS) MSba does not work or causes high nonpaged pool usage.
Fixed an issue that lets you better understand how to enable the Windows diagnostic data processor configuration.
It is also worth noting that Microsoft will pause optional non-security updates for supported editions of Windows 10 20H2 and 21H2. This means only monthly security updates (known as the "B" or Tuesday release) will be offered for these two operating system versions as Microsoft is moving forward with Windows 11.