A potential compatibility issue between Windows updates and antivirus solutions is crashing browsers like Chrome, Edge and Firefox with the error message "The application was unable to start correctly (0xc0000022). Click OK to close the application".
Windows Updates have been pretty solid and stable lately with fewer reports of major issues. Microsoft has now published April 2022 updates for Windows 10 and Windows 11, and the company is not aware of any new issues. However, isolated reports suggest the patch could break some popular browsers.
We're running the latest updates on our devices with no major issues to speak of, but some who have installed the update are unable to launch Chrome, Edge or Firefox due to a vague error 0xc0000022.
According to our readers and reports on Microsoft's own Feedback Hub, 0xc0000022 error appears when users try to launch Chrome.exe, msedge.exe and Firefox.exe.
"After installing KB5012599 I got a 0xc0000022 error launching Edge, Firefox and Chrome, so they don't work anymore. Fortunately, Vivaldi and Brave work perfect, so I can still internet. Uninstalling KB5012599 solves this problem," one user noted.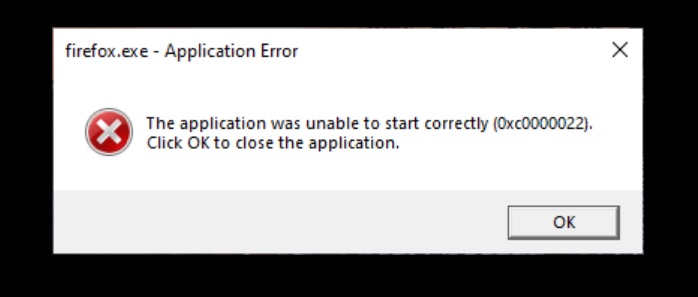 "After installing recent cumulative update KB5012592, all search engines (Edge, Firefox, etc.) respond with error code 0xc0000022," another reader explained the problem.
How to fix error 0xc0000022 on Windows 10 & Windows 11
Reports indicate that the issue is due to the latest Windows 10 and Windows 11 cumulative updates. However, our investigation suggests that a compatibility issue between Windows 10/11 updates and antivirus apps like ESET might be causing the app crashes.
This bug looks to have jumped to a small number of people running Windows 10/11 and apps like ESET. The security firm issued a response to state that the reports have been passed on to the team and they've already deployed a potential fix, but the fix may still require manual action from users.
"Currently, after updating Windows, the phenomenon that the secure browser does not start is occurring with "The protected browser could not be started" or "The application could not be started properly", the security firm said in new documentation spotted by us.
"We deeply apologize for any inconvenience caused to our customers," the company added and highlighted two workarounds for 0xc0000022:
Enable ESET LiveGrid from settings.
Disable secure browser
It's a nice easy fix that isn't too hard to replicate on Windows 10 and Windows 11. So, if you are running April 2022 update and have been left frustrated with no access to browsers, then this little tip should have you back enjoying the new search experience and other improvements included in the patch.
It remains unclear if the bug is affecting any other antivirus solutions. If you're getting the aforementioned error message, you can also uninstall the cumulative update or disable security extensions in the browser.