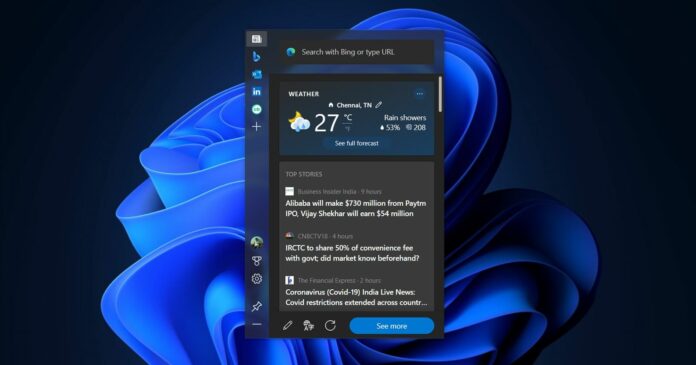 Remember Microsoft Edge's experimental web widgets? The feature is now called "Edge Bar" and it comes with a new sidebar that lets you easily navigate between your favourite websites from the desktop. Edge Bar is a Microsoft Edge exclusive widget and it is similar to Windows 10's News and Weather feed, except it's stuck to the browser instead.
Microsoft Edge Bar brings the internet to your desktop, according to Microsoft. With this new feature, you can stay up to date with a Bing-powered personalized news feed and you can also get the latest updates on weather, news, sports, stocks and more.
As you can see in the below screenshots, Edge Bar is similar to the Windows 10 News and Weather feed on the taskbar. And it also seems to be based on Windows 11's widgets window. Additionally, Edge Bar would remain visible on the desktop when you close Microsoft Edge.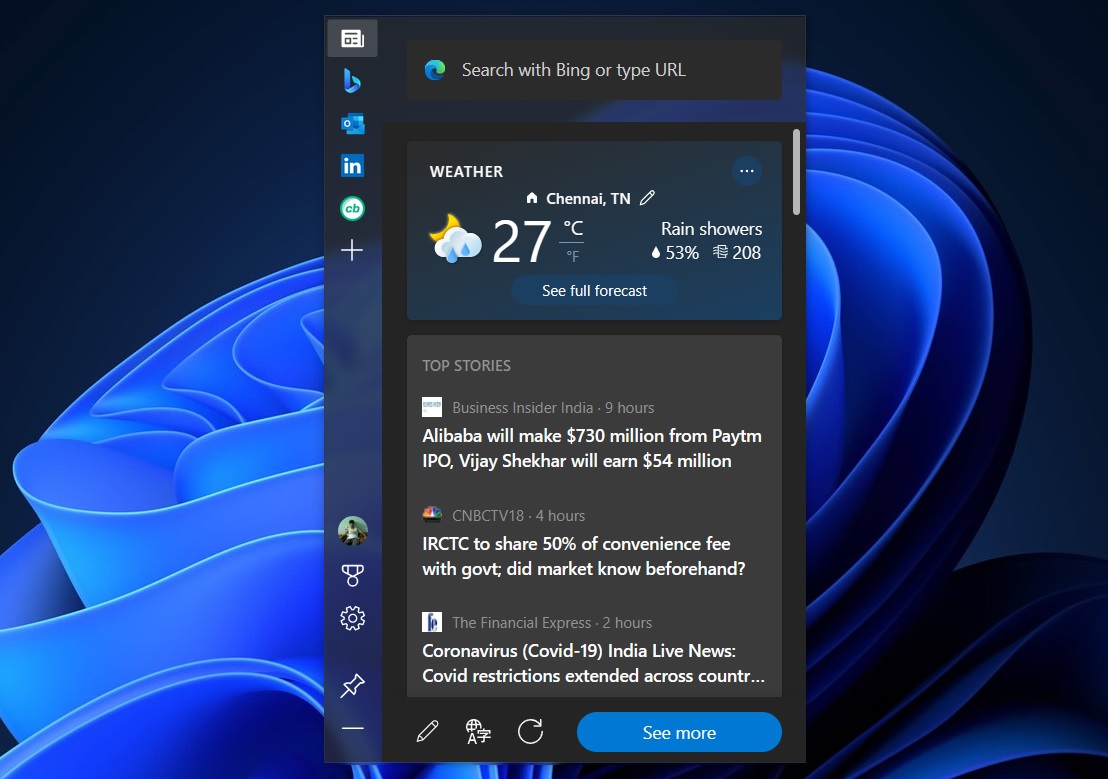 Like Windows 11 Widgets, you can personalize the Edge Bar experience by adding your own tabs to the bar. For example, you can pin Outlook to Edge Bar and access your emails from anywhere.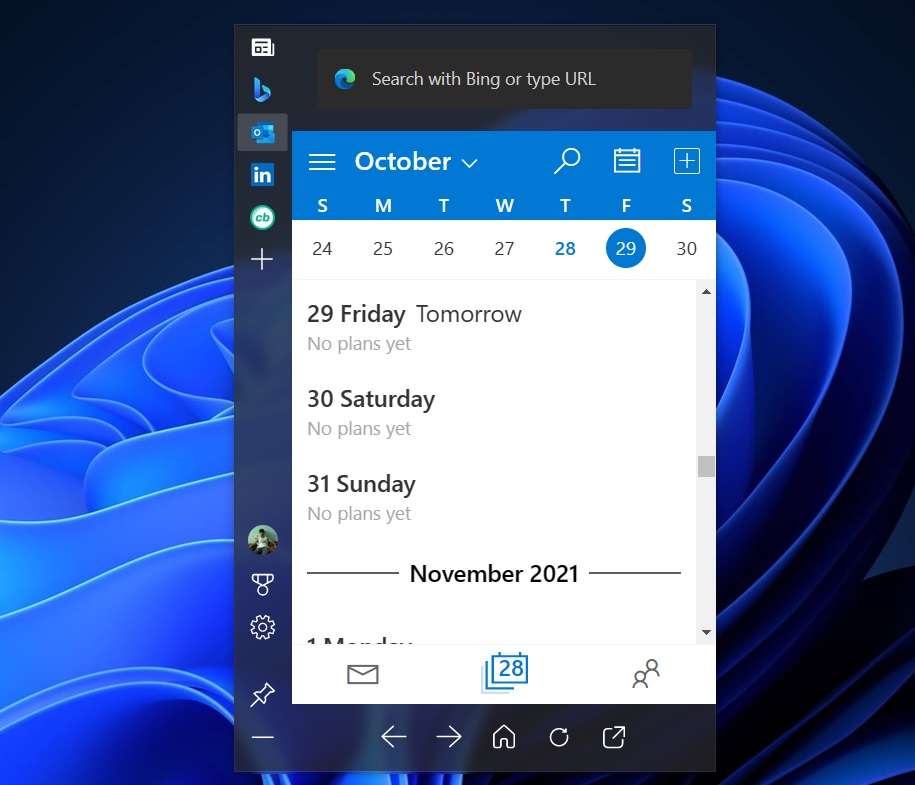 Even when you close Microsoft Edge, you can still access the Outlook and other contents of Edge Bar via a floating icon that sits on top of Windows apps. Your favourite websites will render properly in Edge Bar if they have a responsive design.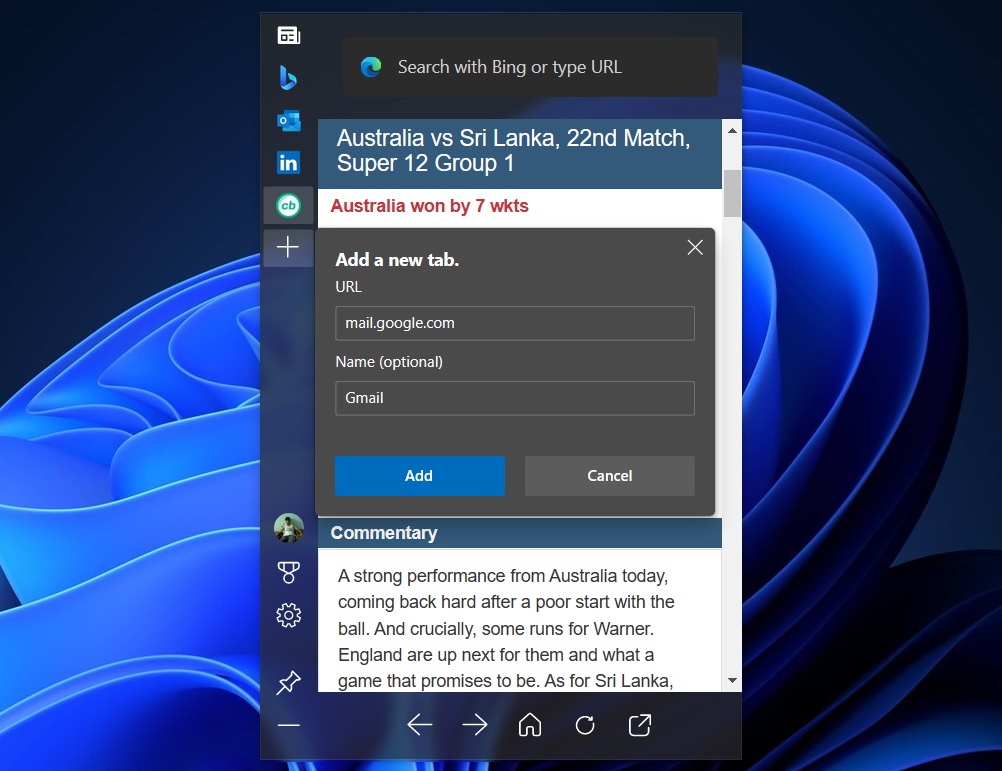 Microsoft Edge Bar's information cards
By default, Edge Bar shows cards on topics like weather, money, and sports on Windows 10 and Windows 11. These can be turned off and users can choose to view the information they are interested in. For example, you can tap on "…" in the top right corner of the weather, money or sports card and select the option that lets you hide the card.
To restore a card, visit the experience settings page and enable the card.
As you can see in the above and below images, Microsoft Edge Bar lets you manage interests directly. Based on your browsing activities, Edge Bar content will continuously improve. Like Google Discover, you can go "Discover Interest" page to immediately select topics of interest.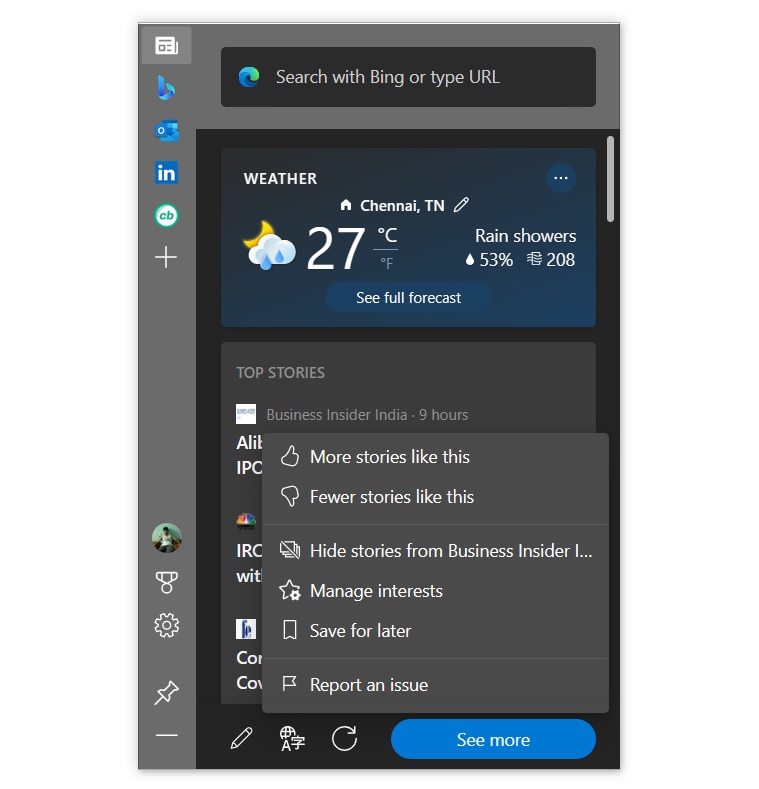 You can also choose stories you like. To do this, simply select More options … on any article and choose either More stories like this or Fewer stories like this.
Microsoft is still working on Edge Bar and it is expected to get support for two layouts –  vertical or search only. You'll be able to move and resize the Edge bar as you desire, and enable autohide by simply hovering over the side of the desktop/app.
Additionally, Microsoft Edge was recently updated with a PDF continuity feature and more.