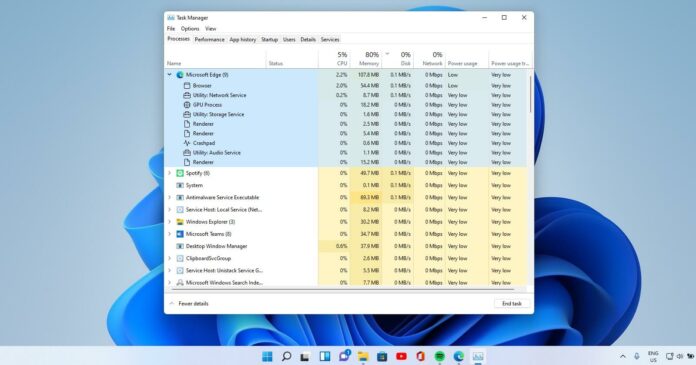 Microsoft is working on two new features for Windows 11's Task Manager: Microsoft Edge integration and Eco Mode. Microsoft Edge integration is now rolling out to devices running Windows 11 Build 22000.282, while the Eco Mode feature is expected to arrive later this year or early next year.
To ensure the browser doesn't reduce the performance of your machine, Windows 11's Task Manager can now better manage resources used by the Edge browser. As you're probably aware, managing browsers using the Task Manager can be very frustrating and Microsoft wants to improve the experience.
Microsoft Edge 94 comes with several improvements for Windows 11's Task Manager to better represent the browser processes. On Windows 10 or older, when you open Task Manager and tap on the Microsoft Edge processes tab, you will come across a list of processes using the generic name "Microsoft Edge".
Currently, it is impossible to close tabs or extensions using the Task Manager. Thanks to the new update, Task Manager can now display a detailed view of the browser processes.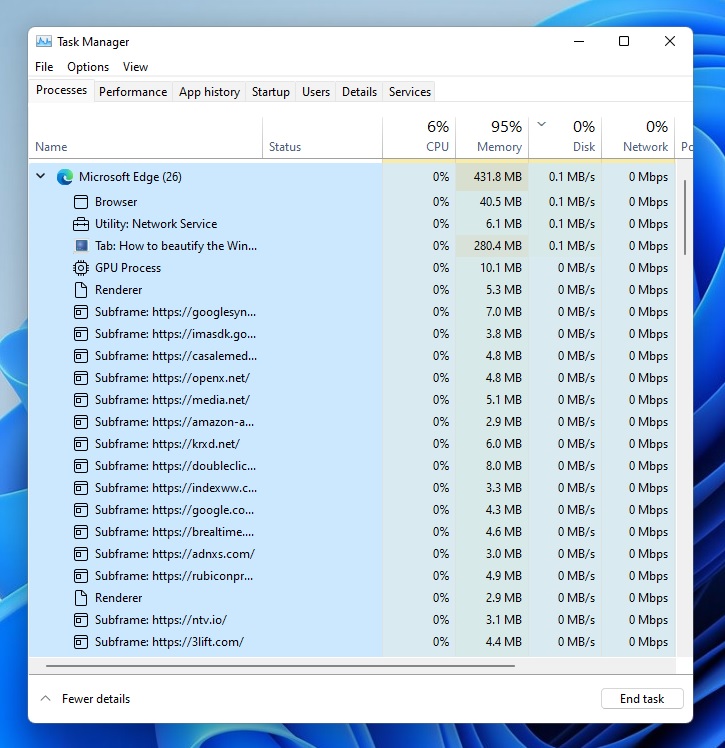 This is possible due to Microsoft Edge's multi-process architecture:
The browser now includes the GPU process and crashpad process in the Task Manager.
For extensions and plugins, Task Manager will now display the process type and the name of the extension.
Tabs will now include the site, icon and topic name. For InPrivate tabs, the site name and icon will be replaced with a generic icon to reflect the private browsing session. For subframes like advertisements, you will see 'subframe' and subframe's URL in the Task Manager.
Task Manager can now also list workers and service workers.
For some services like Microsoft Office web, item (tab) would share the same process with other items. You can click on the arrow to expand the process and see the other items of Microsoft Office.
Microsoft is testing this new feature for Task Manager and it will begin rolling out to more Windows 11 users in the coming weeks.
Eco mode for Windows 11
Microsoft is also believed to be working on a new Eco mode for Task Manager. With this feature, you can take action against resource-intensive apps. If you turn on Eco mode for an app, Microsoft will reduce the priority of the process to 'low', allowing other apps to get priority for system resources.
This feature is expected to arrive later this year or early next year.