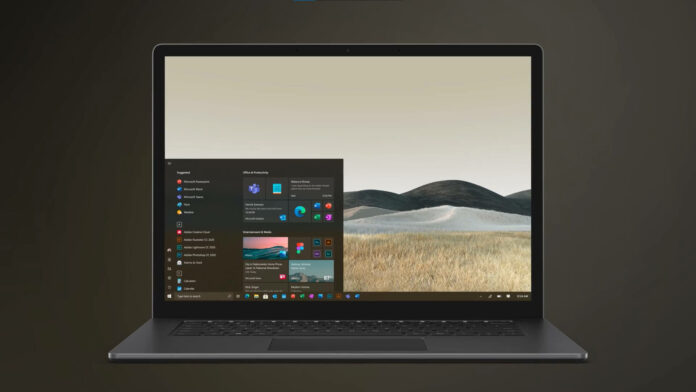 Windows 10 September 2021 update is now rolling out to PCs with version 21H1, version 20H2, version 2004, and version 1909. September 2021 Patch Tuesday release includes additional bug fixes for the PrintNightmare vulnerability, and Microsoft has also addressed a security bug known as MSHTML.
Windows 10 September 2021 update delivers security fixes for 60 vulnerabilities (three critical, one moderate, and 56 important). The total number of fixes is 86 when we include Microsoft Edge improvements shipping with today's cumulative update.
Microsoft has addressed 27 elevations privilege vulnerabilities, two security feature issues, 16 remote code execution bugs, and more. In addition to the security fixes, Microsoft has also published an update for the Windows Update service to improve its reliability and performance.
This servicing update for Windows Update doesn't apply to long-term servicing editions, according to the company.
To install the September 2021 cumulative updates, follow these steps:
Open Windows Update Settings,
Click on "Windows Update" and check for updates.
Click on "Restart now" when prompted.
September 2021 Patch will bump the build number of the operating system, but there would be no change to the version number. For those on the May 2021 Update, which was released in the last week of May 2021, Microsoft says they'll get Build 19043.1237.
For those on 20H2 (October 2020 Update), Windows 10 Build 19042.1237 is now available.
Windows 10 September 2021 cumulative updates:
KB5005569 (Build 10240.19060) for version 1507.
KB5005573 (Build 14393.4651) for version 1607.
KB5005568 (Build 17763.2183) for version 1809.
KB5005566 (Build 18363.1801) for version 1909.
KB5005565 (Build 19041.1237, 19042.1237, and 19043.1237) for v2004, 20H2, v21H1.
Windows 10 September 2021 cumulative updates overview
Recently, the widely reported vulnerability identified as PrintNightmare was acknowledged and resolved by the tech giant. Microsoft identified this bug as a remote code execution vulnerability and it affects the Windows Print Spooler service which is responsible for printing operations on Windows.
September 2021 Patch Tuesday update addresses remaining security issues in the print spooler service. To avoid hacking threats, Microsoft advises users to apply the cumulative updates offered via Windows Update.
Build 19043.1237 for Windows 10 version 21H1
Windows 10 version 21H1 is getting Build 19043.1237 (KB5005565) and it comes with bug fixes previously offered with the optional update. It also resolves a bug that could affect the performance of your Bluetooth connections. A bug that could result in audio issues has been fixed as well.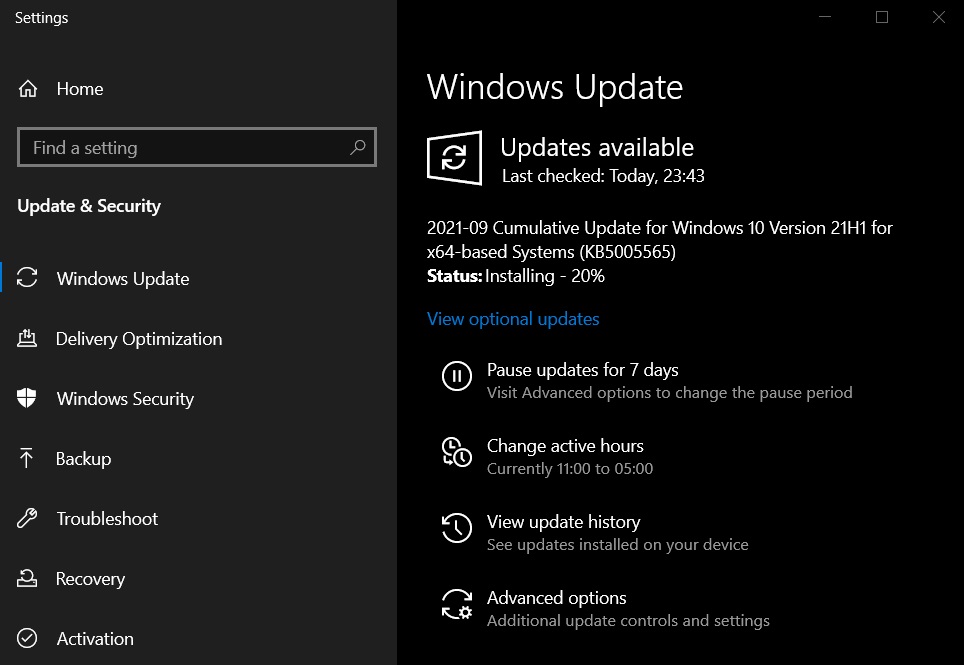 Windows 10 September update addresses a bug that prevents users from tracking DCOM activation failures. Another bug has been fixed that causes Windows Remote Management (WinRM) service to stop working.
Build 18363.1801 for Windows 10 version 1909
Microsoft has also fixed these issues for Windows 10 version 1909 supported editions. For those on version 1909, they'll get KB5005566 (Build 18363.1801).
In the release note bulletin, Microsoft said that it won't publish optional cumulative updates for Windows 10 version 1909 beginning October 2021. For those with supported editions of version 1909, they will only get cumulative monthly security updates (known as the "B" release).
Windows 10 21H1 rollout status as of September 2021
Windows 10 version 21H1 is currently available for everyone with version 20H2. If the update is not offered on your device, you can download it manually by checking for updates via Windows Update.
Microsoft has been training its machine learning system to auto-update devices running older versions of the OS.
Windows 10 version 2004 reaches the end of support in December
Windows 10 May 2020 Update (version 2004) will be upgraded to version 21H1 in the coming days. If you're still on the May 2020 Update, you will receive a new message within the Windows Update page stating that "your version of Windows 10 will reach the end of service soon".
In short, if you're still using May 2020 Update and you've been delaying the feature update, you're going to have to do it immediately. In fact, Microsoft is testing Windows 10 version 21H2 (October 2021 Update), the second big feature update of 2021.
The next version of Windows 10 is expected to ship with several improvements to Windows Hello and enterprise-focused features. Additionally, Microsoft is also preparing Windows 11 October 2021 Update for consumers, but this will be offered on supported PCs only.
Known issues in September 2021 update for Windows 10
September 2021 update is rolling out without any critical bug, but users should watch out for installation issues. After recent updates, some users have reported issues when applying updates via Windows Update.
If you've spotted a new bug update updating the PC and it's unbearable, you can uninstall the update by following these steps:
Head to Settings > Windows Update (Update & Security).
Open View update history page.
Click Uninstall updates.
Select the update you'd like to uninstall.
Click Uninstall.
Reboot when prompted.