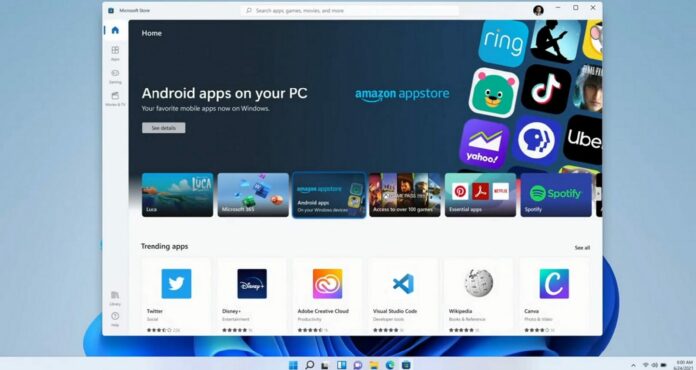 During Windows 11 event, Microsoft promised users will be able to run their favourite mobile apps on desktop as the tech giant will integrate the Android subsystem (similar to the Linux subsystem) into the operating system. This will bring Android apps to your desktop, Start and the taskbar.
Microsoft recently posted a Store listing for the Windows subsystem for Android and the original listing suggested that it would be possible to run Android apps on Xbox gaming consoles.
Microsoft has now quietly updated the Store page again to make it clear that the upcoming operating system would support Android apps on desktops only. It's likely that the Store incorrectly listed support for "Xbox", possibly due to an error in the Microsoft Store's certification process.
Additionally, Microsoft has also updated the minimum requirements for the Android subsystem.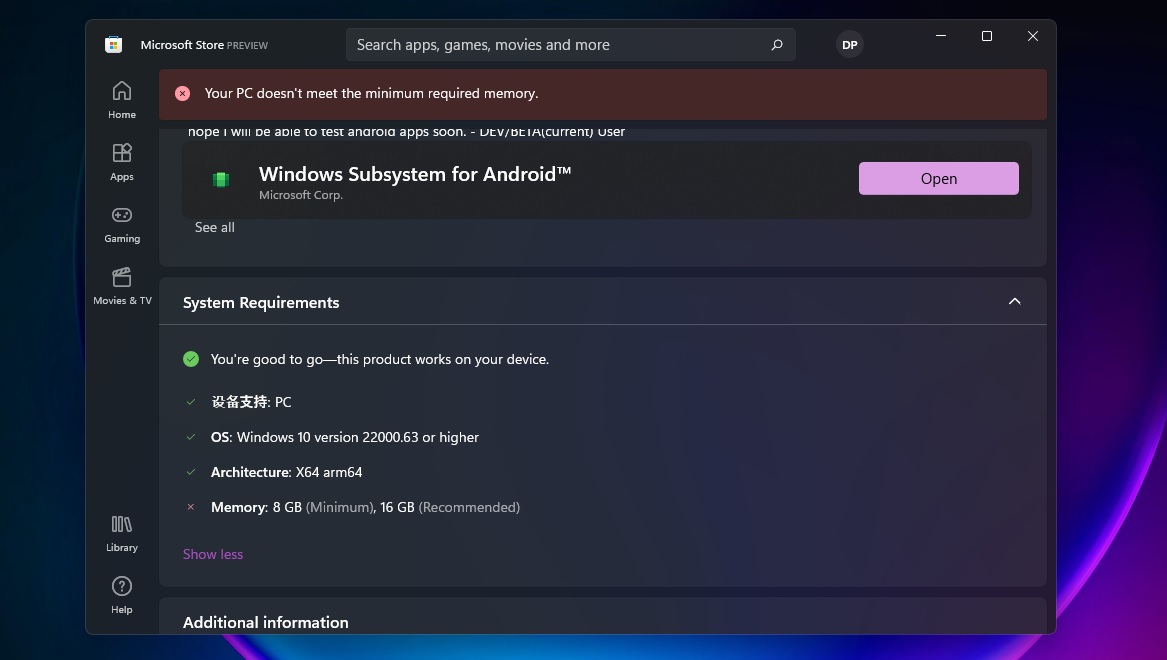 As per the updated requirements, Windows 11 Build 22000.63 or newer is now required to run mobile apps. At the moment, Windows Insiders are testing Windows 11 Build 22000.176 and Build 22449.1000, so there's a possibility that Android apps support could also arrive on Windows 11 version 21H2 next year.
It's worth noting that Microsoft may not publish the entire Android Subsystem for Windows in the Microsoft Store. Instead, this Store app could be used to update or improve some components of the Android subsystem. Or the company could publish updates to WSA via Windows Update, similar to the way it updates WSL in the operating system.
How Android apps integration could function in Windows 11
For those unaware, Windows 11's Android feature is powered by Intel Bridge Technology, but the apps can be installed on AMD and ARM PCs as well.
According to Microsoft officials, Windows 11's Android subsystem will fill the gap between the existing Windows app model and the upcoming Android app model.
Windows 11's Android integration also uses a virtual machine that will provide support for Android Open Source Project, and Google Play services won't be required. Microsoft has partnered with Amazon to bring Appstore apps to the Microsoft Store and populate Windows 11's Android section.
For those unaware, Amazon's FireOS is also based on AOSP.
The Amazon Appstore integration in the Microsoft Store won't be as straightforward as you might imagine. That's because the Microsoft Store will require you to sign in to your Amazon account to download apps. If you don't have an Amazon account, you'll need to register before you can download mobile apps from the Store.
Windows 11 Android apps support has been delayed for production devices and it is expected to arrive in the stable channels in early 2022.
At the moment, it's not yet clear if users will be required to install a standalone Amazon Appstore from the Microsoft Store to download Android apps.