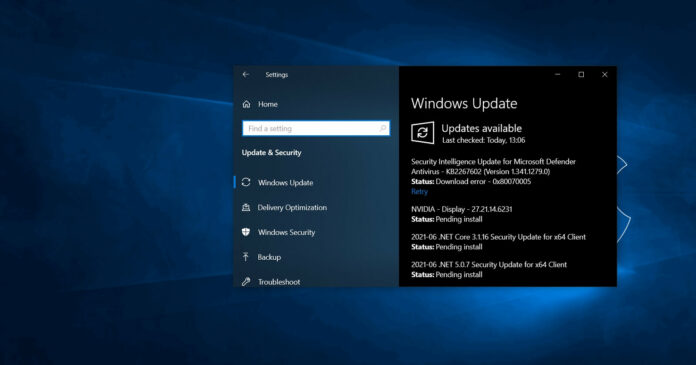 KB5005101 is rolling out to Windows 10 21H1, v20H2 and version 2004 via Windows Update. For those who prefer to patch their systems without connecting to Windows Update, Microsoft has also published the direct download links for Windows 10 KB5005101 offline installers.
Windows 10 KB5005101 is an optional update and you don't have to install it immediately via Windows Update. Like the previous optional updates, it does not include security fixes and Windows Update won't install it automatically. However, it comes with various stability fixes and other improvements which will be included in September Patch Tuesday.
KB5005101 will advance your system to Windows 10 Build 19043.1202 if you're on version 21H1 (May 2021 Update). For those still on version 20H2, they will receive the same patch with Build 19042.1202. Likewise, version 2004 is getting Windows 11 Build 19041.1202 with the same set of fixes.
This optional patch is part of Windows 10's August 2021 Patch cycle and it has addressed issues with Bluetooth A2DP connections. According to our tests, Microsoft has finally addressed an issue that prevents wireless headsets from connecting using Advanced Audio Distribution Profile (A2DP), a feature that enables support for music playback.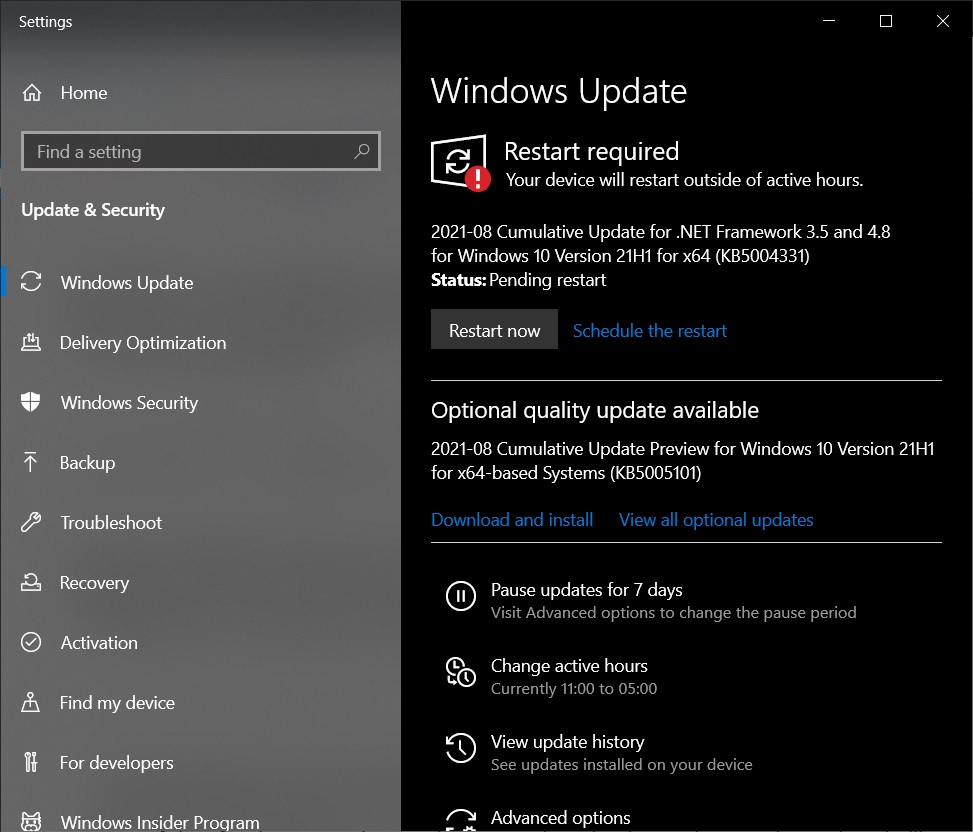 On your devices, when you check for updates today, the following update will appear on your screen:
2021-08 Cumulative Update Preview for Windows 10 Version 21H1 for x64-based Systems (KB5005101)
Or
2021-08 Cumulative Update Preview for Windows 10 Version 20H2 for x64-based Systems (KB5005101)
To download and install Windows 10 Build 19043.1202, use these steps:
Open Windows Settings page via Search or Start menu.
Navigate to the Updates & Security section of Settings.
Tap on Windows Update.
Select Check for updates.
Click on "Download and install" under the optional updates section.
Select "restart now" to complete the installation.
Download Links for Windows 10 KB5005101
Windows 10 KB5005101 Direct Download Links: 64-bit and 32-bit (x86).
Using Microsoft Update Catalog, you can download Update Standalone Installer (.msu) files of the new updates. Pay close attention to the updates listed in the catalog and identify the correct edition. Make sure that your version number and operating system bit matches the one in the update.
You can open Visit Settings > System > About on Windows 10 to view this information.
Click the Download button on the right side and this will open a new window with a link to the .msu file. Copy and paste the .msu link in another tab to download the update. Double-click the update package follow the prompts to install it.
Windows 10 KB5005101 (Build 19043.1202) Full Changelog
Fixes Bluetooth connectivity issues.
Fixes slow or broken Windows Update page.
Fixes an issue that resets syncing for OneDrive.
Fixes an issue that affects the copy-and-paste command in Office 36.
Fixes an issue that affects the stability of the device.
Microsoft has fixed an issue that could block users from accessing DCOM activation failures and another bug that crashes the Windows Remote Management (WinRM) service. For enterprises, Microsoft patched an issue that crashes Windows Management Instrumentation (WMI) provider host process.
Windows 10 Build 19043.1202 also includes several bug fixes for consumers. For example, the tech giant has fixed an issue that resets brightness for HDR monitors when you stream standard dynamic range (SDR) content.
Another bug has been fixed where the external monitor shows a black screen after leaving the hibernation monitor. This problem has been observed on PCs where external monitors are connected to a docking station. Windows 10's bug that could prevent users from minimizing app windows has been fixed in this release.
The patch also comes with these bug fixes:
Microsoft has fixed a memory leag bug caused by VBScript.
Microsoft has fixed issues with the out-of-box experience (OOBE) process of Windows.
Microsoft has fixed an issue that crashes apps when the device does not haveedgegdi.dll installed.
Microsoft has fixed an issue that could cause your device to stop responding when you use touch input, such as a touchpad or touchscreen
As you can see, Windows 10 Build 19043.1202 has fixed numerous bug fixes. The company has also fixed issues affecting Office 365, resized images, USB audio headsets, Authentication Mechanism Assurance, ShellHWDetection service, Windows Defender Exploit Protection, and more.
Ahead of Windows 11 October release, Microsoft has also enabled support for a new Group Policy called "Adds the "Target Product Version" policy. By configuring this policy, you can specify the Windows release you want to remain on or migrate to. For example, if you're not interested in Windows 11, you can specify Windows 10 21H1 or 21H2.
Known issues in the latest optional update
Microsoft is currently aware of the following known issues in Build 19043.1202:
A bug could affect the feature of the Japanese Input Method Editor (IME) when you enter Kanji characters.
Microsoft Edge (Chromium) could be missing if you reinstalled the operating system using custom offline media or custom ISO image.
Some devices cannot apply these Windows Updates due to the error message "PSFX_E_MATCHING_BINARY_MISSING".
If you've discovered undocumented critical bugs in this patch, you can always uninstall Windows Update using Command Prompt or Settings app:
Open Windows Update and click 'View update history.
Click on the 'Uninstall updates' option (available in the top-left corner of the page).
In Control Panel, select the update you wish to uninstall.
Click on "Uninstall".
Once done, restart the device when prompted.