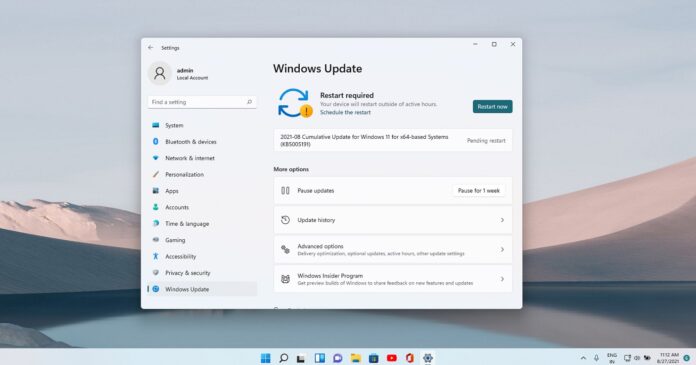 Windows 11 Build 22000.168 (KB5005191) is now rolling out with support for a new widget, improvements to Microsoft Store's library, and more. Alongside these changes, Microsoft has also patched numerous bugs in the operating system. For example, a critical bug that broke the functionality of Windows Search has been fixed.
Today's cumulative update is titled "2021-08 Cumulative Update for Windows 11 for x64-based Systems (KB5005191)". This patch is essentially the same as previous updates and it comes with minor changes, like improving the Search and addressing minor issues with the taskbar.
Windows 11 KB5005191 comes with support for a new Windows Widget called "Microsoft 365" that would surface your documents, news, Microsoft Teams meeting recordings and more in the widgets board. At the moment, this feature works for enterprises only and it requires an AAD account on your PC.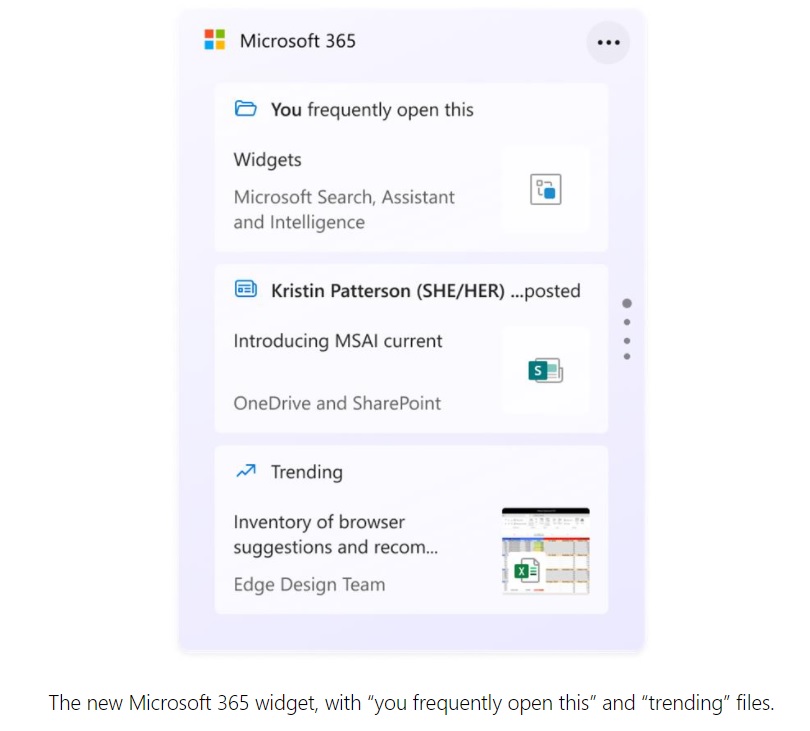 Microsoft 365 widget could make you make productive and help you access the personalized list with one tap, according to the company. To try the Microsoft 365 widget, open the widgets pane and click the "Add Widgets" button.
Windows 11 Build 22000.168 comes with the following features:
Microsoft Teams Chat: Windows 11's taskbar chat app has been updated with support for several languages. The list of supported languages includes German, Dutch, Danish, French, Spanish, Hindi, Japanese, Korean, Chinese, and more.

Microsoft Store now features redesigned Library. The company has simplified the navigation and performance of the Store Library.
Microsoft has updated Store's spotlight design to promote products in the store. You can now hover over an item to get a sneak peek of the promoted app, game or other products.
Going forward, Windows 11 will be serviced with general quality improvements delivered by Windows Update, and new features won't be added to version 21H2. For those in the Dev Channel, Microsoft will begin testing Windows 11 22H2 (next year's fall update) and new features will arrive for Insiders in the coming months.
New improvements in Windows 11 Build 22000.168 (KB5005191)
Windows 11 Build 22000.168 comes with numerous bug fixes and improvements. For example, Microsoft has fixed an issue that results in blank or botched up Windows Search results.
The tech giant also fixed issues resulting in Settings app crashes when the user type certain keywords in the search box. Likewise, the Family widget should no longer unexpectedly crash.
For those who use Chat from Teams, Microsoft has fixed an issue where videos within the Teams client would freeze when you're in a would freeze or display a black image during video calls.
How to install Windows 11 KB5005191
To install Windows 11 KB5005191 (Build 22000.168), follow these steps:
Head to Windows Update in Settings.
Simply check for updates.
The update download/install process will begin.

Once down, click on the "Restart now" button to complete the installation.
This patch is available to testers in the Dev or Beta channel of the Windows Insider Program. As always, if you have a 7th-gen or older processor and your device is not eligible for the upgrade, keep using Windows 10 or make changes to the Registry to bypass the requirements.
Known issues in Build 22000.168
Windows 11 Build 22000.168 comes with these known issues:
Some devices with Snapdragon processors will crash with  WHEA_UNCORRECTABLE_ERROR.
Windows Search box will not work for some users. If you're unable to access search, launch Win+R and close it. This will resolve issues with the Search or Start menu.
Microsoft is aware of Bluetooth connectivity issues.
Widgets board may appear empty or displayed in the wrong size on external monitors.
Windows Sandbox will crash when the language input switcher does not launch.
Within Sandbox, some services like the IME context menu may not work.
If you have other issues in Build 22000.168, you can always downgrade to Windows 10 or restore the previous cumulative update. To simply remove the update, head to Control Panel > Programs > Programs & Features > View installed updates, and select the patch that you want to remove.
What's next for testers
Windows 11 version 21H2 is now finished, and Build 22000 is believed to be the RTM (release to manufacturing – the base build that vendors can preinstall).
According to sources, Windows 11 will be released in late October and a wider rollout will begin in early 2022. The upcoming builds will include bug fixes and it's not yet clear when Android apps support will be added.
In a week or two, Windows Insiders in Dev Channel will be shifted over to the development branch of the next version of Windows 11 codenamed "22H2" which is due to release in the fall of 2022.