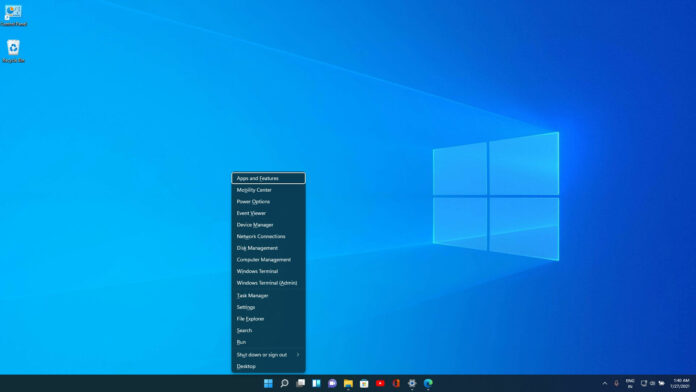 The Power User Menu, otherwise known as the Win+X menu, is available by default in Windows 11. Microsoft's power user menu is getting a redesign with Windows 11 and the pop-up menu still includes all shortcuts to Device Manager, Task Manager and other advanced Windows tools.
On Windows 11, the Win+X menu has been missing support for "access keys" which lets you press letters to quickly select entries in the menu. For example, if you launch the power user menu using the Win+X shortcut and type "D", it would open the Device Manager. Likewise, "T" launches the Task Manager.
"Thanks for taking the time to reach out about this, the menu displayed when you press WIN + X was updated for Windows 11 and the new one doesn't yet support access keys," Microsoft said. With Windows 11 Build 22000.71, Microsoft has finally restored support for access keys.
"Based on your feedback, we're working on adding access keys to WIN + X so that you can do things like WIN + X M to launch Device Manager. Insiders may see this functionality with Build 22000.71, now available in the Dev Channel, however we are currently investigating an issue in which sometimes the option is unexpectedly unavailable," the company said in a Feedback Hub post.
With Windows 11 Build 22000.100, the power user menu is now faster and the access keys should be appearing more reliably.
Taskbar loses clock seconds support
As we reported recently, Microsoft has confirmed that Windows 11 taskbar does not support the ability to drag & drop apps onto the taskbar. Additionally, Windows 11 no longer allows users to change the location of the entire taskbar.
Windows always had the ability to move the taskbar on any side of the screen (top, on the left and on the right). With Windows 11, users are now forced to have the taskbar on the bottom of the screen and we don't know if this feature will be restored in a future release, but Microsoft says it's listening to user feedback.
In a new Feedback Hub post, Microsoft has acknowledged the removal of a registry value "ShowSecondsInSystemClock" that allowed the taskbar clock to display time in seconds.

This feature requires a registry hack and it was added with Windows 10. In a Feedback Hub post, Microsoft confirmed Windows 11 taskbar system clock has dropped support for seconds.
"We're sorry, this is not a supported registry key for Windows 11. Thank you so much for giving us your feedback, which we'll continue to use to guide the future of the clock," Microsoft said.