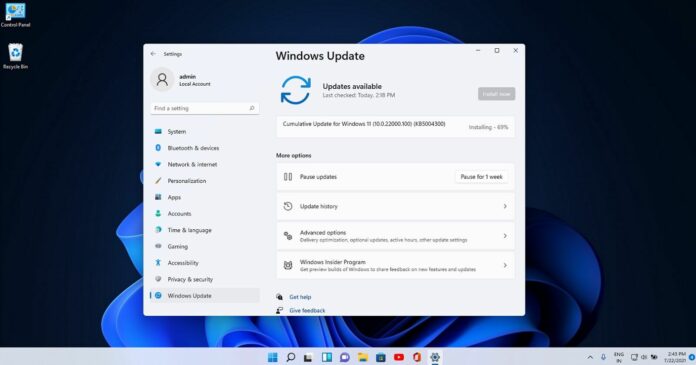 Windows 11 Build 22000.100 is now rolling out to users in the Dev Channel of the Windows Insider program. This is the fourth public preview of Windows 11 and it comes with new improvements. However, there are no new features as the focus is on addressing design consistency issues.
If you're in the Dev Channel, you'll see a new update called "Cumulative Update for Windows 11 (10.0.22000.100) (KB5004300)". In addition to the cumulative update, Microsoft has also published new Windows Defender updates, which are also rolling out on Windows 10.
Windows 11 KB5004300 comes with several improvements for the taskbar. For example, Microsoft is finally updating the System Tray flyout. As you're probably aware, System Tray includes a selection of icons that appear only when you click the expanded button. As shown in the below screenshot, this flyout now features a modern interface.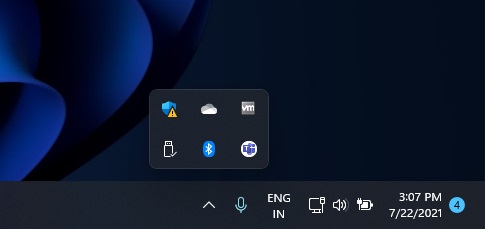 In addition to visual improvements, Microsoft has also updated the default touch keyboard icon in the Taskbar to match the size of the other icons.
Likewise, the Windows taskbar calendar flyout has been updated and it will now collapse or minimize when you click on the notification center button.
New features in Windows 11 Build 22000.100 (KB5004300)
Build 22000.100 is improving the alert model of Windows 11 taskbar icons. As shown in the below screenshot, Microsoft is exploring a new design for app alerts. This new design is visible when apps require attention from the user. For example, if a file transfer requires your action, the Explorer will automatically start flashing on the taskbar.

However, the flash would be calm and subtle. In fact, it will eventually stop, and a red backplate will appear instead.
Microsoft Store is also getting a new update with quality improvements. For instance, Microsoft has improved the navigation of the new Store app on Windows 11. As a result, scrolling will feel faster and new animations will appear when you open an app or movie listing.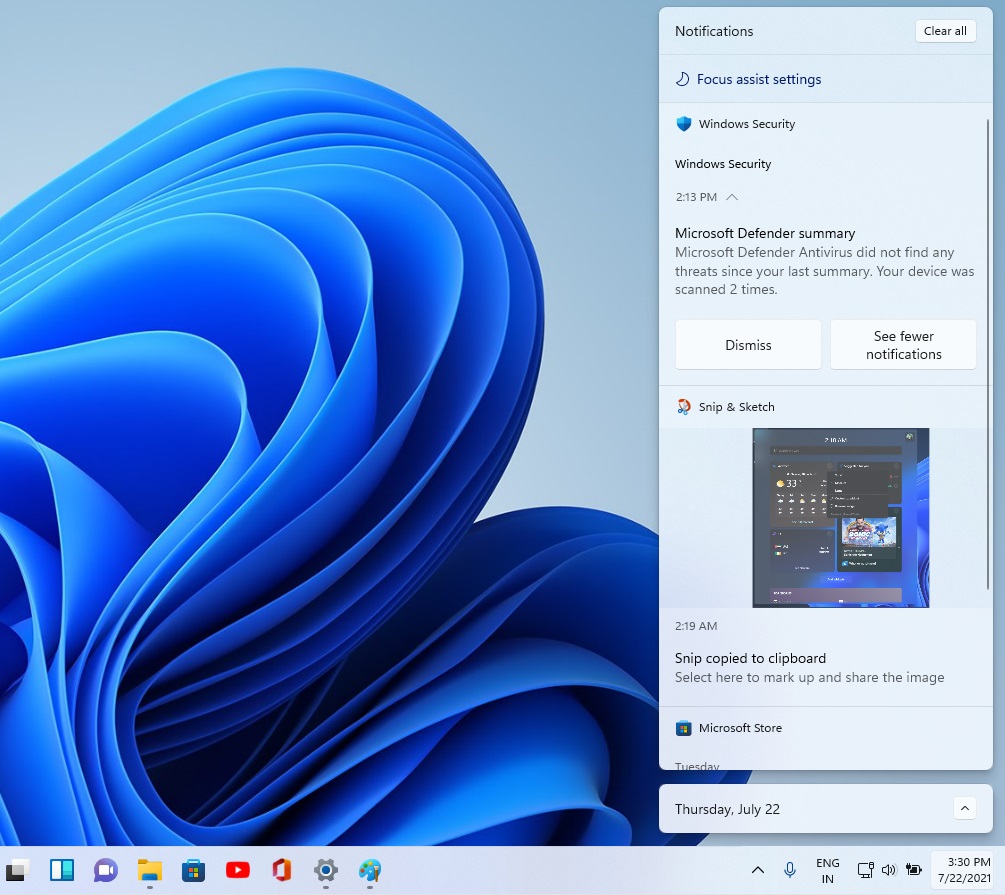 The notification center, previously known as Action Center, is getting a new feature that would let you quickly access Focus assist settings. You can also configure Focus Assist from Quick Settings or the main settings app.
Here's a list of other improvements in Build 22000.100 (KB5004300):
Microsoft has resolved an issue that crashes Explorer.exe when you click on the date and time button on the taskbar. This problem was experienced on devices where the Focus Assist feature is turned off.
Microsoft is bringing back icons for some context menu entries.
A bug has been fixed where the taskbar clock loses Windows sync support and gets stuck.
A bug has been fixed where explorer.exe could resume the device from standby
You can now click on the Taskbar to close Start or Search. This feature was missing in original builds.
Microsoft Teams chat integration
Additionally, Microsoft is now enabling Teams integration in Windows 11 taskbar, allowing users to connect with friends, family and colleagues for free. This new Chat integration is based on Microsoft Teams 2.0, which is powered by Microsoft Edge WebView (Chromium).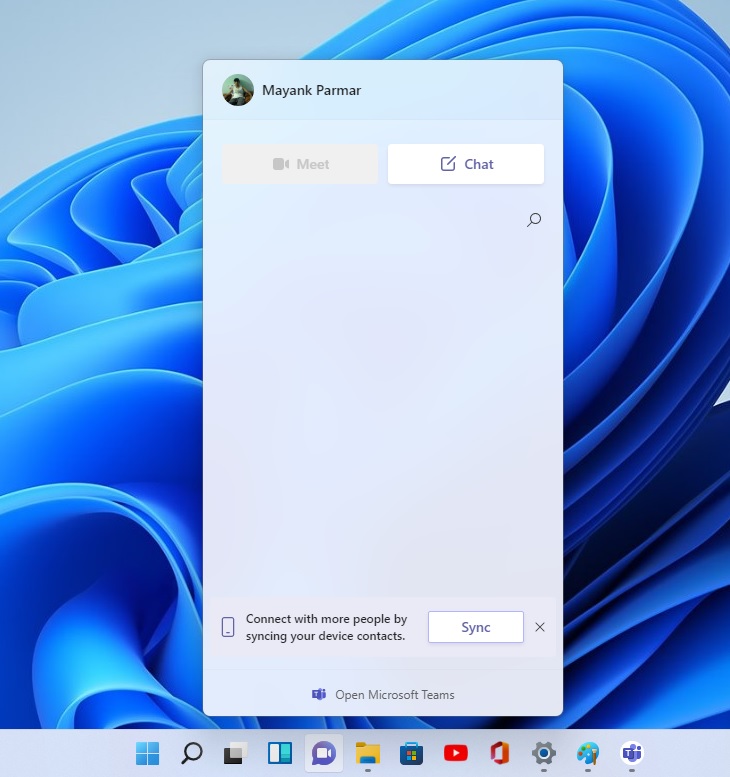 As you can see in the above screenshot, it will allow users to start a chat directly from the Taskbar. For now, you can send messages, images, and more. In the coming weeks, Microsoft will allow users to launch meetings directly from the taskbar to anyone globally on all platforms.
How to install Windows 11 KB5004300
To install Windows 11 KB5004300, use these steps:
If you're already on Windows 11, open Settings and tap on Windows Update.
Click on Check for updates button to start the download.

For those on Windows 10, you need to open Settings > Updates & Security > Windows Insider program, and hit the join button.
During the Windows Insider program setup, select "Dev Channel" and reboot.
Check for updates and today's preview build will be offered automatically.
Of course, the update won't appear if your device fails to pass the compatibility check, which requires a newer processor and TPM 2.0 with Secure Boot.
If you don't care about Microsoft's warning, you can always modify the Registry to install the update on unsupported devices.
Known issues in Build 22000.100
Microsoft has also confirmed multiple issues in Windows 11 Build 22000.100 and here's what you need to know:
The Taskbar will sometimes flicker and the Settings app will crash.
Explorer.exe will crash if you use the Turkish display language.
Windows will sometimes select the wrong item if you click on a desktop icon.
The Search panel may not open.
The search panel might appear black.
The company is also investigating reports of a bug that could prevent the Windows Widgets feature on some configurations. If you've issues with widgets, you can sign out and then sign back in again. Likewise, another bug could prevent widgets board from appearing correctly on external monitors.
If you can't deal with these issues, you can always roll back to Windows 10 or the previous build of Windows 11.
To uninstall the update, head to Settings > System > Recovery > Advanced startup and restart the device. This will launch the traditional recovery screen where you need to select Troubleshoot > Advanced options > Uninstall Updates to remove the patch.