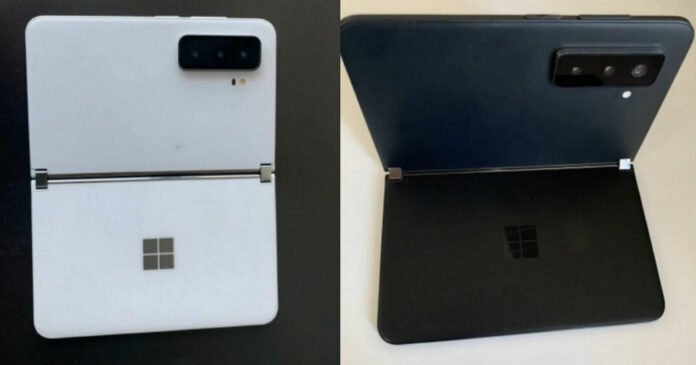 The Surface Duo 2 is right around the corner, and today, new images of the device have leaked out. The new leaked photos show off the Surface Duo 2 with its new triple-camera array and more.
As one might expect, the design of the Surface Duo 2 as a whole isn't all that different from the Surface Duo first-generation. It still comes with two screens, one hinge in the middle and there's still a glass back, a huge screen up front, and a Surface logo on the back as well.
What's new and interesting about these latest photos from a YouTube channel is the rear camera array. Surface Duo first-generation comes with a single camera on the front, but this will change with the next Android phone. As we reported earlier this year, Surface Duo 2 will feature big camera improvements.
Microsoft also seems to have gone for a traditional design on that camera bump. The new camera design is something we've previously seen on other phones, but it's definitely something we're curious to see how it looks in real life.
Surface Duo 2 features
Surface Duo went on sale last year and there were some serious flaws in the device. For example, the phone was using two years old Qualcomm chip with major software and camera issues. The successor to the Surface Duo will address all of these issues, according to job listings and rumours.
The next-gen Surface Duo should pack a better processor than the Snapdragon 855 and it could be the latest Snapdragon 888 chip. According to job listings, Surface Duo will support 5G networks and NFC.
In addition to the new camera module, Microsoft plans to use ML/AI features to deliver better quality images.
According to sources familiar with the company's plan, Microsoft is putting a "special emphasis" on the software experience and we're expecting faster updates. In fact, Microsoft is contributing to the Android open-source platform and some of these software-sided improvements will also make their way to the original phone.
For instance, Microsoft has been working on an "Obscured Regions" API to address the problem of "overlapping activities" of apps on dual-screen and foldable devices.
Surface Duo is currently expected to launch in the fall of this year.
This is a developing story…