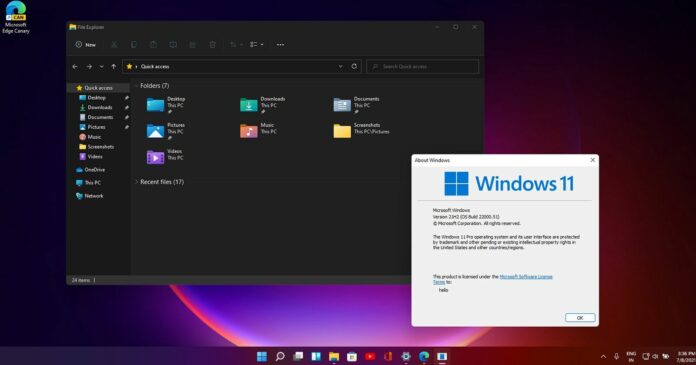 Windows 11 public rollout is expected to begin later this year and Microsoft has slowly started answering our questions on the upgrade process of the operating system.
Microsoft officially announced Windows 11 on June 24 and the company said the operating system would begin rolling out to consumers later this year. There's a theory that Windows 11 will land in October or November along with Windows 10 version 21H2, otherwise known as October 2021 Update.
During the event, Microsoft said the OS would be offered as a free upgrade to devices meeting the minimum hardware. For in-place or direct upgrade via Windows Update on Windows 10, Microsoft says you need Windows 10 version 20H1 (May 2020 Update) or newer.
The update process may not work via Windows Update if you've Windows 10 Pro/Home older than version 20H1, which was released in 2020. In addition, Microsoft says the download will take longer than a typical feature update, such as the October or May 2021 Update.
"The upgrade to Windows 11 is available for devices running Windows 10, version 20H1 or newer, on eligible hardware. The Windows 11 download and install will likely take longer than a typical Windows 10 feature update," the company's Twitter handle said in a tweet posted on June 30.
According to Microsoft officials, the minimum Windows 10 version requirement for enterprise customers is version 1909 (November 2019 Update). So if you've Windows 10 Enterprise (version 1909), you can directly upgrade to Windows 11 without installing the latest feature updates.
For Windows 7, Microsoft says a clean installation is necessary for a direct upgrade, which means users need to back up their files manually.
Windows 11 will be a user-initiated update
For consumers, Microsoft will continue to offer control and transparency over Windows Updates. In other words, Microsoft is not planning to force upgrade users to the new version.
Windows 11 will be a user-initiated seeker process, which means you need to manually "seek" the update to Windows 11.
If your device does not meet the new hardware requirements, the seeking experience will not be available. On unsupported devices, Microsoft will also block the update when you use Media Creation Tool or Update Assistant tool. However, you'll be able to bypass the upgrade blocks by modifying the installation media or registry.
Ahead of the expected rollout, a list of Windows 11 SKUs has also appeared on Bluetooth SIG, suggesting that the operating system is one step closer to release. According to the certification, Microsoft is working on a new SKU called "Mixed Reality", which could be announced later this year.