Earlier today, preview builds of Windows 11 leaked online and we're now taking a closer look at the new Start Menu found in the leaked update. This is a "near-final" version of the Start Menu, so it's likely that the next generation of Windows will have a slightly improved interface by the time it launches in the production channel.
Way back in February 2020, we reported that Windows 10 will be getting a redesigned Start menu and Microsoft will be killing off live tiles for good. According to sources familiar with the development, live tiles usage has always been low, especially on desktops, and most users don't customize their tiles on the Start menu.
Live Tiles made their way to Microsoft's desktop operating systems with Windows 8 upgrade as the company wanted to optimize their desktop operating system for both PCs and touch-screen devices.
Windows 10 debuted in 2015 without Windows 8's Metro interface, but Live Tiles managed to stick around on the desktop.
According to the leaked preview build, Microsoft is now giving up on touch-friendly tiles with Windows 11 update, the company's successor to Windows 10.
A closer look at the new Start Menu on Windows 11
Microsoft is replacing Live Tiles with static icons (grid layout) on Windows 11, which is due to land in the second half of this year for consumers. This means we could see the end of Live Tiles in a few months.
Start Menu experience on Windows 11 has been completely redesigned with a focus on your apps and productivity.
As you can see in the above screenshots, the default layout of the Start menu features app icons. Likewise, Microsoft has updated all apps shortcuts with colourful icons and it matches the look and feel of Windows 11.
Start Menu comes with two sections: pinned and recommended activities.
The pinned section includes your favourites or most-used apps and recommended area lets you access the recently viewed or edited documents/files.
This new "recommended activities area could be the replacement for Windows Timeline and it appears to show Office documents, local files and recently modified apps only. This list will grow as you edit and view more documents, but for now, it's a quick way to find your important documents.
Start Menu old layout is still supported
By default, Start Menu will no longer be available with a button placed in the bottom left corner.

However, you can open Windows Settings > Taskbar and go back to the left bottom alignment.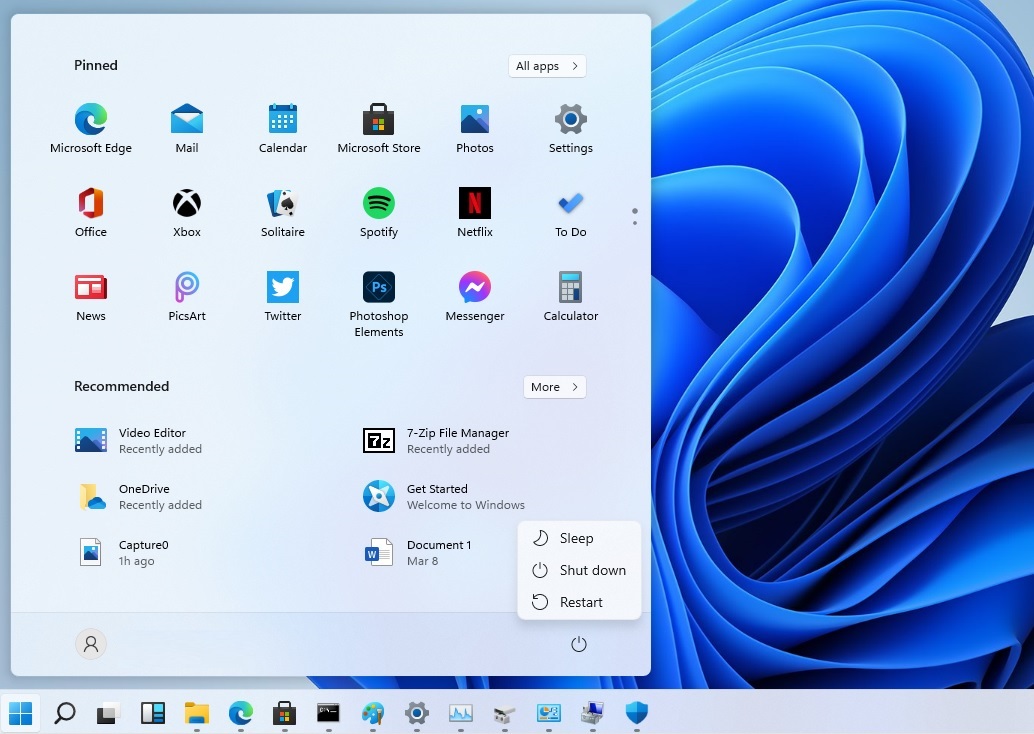 In addition to the new layout, the power options have been moved to the lower right corner and they include the general options, such as shutdown, restart, or update and restart/shutdown.
Start menu customization options on Windows 11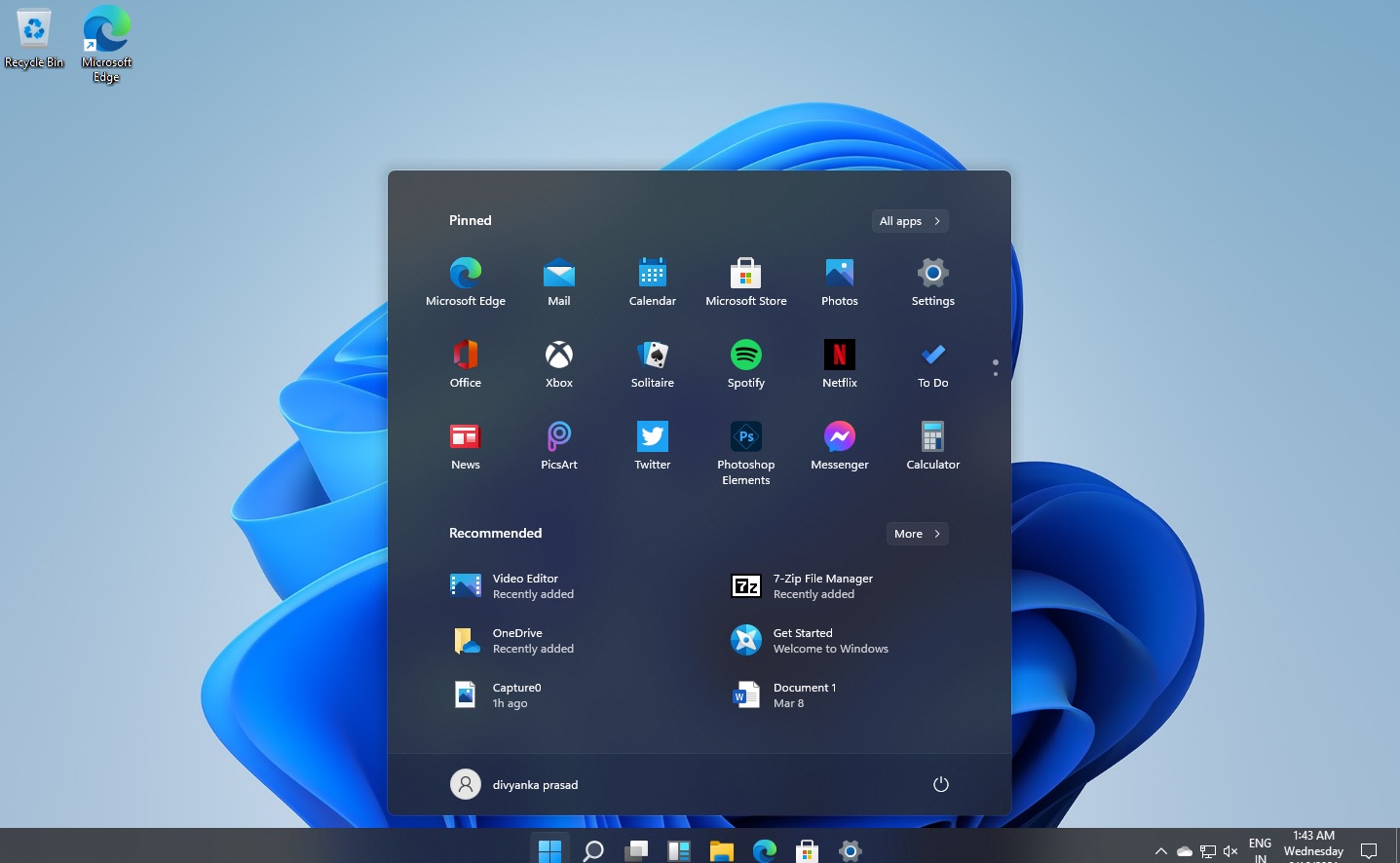 In dark mode, Start Menu also appears to be using a new gradient colour by default and it's based on the classic blue colour.
Of course, you can also select a custom colour for your Start menu and apply accent colour to the background. To do this, you need to launch "Settings", open "Personalization" and enable the option "Start, taskbar, and action center."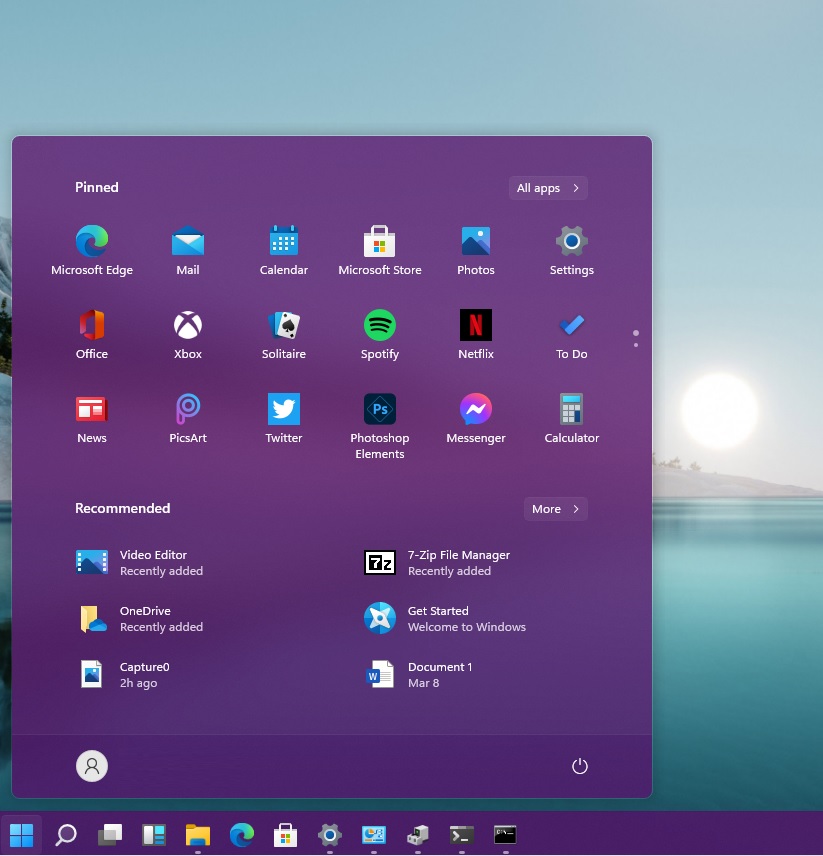 You can select any colour in the grid and use it for your Start menu and taskbar. However, it won't work in Light mode.
Powe user menu on Windows 11
You can still right-click on the Start button in Windows 11 to access a menu popularly known as the "Win + X menu" or the Power user menu.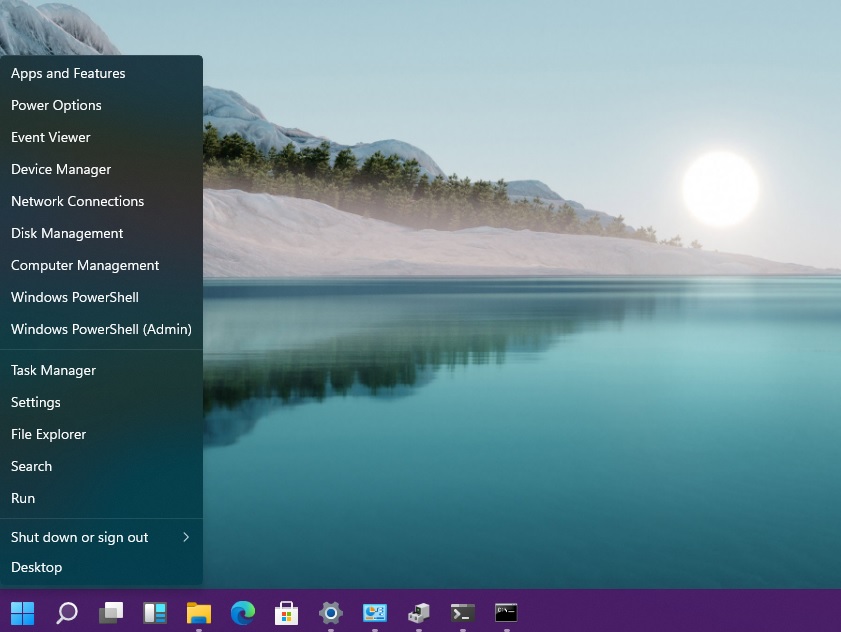 This menu has been updated with rounded corners and Fluent Design. It still includes classic commands for Power Options, Device Manager, File Explorer, Task Manager, etc.
In this leaked build, Microsoft has removed the Task Manager and other options from the taskbar menu. You can still right-click on the taskbar, but all options are currently missing and users are directed to the Settings app.
If you want to access Task Manager on Windows 11, you need to use the classic keyboard shortcut, power user menu or Windows Search.