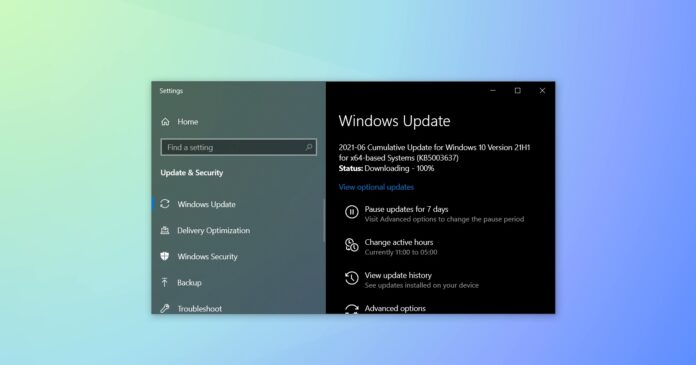 Windows 10 June 2021 update is now rolling out and a new patch has been released for version 21H1, 20H2, v2004 and v1909. June 2021 Patch Tuesday includes several bug fixes for critical bugs, such as memory leak issue that resulted in high resource usage when using certain apps.
Windows 10 June 2021 update comes with performance improvements for News and Interests feed. It also includes security fixes for seven zero-day vulnerabilities and Microsoft has patched over 50 vulnerabilities. These vulnerabilities include 5 critical and 45 important bugs.
In addition to security fixes, Windows 10's June 2021 update brings News and Interests feed to all devices running version 2004 or newer. As you may know already, News and Interests was first announced earlier this year and it is designed to act as a news feed similar to Android's Discover.
To install the June 2021 cumulative updates, use these steps:
Open Windows Settings page.
Open Update & Security page.
Click on "Windows Update".
Click on the "Check for updates" button.
The download should start automatically, but you can also click on "Download" manually to start the process.
Once done, click on the "Restart" button.
As always, Windows 10 update will modify the revision number of the Build and Experience Pack. If you're on version 21H1 (May 2021 Update), you'll be getting Build 19043.1052. For those on version 20H2, you'll get the same update but the build number will advance to Build 19042.1052 instead.
Windows 10 June 2021 cumulative updates:
KB5003687 (Build 10240.18967) for version 1507.
KB5003638 (Build 14393.4467) for version 1607.
KB5003646 (Build 17763.1999) for version 1809.
KB5003635 (Build 18363.1621) for version 1909.
KB5003637 (Build 19041.1052, 19042.1052, and 19043.1052) for v2004, 20H2, v21H1.
Windows 10 June 2021 cumulative updates overview
Unlike the previous Patch Tuesday releases, June 2021 Patch Tuesday update actually ships with one new feature called "News and Interests". Some users received the taskbar feed feature in April and May, but today's update enables the taskbar feed for everyone and it also improves the experience.
As per the changelog, News and Interests feature is now more reliable and it won't launch accidentally when you hover the cursor around the weather icon on the taskbar.
Build 19042.1052 for Windows 10 version 21H1
Windows 10 version 21H1 (May 2021 Update) is getting Build 19043.1052 (KB5003637) with News and Interests, security fixes and improvements from the optional patch that was released in May.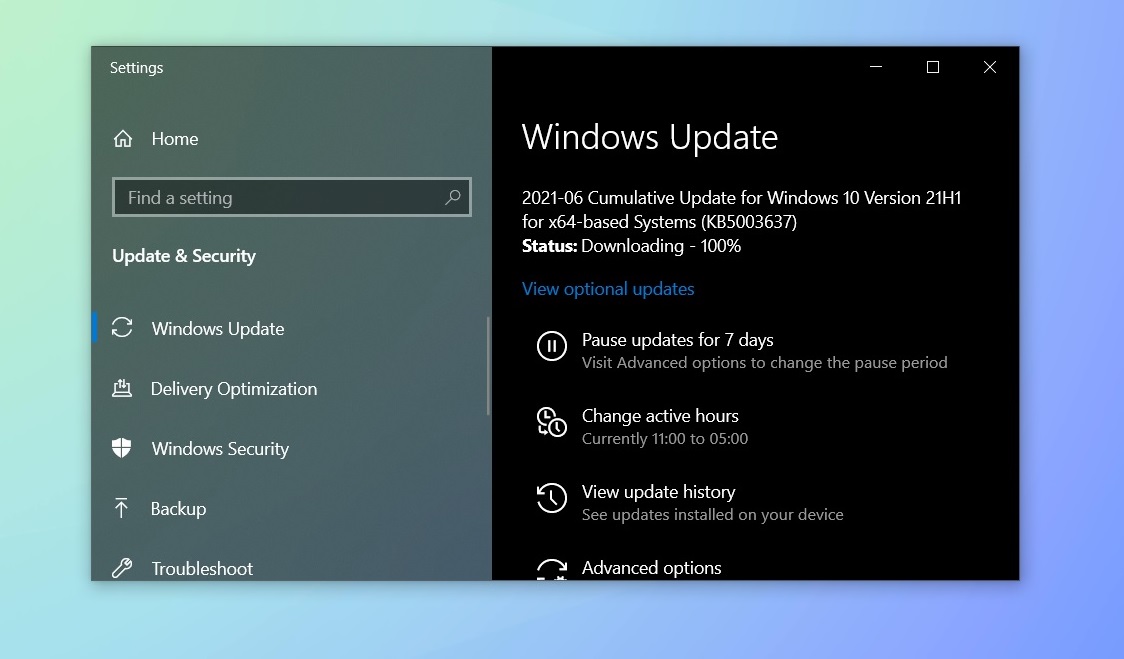 Microsoft says installing this update should improve your security when using input devices such as a mouse, keyboard, or pen. Likewise, Microsoft has also updated Windows OLE (Object Linking and Embedding) to improve its security and improve the process of verifying username/passwords.
The update also made improvements to security for basic actions, storing and managing files.
The patch addressed an issue that prevents a touch device from working and another bug that causes the deleted items to appear again on the desktop.
Windows June update even addresses issues with video playback. For example, a bug has been fixed where the spatial audio effect doesn't work as expected. Similarly, Microsoft also addressed issues with video playback.
Windows 10 version 21H1 rollout status as of June 2021
Windows 10 May 2021 Update (version 21H1) has arrived for everyone now, according to updated documentation. The first feature update of 2021 comes without any new features and there's nothing to get excited about for several reasons.
Windows 10 21H1 is a minor update and it's now available for seekers i.e those who manually check for updates. But anyone that believes may be lagging or cannot see the update when check in the Settings app can always install updates manually using ISO images.
For some users on Windows 10 version 2004, the May 2021 Update will be installed automatically in the coming days.
Build 18363.1621 for Windows 10 version 1909
If you're still using Windows 10 version 1909 supported editions (Enterprise for example), a new patch is available with Build 18363.1621 (KB5003635).
Known issues in June 2021 update for Windows 10
Microsoft is currently investigating two bugs in the latest updates – reduced gaming performance and audio issues. It's worth noting that these issues were first reported earlier this year and they're still present in today's update.
As per the changelog, some users can see performance issues when running games full screen or borderless windowed modes. However, a fix is already available via Windows Update. If you still run into issues, simply check for updates again and restart the device.
If you run into audio issues, click on the audio settings and enable spatial sound (Dolby or Sonic).
Update: Reports suggest that the June Patch Tuesday update could break the taskbar and printer on devices with certain configurations. Microsoft has acknowledged the reports of the taskbar issue and promised a fix in an upcoming release.
If you're affected, try enabling or disabling the "News and Interests" widget and make sure that you use the recommended display scaling options in Settings > System > Display. If nothing works, uninstall the update manually or wait for the official fix.