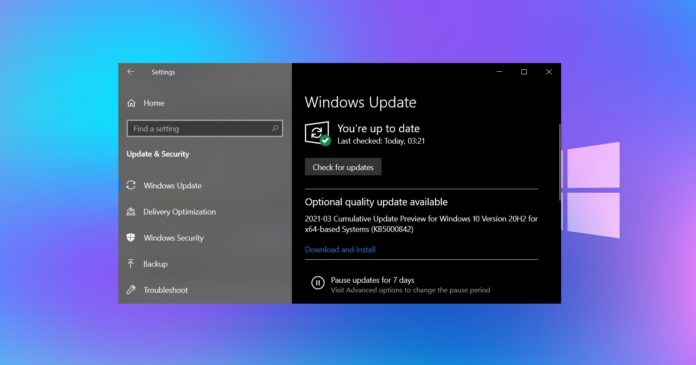 Windows 10 KB5000842, which is part of the March 2021 update cycle, is now rolling out to PCs running v20H2 and 2004. For those who wish to update their systems manually or those who have installation issues, direct download links for Windows 10 KB5000842 offline installers are also available.
Windows 10 KB5000842 is an optional update and it will advance your system to Windows 10 Build 19042.906. As you may be aware, there are no new features in this update, but it appears that this could be the first patch to ship with performance improvements for File Explorer.
To get this update, head to the Windows Update page and click on "Check for updates", and the following update will appear on your screen:
2021-03 Cumulative Update Preview for Windows 10 Version 20H2 for x64-based Systems (KB5000842)
To download and install Windows 10 Build 19042.906, simply follow these steps:
After checking for updates, click on "Download and install".
Select "Restart now" once the download is complete.
Reboot your PC to apply the update.
For different and unknown reasons, some of you may experience problems when applying the cumulative updates, such as failures during installation with vague error messages or update could get stuck for a long time at a certain percentage.
Thankfully, if you run into an issue or an error, you can apply this optional update by manually downloading the offline installer from the link given below.
Download Links for Windows 10 KB5000842
Windows 10 KB5000842 Direct Download Links: 64-bit and 32-bit (x86).
Windows 10 KB5000842 (Build 19042.906) Full Changelog
With this update, Microsoft is finally fixing the "Computing Filters" message when using filters in File Explorer search results. Another bug has been fixed where the search filter freezes or stops responding when users try to change the type of filter used (file type, file date, for example).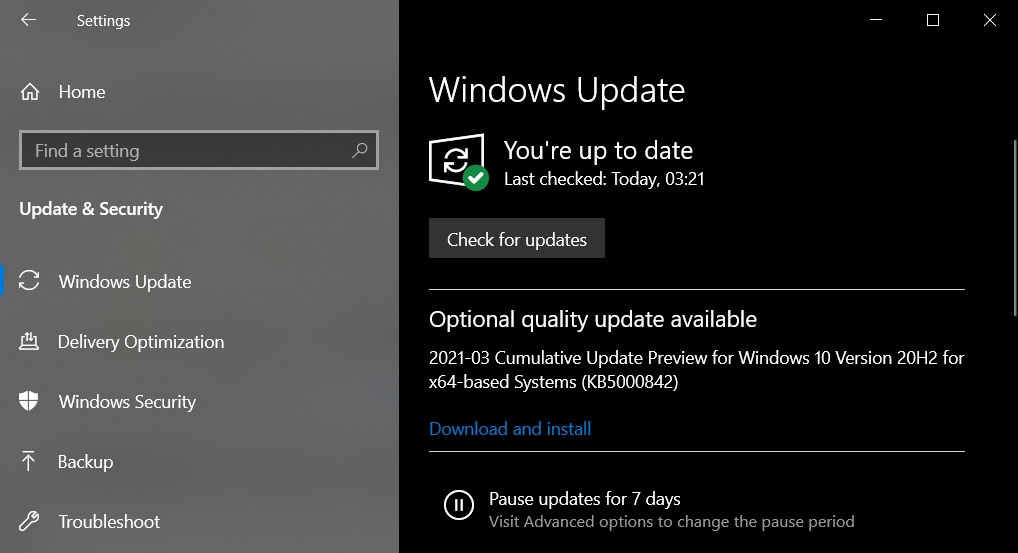 Microsoft has also fixed performance issues caused by explorer.exe, which is responsible for File Explorer, Taskbar, Action Center, and other important elements.
As we reported recently, a bug in Windows 10 causes explorer.exe to consume high amounts of memory, particularly when other apps are running in the background, which obviously affects the system performance.
This has been addressed with today's update.
In addition to File Explorer fixes, Microsoft has also patched an issue where some monitors will produce colours darker than expected. This is experienced only when you're using HDR mode, a feature available for select monitors only.
Another bug has been fixed where video playback sync doesn't work when you use multiple monitors.
This cumulative update will address an issue where the system will stop responding to mouse or keyboard inputs when users delete files/folders synced to OneDrive.
Windows 10 Build 19042.906 is also expected to address problems:
Unexpected issues when using the touch keyboard and changing device orientation
A bug where users cannot dismissing the toast Notifications using the Close button.
Like every other optional update, you should avoid it unless you've been having the problems highlighted above. You can always wait until the next Patch Tuesday to apply both security and these non-security fixes.
The next Patch Tuesday is currently scheduled for April 13, 2021.