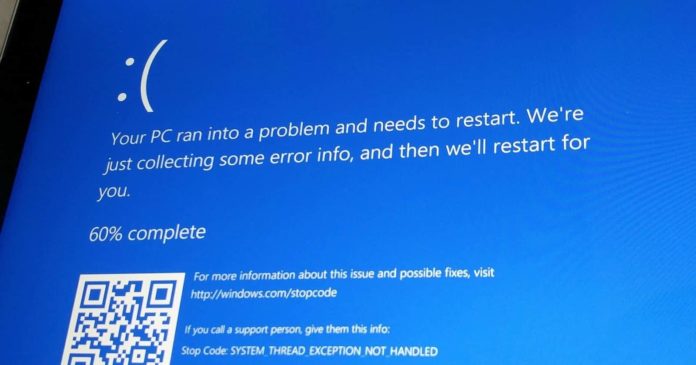 As we've reported previously, Windows 10 PCs have reportedly been seriously disrupted by Microsoft's round of January and February patching. This time, Microsoft has acknowledged the reports and already started rolling out an 'emergency' update to address the bug.
The last two updates for the operating system are causing issues for a "small number of devices", Microsoft has confirmed. In a knowledgebase support article quietly published on Thursday, Microsoft observes that Blue Screen of Death (BSoD) – and other Wi-Fi errors – are caused by an update released in January and February.
Microsoft is now rolling out an out-of-band 'emergency' update designed to remedy a flaw affecting those using KB4598298 or KB4601315.
The emergency update is 'KB5001028' and it doesn't come with any other changes. This patch is rolling out to affected users only and it consists of one fix geared towards addressing Blue Screen of Death error 'nwifi.sys', which is experienced when users connect to WPA3 Wi-Fi networks.
The Redmond firm noted that the Blue Screen of Death is also experienced when the device is waking from sleep or hibernation.
How to get Windows 10 KB5001028
To get the emergency patch, Microsoft says you need to click on 'Check for updates' button and you'll receive the update if your device is affected.
Thankfully, this problem is exclusive to a "small number of devices" and WPA3 environments only, which means most users are unaffected. In addition to consumers, affected business customers also must install the latest out-of-band update via the Microsoft Update Catalog or Windows Update.
In addition to the emergency update, Microsoft has also started deploying a new update process to merge SSU and monthly cumulative updates into 'one single design package'.
This change is expected to improve the reliability of Windows Update during the monthly updates cycle.