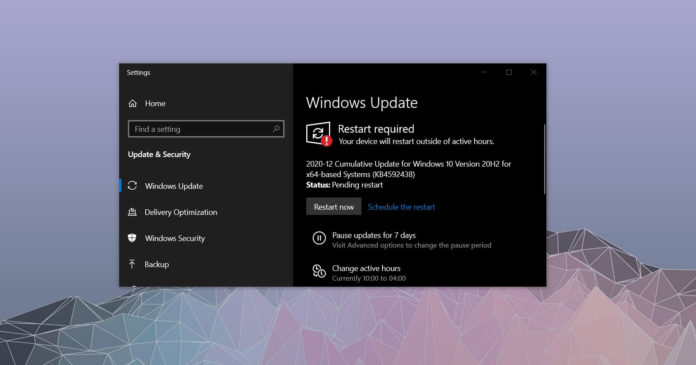 As part of the Patch Tuesday release cycle, Microsoft has published Windows 10 December 2020 update for all supported versions of the operating system. As per the release chart, Windows 10 version 20H2, version 2004, version 1909, and version 1903 are receiving new updates for consumers.
Windows 10 December 2020 update appears to be all about security fixes and improvements, but Microsoft has fixed a few undocumented critical issues including a bug where apps, files and personal data are wiped when users attempt to do in-place upgrade or repair.
Microsoft has resolved 58 security issues as part of its December 2020 Patch Tuesday update. This covers Microsoft products and services, including Microsoft Edge Legacy, Windows Media, Fundamentals, Virtualization, and Graphics Component.
As of December 9, the rollout of the update has completed, which means you should be able to download and apply the patches by manually check for the updates.
For users on Windows 10 October 2020 Update (20H2), Microsoft has published Build 19042.685 with fixes for dark mode inconsistency and upgrade installation bug. If you're on version 2004, you'll get the same update but with a different package version – Build 19041.685.
Windows 10 December 2020 cumulative updates:
KB4593226 (Build 14393.4104) for version 1607.
KB4592473 (Build 15063.2584) for version 1703.
KB4592446 (Build 17134.1902) for version 1803.
KB4592440 (Build 17763.1637) for version 1809.
KB4592449 (Build 18362.1256 and Build 18363.1256) for version 1903 and 1909.
KB4592438 (Build 19041.685 and Build 19042.685) for version 2004 and 20H2.
To apply the updates, simply go to Windows Update and check for updates. Or you can also visit Microsoft Update catalog, click on the search box and paste the KB (knowledge base) number. Once done, click the 'Download' button next to the appropriate update package.
Windows 10 December 2020 cumulative updates overview
Windows 10's latest update has addressed a security vulnerability where apps will be blocked from printing to 'File' ports.
This security problem can also be avoided by ensuring that apps and services run as a service account or user account instead of the 'System' account.
Build 19042.685 for Windows 10 version 20H2
The December 2020 cumulative update for both Windows 10 version 20H2 and version 2004 includes a long list of fixes and improvements if you haven't applied the optional update.
As we mentioned at the outset, Windows 10 version 20H2 is being upgraded to build number 19042.685 (KB4592438) and there are no new features, but Microsoft has fixed multiple bugs in the latest release.
For example, Microsoft has fixed an issue with the File Explorer and Control Panel where the legacy components will incorrectly mix UI elements from Windows 10's dark mode and light mode.
Another bug has been fixed where the in-place repair will fail when users launch the Media Creation Tool (MCT).
According to the official changelog, Microsoft has applied security improvements to core components including Graphics Components and Windows Virtualization. In addition, Microsoft patched an annoying issue where the touch keyboard would be unstable in the Windows Mail app.
October 2020 Update (version 20H2) rollout status as of December
According to Microsoft, Windows 10 October 2020 Update will become available for more users soon.
Microsoft says it has finally resolved a driver compatibility bug where the OS will crash with Blue Screen of Death error and the following message will be displayed:
 An illegal DMA operation was attempted by a driver being verified.
This bug has been fixed, and more users should begin receiving the October 2020 Update (version 20H2) in the coming days. According to the support document, the upgrade block will be lifted by mid-December.
Build 18363.1256 and Build 18362.1256 for version 1909 and version 1903
Windows 10 version 1909 and version 1903 are receiving a new cumulative update with identical security updates.
Microsoft noted that this would be the last patch for version 1909 and users must upgrade to the most recent version of the OS.