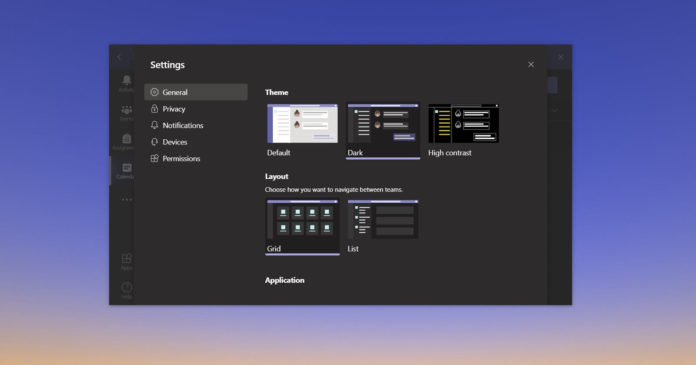 Microsoft has completed the rollout of Microsoft Teams' November feature update. As you may know already, Microsoft Teams desktop client will automatically download the new software update when your Windows 10 or macOS devices are connected to the Wi-Fi network.
According to the official changelog and roadmap, November 2020 update for Microsoft Teams contains a number of new features and improvements.
This includes the new noise-suppression feature, updated full-screen experience, polls integration, new presence status options, ability to pin posts in a conversation, and more.
November 2020 update for Microsoft Teams
Microsoft has completed the rollout of the new AI-based noise suppression feature that will automatically remove unwanted background noise when you're in a Teams meeting.
This feature was first announced back in March 2020 and it started rolling out to users in the first week of November. The update introduces new options to customize the noise-suppression.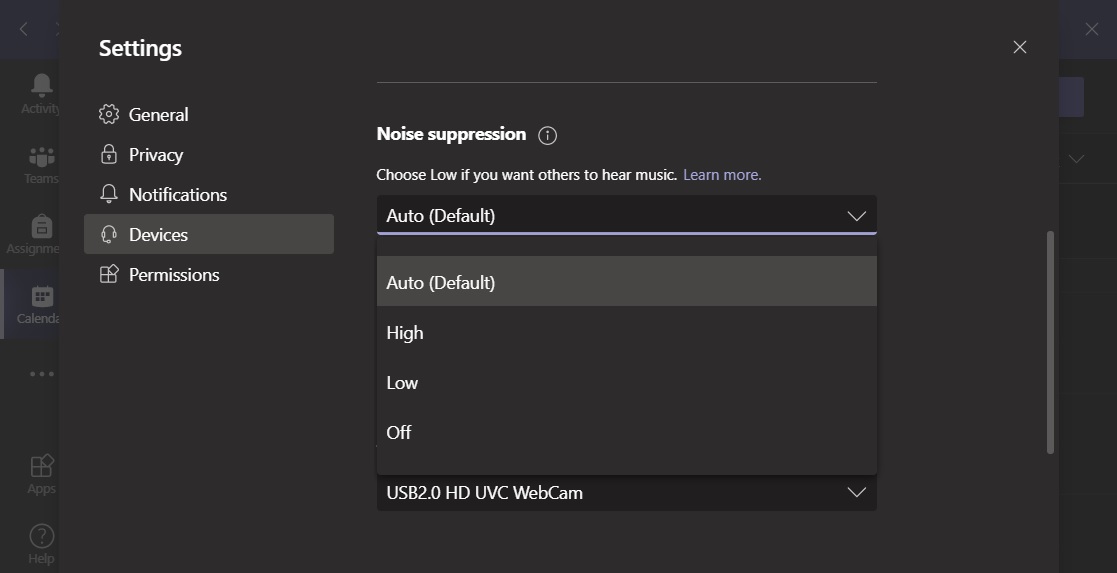 The new option includes "High" suppression mode which uses deep neural networks to analyze the audio around you and eliminate unwelcome noise during Teams meetings. It works best only when the desktop client is able to properly separate human speech signals.
To turn on the new functionality in Teams, simply head to the Settings > Devices and scroll down to see the new noise suppression section.
Polls integration
Polls integration within Microsoft Teams has existed for a while now, but it just got better in November update. Teams now allow users to create draft polls before a meeting quickly and organizers/presentation can view the answer during the meeting itself.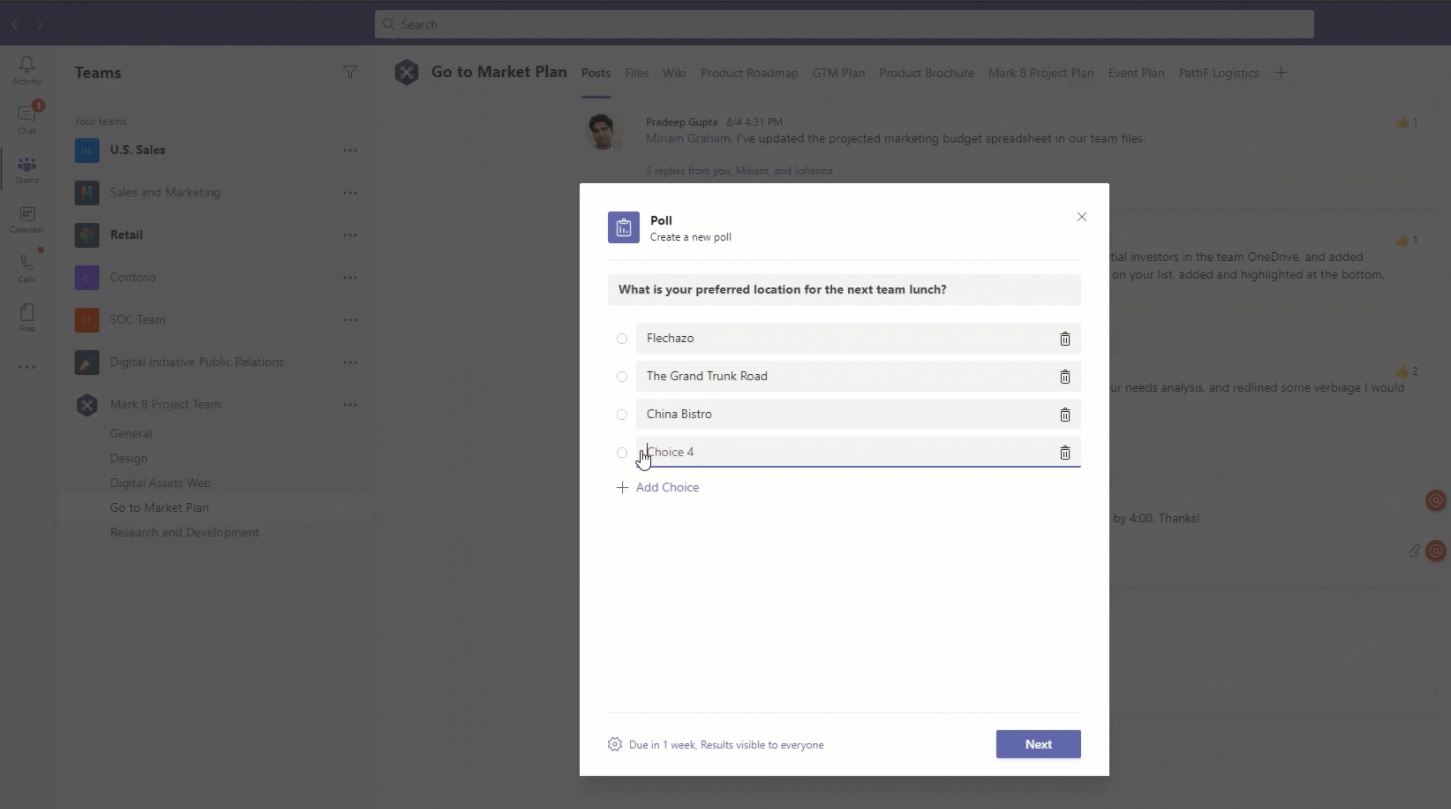 In addition, when a poll goes live, Teams will automatically issue a pop-up alert to attendees, so they'll be able to voice their opinion in real-time.
Full-screen mode
Microsoft Teams now allows users to full-screen mode in the new meetings experience. If you're using the latest desktop client, you should see the "Full-screen" option in the More actions menu (…).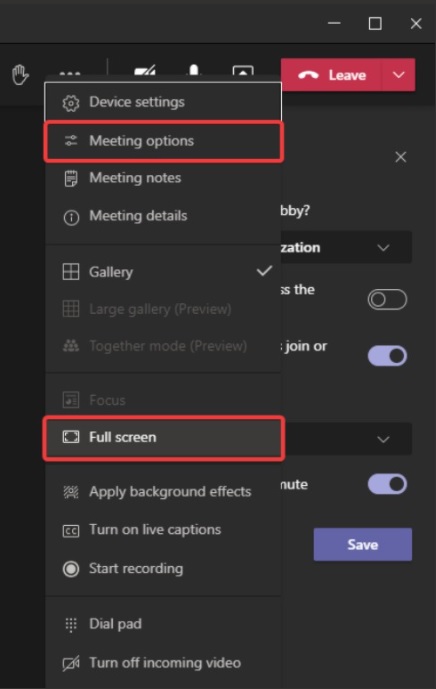 In the new and improved full-screen mode, meeting window will use your whole screen and hide Teams' title bar and Windows 10's taskbar.
Translation
Teams app has also received support for Inline message translation capability. This will allow you to translate individual posts in channels and chat.
Presence status
You can now set duration for each status in the presence menu. For example, you can now set 'Do not disturb' status for a specific period of time, such as one hour, two hours, or more than one week.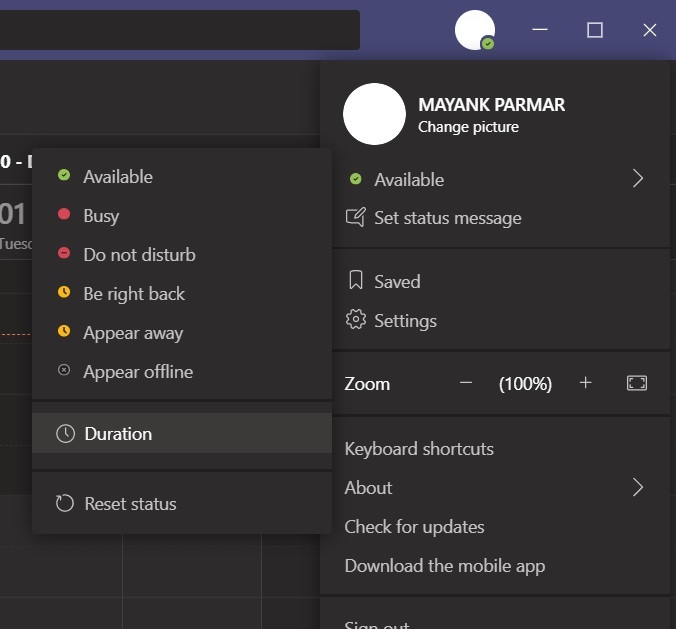 This new presence status feature is for those users that prefer to take short breaks during working hours or to help those who don't want to get annoyed by unnecessary messages from colleagues.
Calling features and performance improvement
Microsoft is rolling out the new Call Merge feature in select regions. Call merge will allow users to merge their Teams calls into another call or group call.
November update for Teams also comes with performance improvements for the desktop client as well as offline mode.
Earlier this week, Microsoft announced that it's working on another great feature for those with slow or limited internet connections. Lastly, some Teams users will begin receiving a new built-in call experience starting early next year.