Based on the new benchmarks, we can confidently say that Apple M1 processor is impressive and it currently runs Windows 10 faster than the processor that ships with Microsoft's Surface Pro X lineup.
Apple's ARM-based M1 processor is currently available in the MacBook and Mac Mini, and the devices running on Apple Silicon are already available for purchase. Apple isn't the only company investing in ARM for their computers as Microsoft is one of the first to highlight the benefits of ARM chips using its Surface Pro X lineup.
Way back in 2016, Microsoft officially commenced the work on 'Windows 10 ARM' with the focus on battery life and always-connected internet connectivity.
Windows 10 on ARM is a version of the operating system designed to run on ARM-based hardware, such as the Qualcomm Snapdragon and Samsung Exynos. Technically, Windows 10 ARM should be able to run on Apple M1 processors too, but it's will happen only when Microsoft is willing to change the licensing agreement.
Unsurprisingly, developers out there have already managed to run Windows 10 ARM on Apple M1 processors via virtualization.
Developers were able to virtualize Windows 10 ARM on Apple M1 chip using the open-source QEMU service, and it turns out that M1‌ chip is capable of running Microsoft's operating system faster than the Surface Pro X.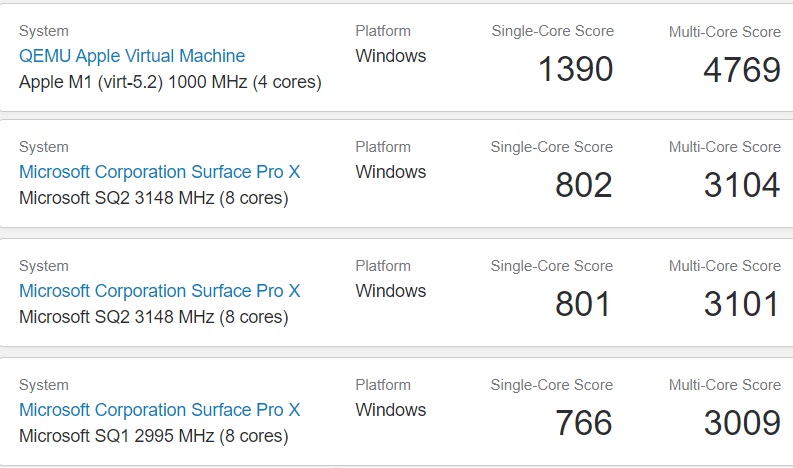 The Geekbench results show that Apple's M1 chip has a single-core score of over 1390 and a multi-core score of over 4,769 when tested with Windows 10 ARM in virtualization. On the other hand, Surface Pro X is only able to fetch 802 single-core score and 3104 multi-core score.
Surface Pro X is the only truly powerful Windows ARM PC on the market and Microsoft has used a custom version of Snapdragon processor called the SQ1 for its Surface Pro X.
The results don't look good for Microsoft and Qualcomm, given that the Windows 10 is running via virtualization on Apple hardware.
Nonetheless, competition is always good and Apple could push Qualcomm to do better with their Snapdragon processors. Both Microsoft and Qualcomm should be refreshing their hardware pretty soon, possibly in the second half of 2021.