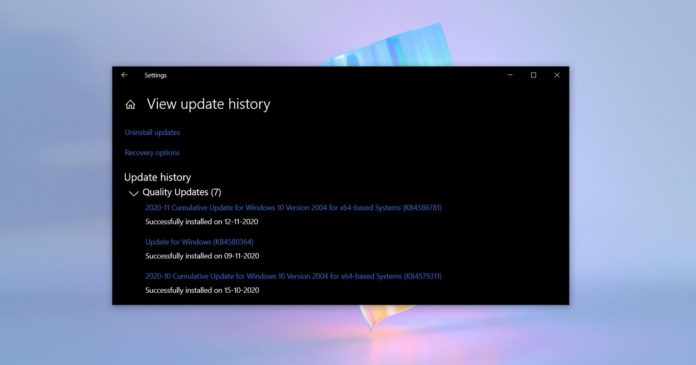 Windows 10 KB4586781, which was released in the second week of November, appears to be a fairly stable release when compared to older updates but it's also plagued with installation issues.
Microsoft's latest cumulative update doesn't just fail to address a bug that performs TRIM command on non-SSD drives—but once again introduces installation issues, and other minor gremlins.
The good news is that Windows 10's November 2020 update is not crashing devices with Blue Screen of Death error. We haven't seen reports of system crashes or critical issues after users applied the patch. Worst problems only to be affecting a very small subset of users and the update installation problem is more widespread.
This month, Microsoft has released cumulative updates for Windows 10 version 20H2, 2004, 1909, 1909, and other supported versions.
Windows 10 KB4586781 fails to install
Unsurprisingly, there have been incidents of the KB4586781 update failing to install and most people have avoided the issues by simply pausing the update.
In some cases, Windows 10 2020-11 cumulative update fails to install due to error code 0x8007000d.
"Some update files are missing or have problems. We'll try to download the update again later. Error code: (0x8007000d)," another error message reads.
Others are reporting that Windows Update takes longer than usual to apply the patch and the process ultimately fails with error 0x800f0831.
@Microsoft your update KB4586781 taking FOREVER to install and making me more and more tempted to buy a Mac!

— Clive (@cashwell1) November 11, 2020
"The update downloads and installation goes to 100%. After reaching 100%, the update fails with 0X80070308," another user noted in the Feedback Hub.
Some users have also noted that Microsoft Edge now takes longer than usual to open up and the mouse pointer keeps on blinking after they applied the patch.
Luckily, most Windows 10 problems have been mirror this time, which is good news as the October cumulative update caused all kinds of issues, including system crashes and Blue Screen errors.
Microsoft has a lot of work to do to fix the installation trouble. Plus, there are a lot of Windows 10 problems that are still not fixed. For example, an issue where Windows 10 tries to optimize the hard drive with unsupported TRIM command remains unpatched.
Temporary user profile
After applying November 2020 cumulative update, some users have again reported the temporary user profile bug.
Microsoft hasn't officially acknowledged the temporary user profile bug, which has been a race condition and result of an issue in the update installation process or antivirus software, so it's not exclusive to any particulate update.
"Recent Windows update at work pissed me off today by obliterating all user settings, dozens of desktop shortcuts and replacing my user login account as though I started it from scratch," one user noted on Reddit.
"[Update] wiped out all the customization on the taskbar and desktop. It also changed the desktop image and wipeout history in MS Office," another user said.
If the update is in the installation process, Microsoft could actually fix the temporary user profile issue in the next major feature update, which should be out next year.