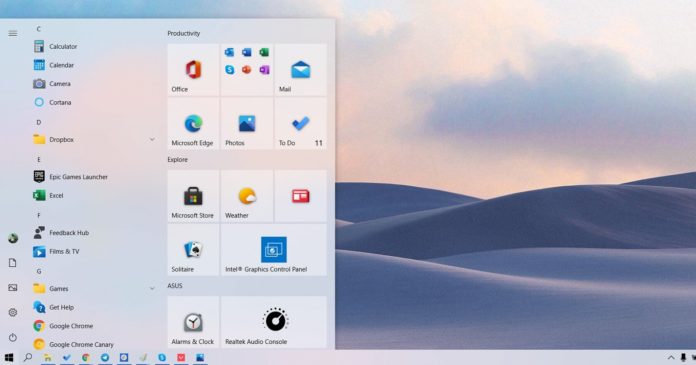 In October, Microsoft finally shipped the October 2020 Update for Windows 10 with minor tweaks to the Start Menu, taskbar, and toast notifications. When you consider the rumours, it's clear that big changes are in the roadmap for Windows 10, but Microsoft is not yet ready to talk about the future of Windows.
Way back in 2015, Microsoft said that Windows 10 would be the last version of the OS and there won't be a Windows 11. The new way of updating Windows is what Microsoft calls Windows as a Service.
Windows 10 under "Windows as Service" approach was supposed to improve the overall experience of the operating system with something new and better for everyone including consumers and enterprises.
In the last 24 months, we've seen that pace of Windows 10 development slow dramatically.
Microsoft is still rolling feature updates for Windows 10 twice a year, but the updates are much smaller and there are no new exciting features for consumers. The Action Center, Start Menu, taskbar, and pretty much every core components have remained unchanged since 2015.
In December 2020, Windows 10X will likely hit the RTM (release to manufacturer) status and the OS will likely debut in the first half of 2021 with all features that you see in the recent preview builds.
It has been rumoured that Microsoft may end up releasing just one feature update next year and there won't be a Windows 10 21H1 big feature update in the Q2/Q3 (Spring) of 2021.
If Windows 10 21H1 ships at all, it's likely to be another enablement package or service pack style small update. In other words, Windows 10 21H1 could still happen but it won't come with any exciting new features. There'll be minor improvements here and there, but don't expect anything exciting until the second half of 2021.
Microsoft has already moved the testers in the Dev Channel to the fe_release branch from the rs_prerelease branch and removed new features including the new theme-aware splash screens.
The "rs_prerelease" branch is where all the features are deployed in Windows 10 Insider preview and the builds in the "fe_release" branch come without any new features.
Microsoft will ship the Windows 10 21H1 to comply with its own upgrade schedule for consumers and IT admins. If the update ships early next year, it will be an enablement package, but Microsoft might enable minor new features via monthly cumulative updates.
In the second half of next year, Microsoft is expected to deliver a new design for Windows 10 codenamed "Sun Valley" and we will begin seeing those design tweaks in Insider builds early next year.