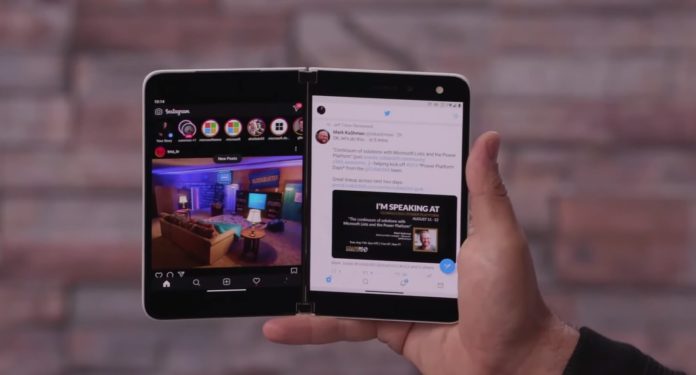 In completely unsurprising news, the first benchmarks of the Microsoft's Surface Duo have just hit the web.
Surface Duo is a $1,399 dual-screen phone and it sits roughly in line with top-tier Android flagships released in 2019. It comes with Snapdragon 855 processor, which is still a powerful piece of Qualcomm chipset for system performance, multi-tasking, and advanced cloud gaming.
Not long after Microsoft unveiled the Snapdragon 855-based Surface Duo, we've now spotted a test revealing the benchmarks score of the Surface Duo. The first benchmarks of the Surface Duo appeared on the benchmarking tool Geekbench's database and early benchmarks measure up to top Android phones.
In the early benchmarks, the Surface Duo produced a single-core score of 762 and a multi-core result of 2,867. This is the first benchmark we have of the dual-screen optimized Snapdragon 855 chipset, and the results are certainly promising.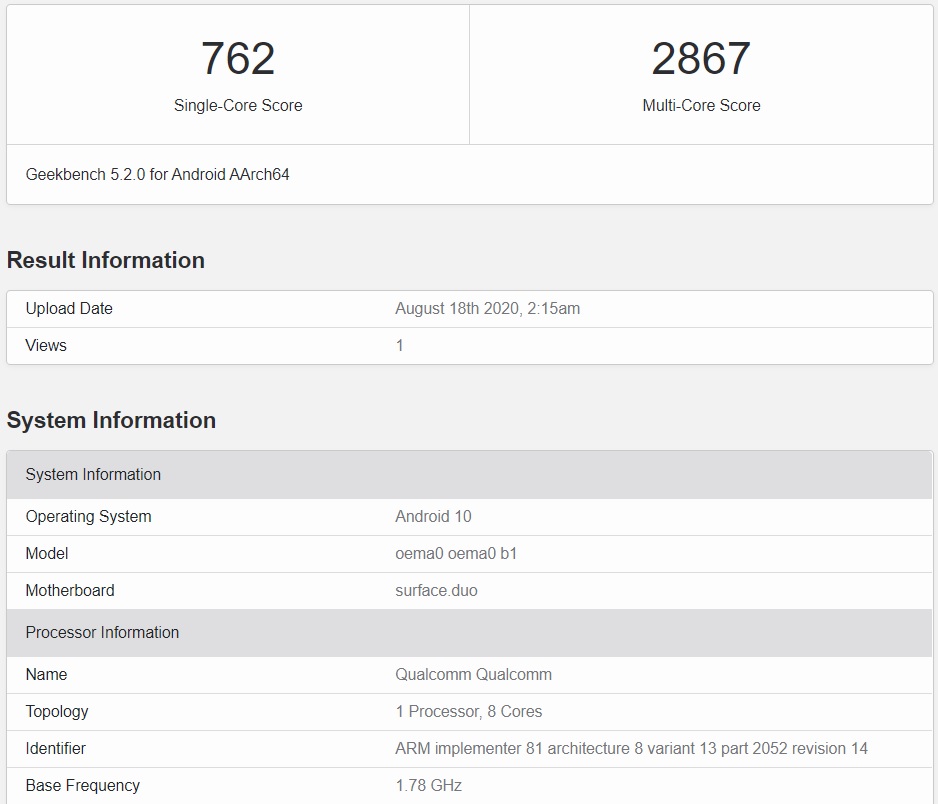 Surface Duo has been benchmarked with Snapdragon 855 processor, 6GB of RAM, and unknown storage capacity. The base frequency of the Snapdragon 855 on the Duo is 1.78 GHz.
It's worth noting that the results are slightly better than the benchmarks of Samsung's two foldable phones. The Galaxy Fold, Samsung's first-generation foldable phone with a Snapdragon 855 and 12 GB of RAM, produced a multicore score of 2,663.
| | |
| --- | --- |
| Phone | Geekbench 5 multicore Score |
| Surface Duo (Snapdragon 855) | 2,867 |
| Galaxy Z Flip (Snapdragon 855 Plus) | 2,685 |
| Motorola Razr (Snapdragon 710) | 1,509 |
| Galaxy Fold (Snapdragon 855) | 2,663 |
| Apple iPhone 11 Pro Max (A13 Bionic) | 3,484 |
Surface Duo beats other foldable phones
Microsoft's foldable phone result won't challenge Apple's iPhone 11, where the phone is powered by A13 Bionic and the multicore score is up to 3,484.
However, the Surface Duo does outperform all other foldable phones, including the first-gen Galaxy Fold, Galaxy Z Flip, and the Motorola Razr, which managed to fetch a multicore score of just 1,509.
What do you make of the Surface Duo? Hit the comments section below and let us know your thoughts on Microsoft's new flagship hardware.