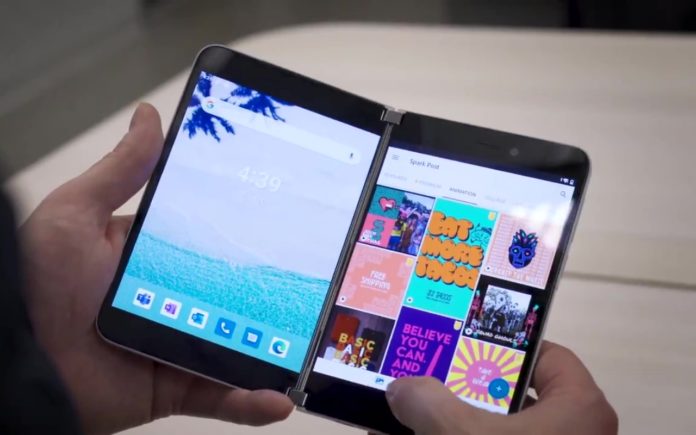 Microsoft Surface Duo is getting ready for the market stage faster than we thought and the dual-screen hardware has already passed certifications in the US and Canada. Now, thanks to another teaser posted by a Microsoft executive, we know that the phablet will have a centred status bar.
The status bar icons will only be centred in the landscape mode. The centred status bar will display a series of icons that represent the status of certain settings, apps and also services.
It's also worth noting that only the display that is at the top will render the icons for wireless connection, cellular network, and notifications. It's not yet clear whether Microsoft will officially allow users to change the position of the status bar, but you'll be able to use third-party apps to customize the experience.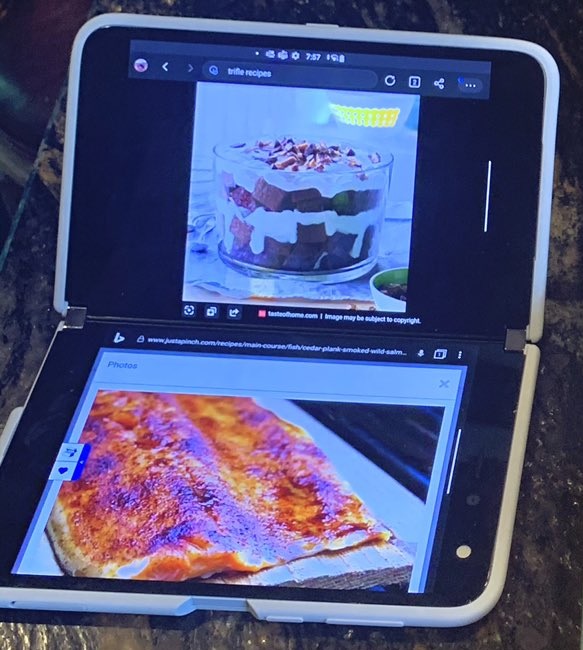 As you can see in the above photo, Surface Duo comes with chunky bezels and it's apparently not because of the protective cover.
When you eliminate the bezels, it would make a dual-screen hinge-based device much harder to hold comfortably. While some people hate large bezels, Surface Duo will be easier to hold, multiple and also easier to unlock, thanks to the bezels.
Surface Duo is using AMOLED technology for two 5.6-inch displays and it also includes an in-ear speaker for making phone calls and a selfie camera on the right panel.
Surface Duo's 360-degree hinge provides a number of use cases and you can use both displays together as one large panel.
When you have to attend calls, the 360-degree hinge can simply be opened entirely and unfolded outwards and the left display will be deactivated.
Likewise, you can edit a Word document on the left screen while working on your PowerPoint presentation on the right screen. Thanks to Android's built-in split-screen feature, you can also run YouTube, Word, PowerPoint and WhatsApp simultaneously.