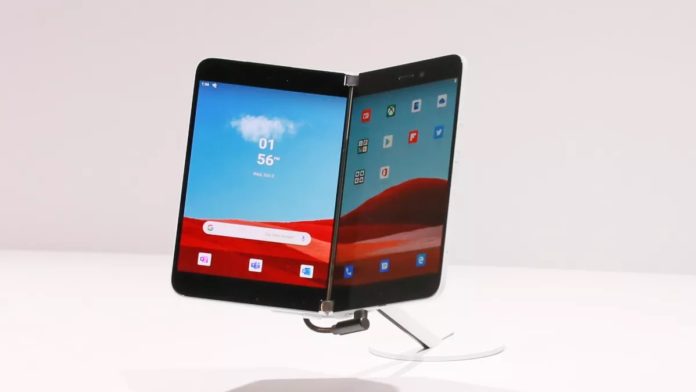 Surface Duo was originally announced back in October and Microsoft has remained fairly quiet since the announcement. According to recent leaks, we won't have to wait any longer and Surface Duo could launch as early as August with Snapdragon 855 and 11-megapixel camera.
Last year, Microsoft said that the dual-screen Surface Duo would have two 5.6-inch AMOLED screens with 1800×1350 pixel resolution on each.
While the company didn't expand much on software and hardware aspects when it announced Surface Duo last year, recent leaks suggest that the device will come with 6GB of RAM and storage options of either 64GB or 256GB.
Microsoft has already confirmed that the Surface Duo does not support 5G connectivity and it uses older chipset because Snapdragon 865 processor requires smartphone maker to include a separate 5G chip.
Unlike Galaxy Fold, Surface Duo's two screens are held together on a hinge, and the hardware runs Android 10 out of the box.
Now, we're hearing that Microsoft is also planning to work on Android 11 update for the Surface Duo. The Surface Duo will still run on Android 10 initially, but it will receive an update for Android 11 fairly quickly, possibly within a few months after the launch.
The decision to go with Android 10 instead of the latest Android 11 has to do with the updated release timeline and possible compatibility problems.
Microsoft is also optimizing the first-party apps such as Edge and Outlook to support dual-screen Surface Duo.
Microsoft is currently planning to launch the Surface Duo in the coming weeks in order to beat the Samsung Galaxy Fold 2, which is rumoured to launch on August 5.
While the Surface Duo is supposed to come out before the Galaxy Fold 2, timelines may change, presumably due to the issues around the world.
Microsoft expands Surface Duo development team
According to new job listings, Microsoft also appears to be adding more Android engineers to its Surface Duo team.
For example, Microsoft is currently looking for "Director of Engineering" to "create new experiences with Surface Duo".