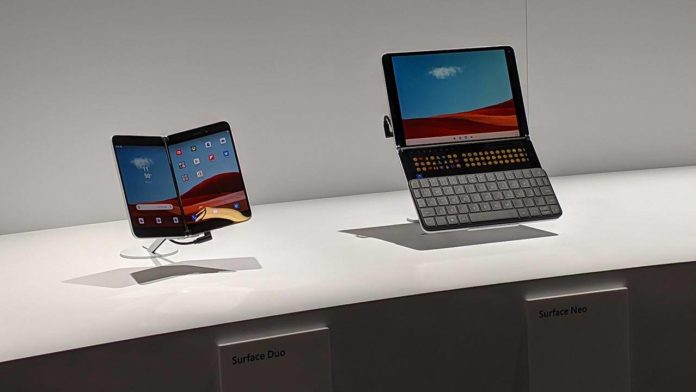 Microsoft has reportedly delayed its Surface Neo until 2021 and Microsoft's chief product officer, Panos Panay, had reportedly told his team that the dual-screen Windows 10X product won't be launching this year.
In addition to Surface Neo, third-party dual-screen hardware won't be allowed to ship with Windows 10X either. While Surface Neo may have allegedly been pushed back to 2021, the company is still actively developing the hardware internally and a new patent has revealed more details of the Neo's input methods.
A patent application, which was published on June 11, shows off a dual-screen device with a virtual trackpad that allows you to seamlessly switch between the input methods.
In the filing, Microsoft says that virtual trackpads also support touch-screen and it relies on the user to perform explicit mode switches, which would take the user out of their workflow and it can also consume resources like processor cycles and memory.
Microsoft has patented a solution to automate input method switching. The patent suggests that the Surface Neo will seamlessly switch between input methods without user interaction.
For example, the trackpad will receive input from a digital pen without requiring user interaction. The area, which is above the second display, will also act as a drawing board when you use a style and trackpad in normal usage.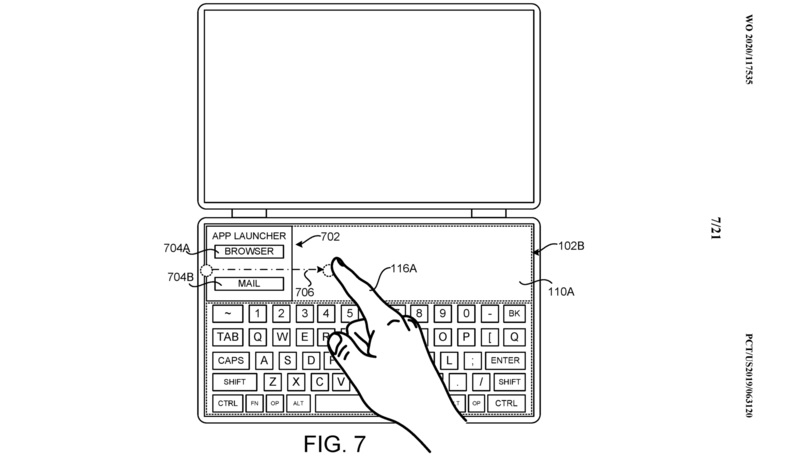 Microsoft says the virtual trackpad can also utilize transient UIs in the second display to perform commands and viewing information without requiring a user to change the mode of operation.
"For example, a user might utilize a finger, or multiple fingers, to swipe from a location outside the virtual trackpad area to a location within the virtual trackpad area," Microsoft noted.
In other words, Surface Neo's virtual trackpad will automatically switch between the input methods and you don't have to manually switch between stylus mode, trackpad mode or touchscreen.
While Surface Neo has been delayed and it won't arrive until the summer of 2021, Microsoft's Surface Duo is still on the original release schedule.