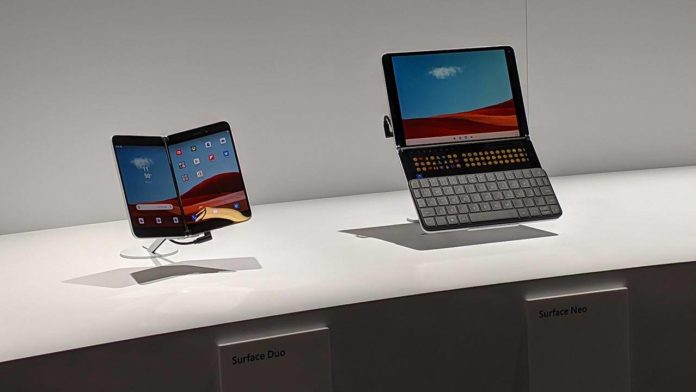 Way back in 2016, Lenovo launched Yoga Book with dual-screen for people who prefer to scribble on notepads and those who draw pictures to illustrate ideas. Yoga Book was able to take advantage of the stylus- and touch-friendly Windows 10 than any other device.
Nearly a decade after Microsoft cancelled its Courtier device, PC makers desperately want dual-screen hardware to become a thing. The dual-screen hardware has been teased at multiple occasions by PC and chip makers such as Asus, Dell, and Intel.
In October, Microsoft announced that the dual-screen hardware will get some much-needed software backup: Windows 10X. At its Surface event, Microsoft revealed Windows 10X, which is a version of the operating system designed specifically for these new form factors and its own Surface Neo, a dual-screen device.
Surface chief Panos Panay said Windows 10X is a brand new expression of the company's operating system and it has been created for the new breed of devices.
Microsoft has been releasing more details of Windows 10X to developers ahead of Surface Neo's holiday 2020 launch, but the company is now pushing back the project to 2021 due to the recent health issues around the world.
Microsoft is no longer planning to launch the new Surface Neo later this year. Windows 10X launch for Surface Neo and other dual-screen hardware such as Lenovo Fold is being pushed to 2021 due to the medical outbreak.
Surface Neo, which was supposed to be the first device to run Windows 10X, will not make an appearance this year. All similar models that were supposed to launch in holiday may not ship with Windows 10X.
Chief Product Officer Panos Panay has reportedly reached out to its Surface and Windows team members to inform that the project won't go live in 2020. Originally, Surface Neo was projected to go live in the holiday season of this year alongside dual-screen devices from  Lenovo, HP, and others.
The good news is that Microsoft is now prioritizing Windows 10X for single-screen and traditional laptops.
Fortunately, Surface Duo with Android 10 won't be delayed and it could still launch in the summer or holiday 2020.