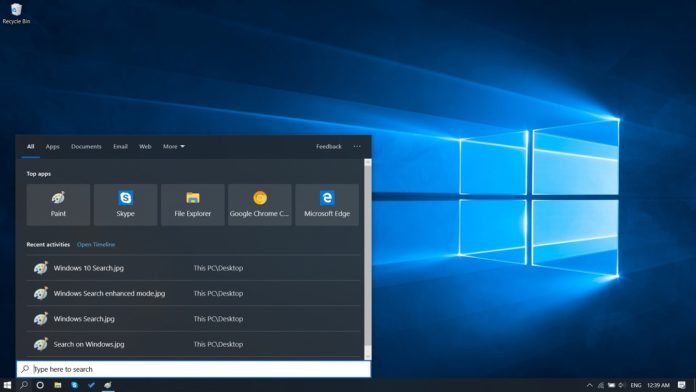 Windows 10 20H1 update, which will be released later this year, includes fixes for excessive disk and CPU usage caused by Windows Search Indexer. Today, Microsoft confirmed that the company is working on another Windows 10 update that will include more changes for Windows Search.
In Windows 10 Build 19592, which is likely to be part of 20H2 update, Microsoft says it has updated Windows Search indexer with improved logic to find better times to perform indexing of your files.
Windows Search indexer provides fast files searches by building an index, which is used by File Explorer, taskbar search bar, Start menu, and File Explorer. On Windows 10, Microsoft indexes the "Start Menu" and your "Users" folders including Documents, Downloads, Desktop, Videos and Pictures, so the search can find and return your results quickly.
The indexer frequently scans your computer for new files and apps. During the scan process, your CPU and disk usage could increase and it may also lead to 100% usage on low-end hardware.
With Windows 10 20H2 update, Microsoft is updating Windows Search to pause indexing process when you are actively using your machine. The company says it has improved the algorithm to automatically find better times to index your files.
Windows Search will also limit the number of times it indexes your files for content that doesn't have an impact on search results.
While these improvements will arrive in the second of this year, Microsoft also introduced a new algorithm for Windows Search in Windows 10 version 2004 update. The new algorithm detects excessive usage and other performances issues, and throttle search indexing activity to prevent system slowdowns.
Microsoft says it will continue to work on performance improvements while developing new features for search.
According to Microsoft's typical release schedule, Windows 10 version 2004 is expected to begin shipping in April/May, while Windows 10 20H2 will ship to consumers in October/November.