Windows 10 19H2, also known as version 1909 and November 2019 Update, was a small update with only improvements. Microsoft declined to confirm whether all the H2 (second half) releases of Windows 10 feature updates, going forward, will be very minor and basically similar to a cumulative update.
I've been hearing from my contacts that Windows 10 20H2, which is supposed to release in the second of this year, might be like November 2019 Update with minor improvements and tweaks.
The rumour appears to be true as all the preview builds of Windows 10 20H2 have shipped with only minor tweaks. Yesterday, Microsoft delivered Build 19574 with 'general improvements and fixes', providing more evidence that Windows 10's fall 2020 update will be another minor release.
Like November 2019 Update, this year's second feature update will also include some noticeable changes. For example, Microsoft is making minor changes to Windows 10's privacy settings for data-sharing options.
Windows 10 Diagnostic settings currently include two options—Basic and Full in Home, Pro and Education versions. In Windows 10 Enterprise, your options are 'Security', 'Basic', 'Enhanced' and 'Full', but these options may not show up in all organizations.
Depending on your PC's privacy settings, Windows 10 sends 'Basic' or 'Full' diagnostic data to Microsoft to help it troubleshoot problems. With 20H2 update, these options are being reduced to 'Security', 'Basic' and 'Full'.
Microsoft is also planning to rename its different diagnostic data tiers to reduce confusion:
Basic is now 'Required diagnostic data'
Security is now 'Diagnostic data off'
'Full' is now 'Optional diagnostic data'.
It is worth noting that you still cannot turn off diagnostic data sharing.
Task Manager

Microsoft is also adding a new option to Task Manager to show the architecture of each process. With Architecture column in Task Manager, you can find out if a particular process is based on 64-bit, 32-bit or ARM architecture.
Location in-use icon update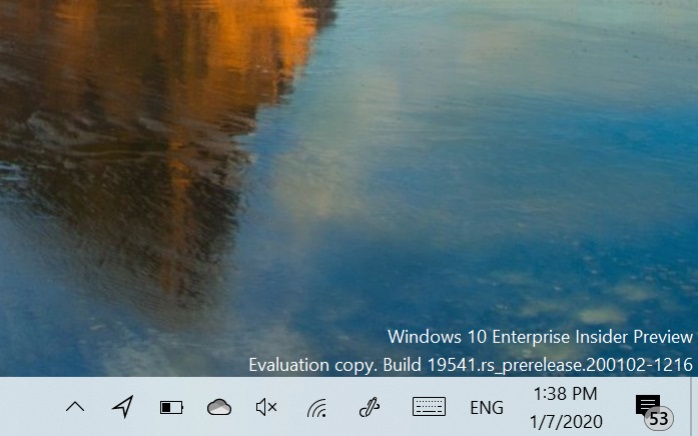 In the system tray, you can now find out when an app is using your location. This applies to all programs including desktop and Store apps.
Volume controls
Microsoft is also experimenting with changes to the way you mute and unmute volume in Windows 10.
Microsoft says if you mute your volume, the volume will not unmute when using the hardware volume keys unless you raise the volume or unmute volume from the settings.
According to Microsoft's typical release schedule, Windows 10 20H2 update should begin shipping to consumers in September/October with minor tweaks to existing features and performance improvements.
While 20H2 release would be lean when it comes to new features, Windows 10 20H1 version 2004, which is expected to come in April 2020, includes big changes for everyone.