The Surface Duo, which served as Microsoft's 'one more thing' at the October 2nd event, could launch sooner than expected. The two-screened device runs on Android and supports calling over the traditional SIM technology, and it would come with a front-facing camera on the right screen.
Surface Duo is not the resurrection of Windows Phone and Microsoft has also partnered with its archrival Google to deliver the best Android experience on the dual-screen device.
Microsoft coming out with an Android phone is not surprising given how many integrations with its services and apps the company has enabled on Android over the past few years.
For example, Microsoft has developed its own app launcher for Android that lets users instantly access To-Do, Windows Timeline, Sticky Notes, Calendar, and more.
Similarly, Microsoft also offers Your Phone, which lets users place and receive calls directly from desktops, and it comes with several other features which are similar to Apple's Continuity.
The Surface Duo has now been shown off in hands-on pictures of the Surface Duo for the first time. The new photos show a Microsoft employee using the Surface Duo on Vancouver's SkyTrain, and the device has been shown off in both portrait and landscape orientations.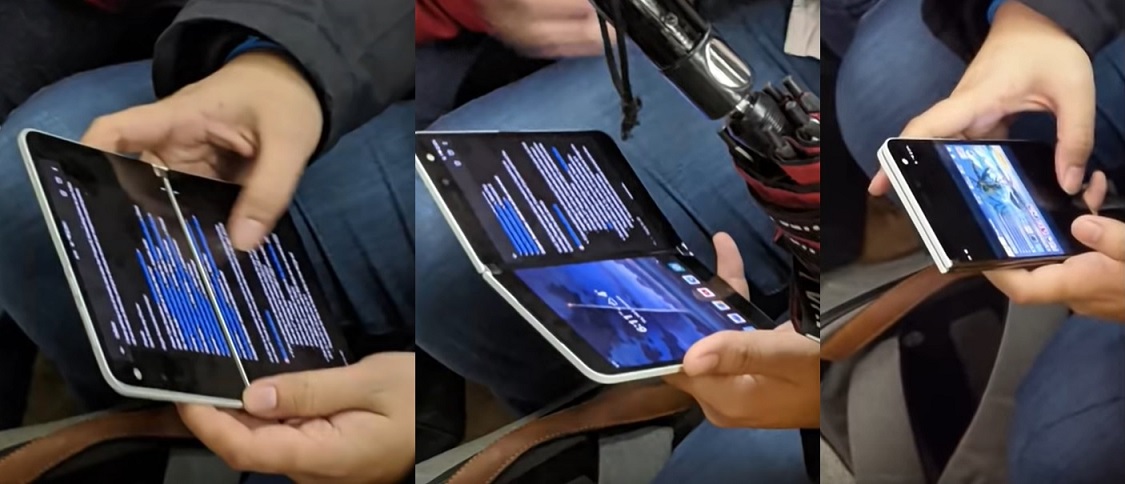 As you can see in the above photos, the employee is using the dual-screen device to play games, check emails, and more.
One photo also revealed that the Surface Duo might come with a front-facing flash, which suggests the front camera module will likely serve as both the front-facing and the rear-facing camera. Again, it's no surprise that Surface Duo's camera may fail to compete with modern smartphone cameras from the likes of Google and Samsung.
As we reported yesterday, Microsoft is testing out the Surface Duo in the wild and more photos of the device could surface in the coming days.