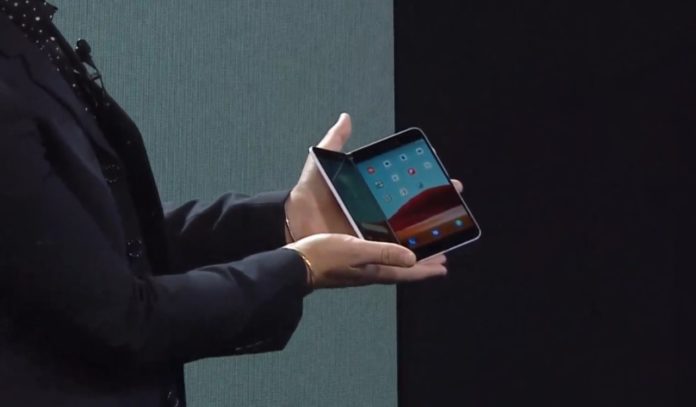 Microsoft's highly-anticipated Surface Duo has been reportedly spotted in Vancouver, Canada, and there's a picture to prove it, which also reveals new details of the front camera.
A Microsoft employee has been spotted using an early version of Microsoft's innovative dual-screen Surface Duo device. The photo, which was taken by a traveller in Vancouver's public transit system, reveals that Microsoft's Android phone has a front camera with a flashlight.
In the photo, the Surface Duo is much different from the prototypes Microsoft teased at its hardware event in October 2019. A report also suggested that Surface Duo might launch sooner than expected as the Redmond firm is encouraging employees to use the product in the wild.
Microsoft's dual-screen smartphone isn't releasing before the winter season, but we do know quite a bit about it already. Unlike Galaxy Fold and other foldable phones, Surface Duo displays are connected together with a hinge and it makes the phone a lot more durable.
The hinge in between will let you fold the Duo and use it as a 5.6-inch screen phone to run different apps, or you can unfold it to extend one app on both displays. When unfolded, the device's screen stretches to 8.6-inch and it looks a lot like a tablet.
Microsoft's CEO Satya Nadella is also using Surface Duo to type out quick notes with the virtual keyboard and stylus.
The phone also comes with Google Play Store and Google services, but Microsoft plans to bundle its own apps including Microsoft Launcher that offers a slightly more customised experience.