The next big update '20H1′ for Windows 10 has been finalized, as we already know, but Microsoft is planning to test the update for another few months before rolling it out to the general public.
In November 2019, Microsoft said that Windows 10 20H1 will be known as version 2004 when it is released to consumers. Windows 10 version 2004 is much bigger than Windows 10's November 2019 update and it also comes with several nifty improvements.
In this article, we've discussed all the new features and major improvements of Windows 10 20H1.
What's new in Windows 10 20H1 (version 2004)
With the 20H1 update, Microsoft is addressing the rough areas of the operating system. The update adds a Cloud Reset feature and it also includes a new algorithm to reduce the disk usage of Windows Search service.
It feels like a very smooth update with a collection of useful improvements.
New Cortana experience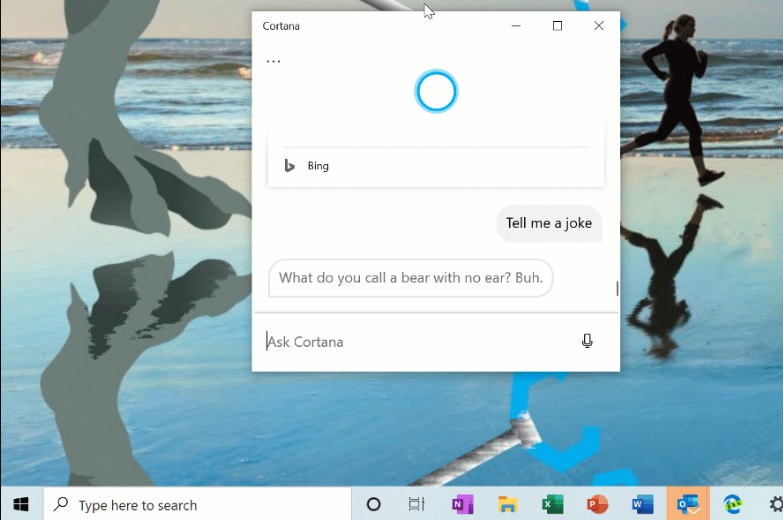 Though Microsoft may plan to remove Cortana from Microsoft Launcher and also pull its mobile apps, Windows 10's next major update doubles down on the digital assistant with a drastically improved conversational experience.
Microsoft's new Cortana experience will be maintained by a Windows Store app. In other words, Cortana is no longer tied to Windows 10 releases and it can be finally updated from the app store.
Cortana's new design lets you interact with the digital assistant with both texts and voice. It comes with new speech and language models – making it faster than ever before.
Cortana also allows users to open apps, manage your reminders, manage Microsoft To-Do, Alarms, and it also works with the traditional "Hey Cortana" functionality.
Lastly, Cortana allows you to switch between the light and dark-screen modes. As we noted above, Cortana will be managed by a Windows Store app, so you can expect more improvements in the coming months.
Reinstalling Windows is now easier than ever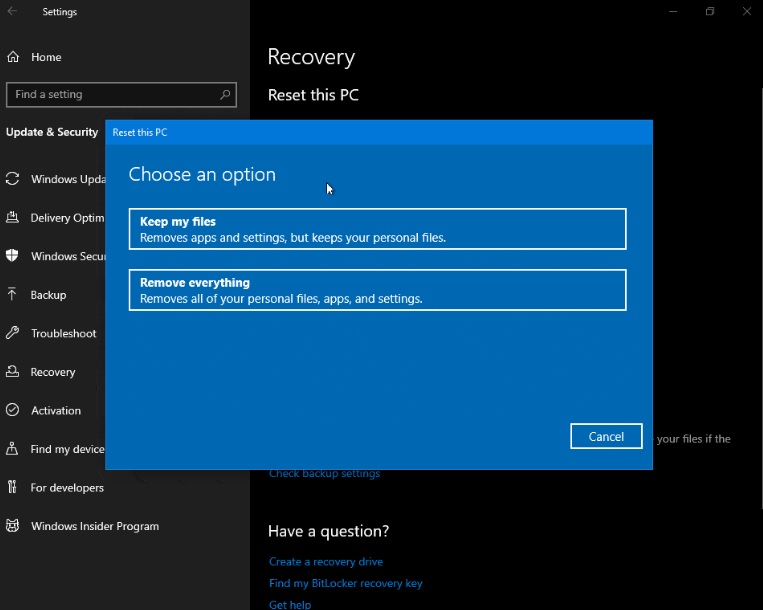 The 20H1 update introduces Cloud Download for reinstalling Windows 10, a big upgrade for the "Reset This PC" feature, which has been around since Windows 8.
With this feature, you can reset your PC like you just booted it for the first time. Or you can also use it to clean Windows system, restore settings, uninstall apps, and fix a problem that you're experiencing.
Microsoft keeps making 'Reset this PC' feature better and better. Cloud Download is the latest addition.
When you click 'Reset this PC' option in the Settings app, Windows 10 creates a fresh copy of Windows by assembling files, but it can take more than 45 minutes and it may not always fix a corrupted OS.
If you have a fast internet connection and at least 3GB of bandwidth, you can use Cloud Download feature to reinstall Windows 10 directly from Microsoft's cloud rather than assembling the local copies of files.
Microsoft says Cloud Download is a more reliable way of reinstalling Windows and you can do it in a few clicks.
In Windows 10 20H1, the feature can be accessed from Settings > Update & Security > Recovery > Get Started.
Windows Subsystem for Linux 2
Windows 10 v2004 includes a new version of Windows Subsystem for Linux that supports  ELF64 Linux binaries on Windows.
WSL 2 introduces real Linux kernel and it provides same user experience as WSL 1 with advanced controls including a much faster file system performance.
Windows Search Experience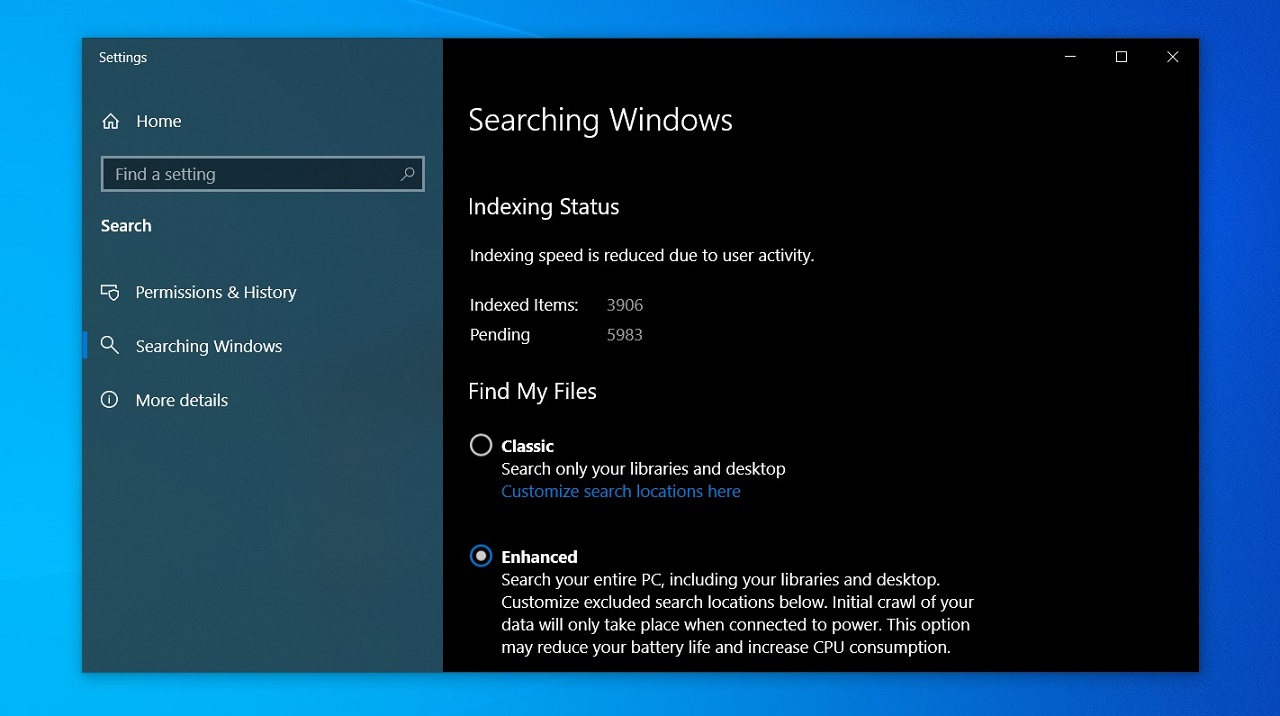 Windows Search uses Windows Search Indexer to display accurate search results. Windows Search Indexer, which runs in the background and crawls your files to create an index of your files, will be getting a big boost in the next major update.
Microsoft's May 2019 Update fixed the unreliable Windows Search experience with 'Enhanced' indexer option, but users were still experiencing system performance issues.
Microsoft says Windows 10's 20H1 update includes a new algorithm that is capable of detecting peak disk and CPU usage time so it can stop the indexer.
For example, the indexer is stopped when power saving mode is on, or when CPU is more than 80% and when disk usage is hitting 70%. When the indexer is stopped, Windows Search stops using your disk and CPU, and it results in significantly improved system stability.
Microsoft also plans to make Windows Search faster by excluding the common developer folders or files found in certain programs.
Task Manager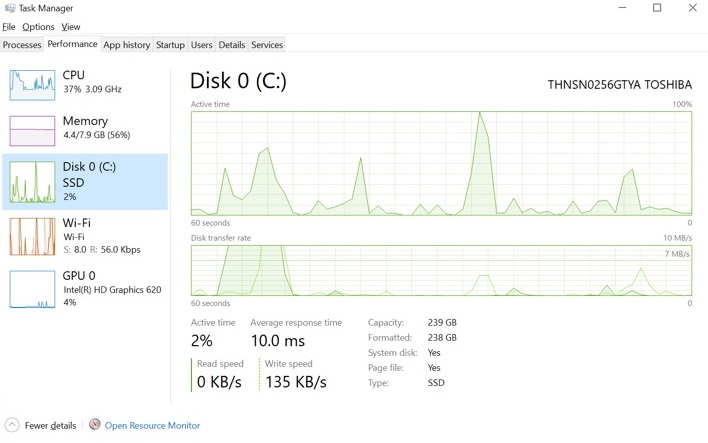 Windows Task Manager is getting two new features in this release. It can now display your PC's disk type—SSD or HDD, so you can see what disk is in your laptop or computer.
Another feature is being introduced to let you monitor your GPU temperature. If you have a dedicated graphics card, you can see the GPU temperature in Task Manager's performance tab.
Disk Cleanup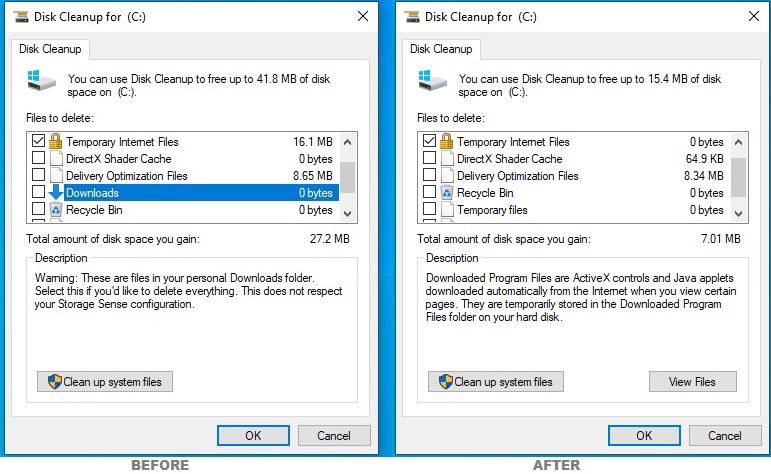 Starting with 20H1, Disk Cleanup and Storage Sense will finally not clean your Downloads folder.
Microsoft is removing Downloads folder from both Disk Cleanup tool and Windows 10 Storage Settings app. The option is being removed after some users said they accidentally deleted all the files in your Downloads folder.
Control Over Restarting Apps

When you boot your PC and sign-in, Windows 10 reopens many apps automatically. In this release, there's a new option within the Settings app to disable the behaviour more easily.
You will find a new option to disable the feature in Settings > Accounts > Sign-in options. Apps such as Google Chrome and Spotify will not open automatically when you start Windows 10.
The feature now includes both UWP apps (Microsoft Store apps) and traditional desktop apps.
Conclusion
The update will ship with other improvements as well including greater control over Windows Update and Microsoft Store bandwidth usage.
According to Microsoft's typical release schedule, Windows 10's 20H1 (version 2004) update will begin rolling out to mainstream users in April or May.