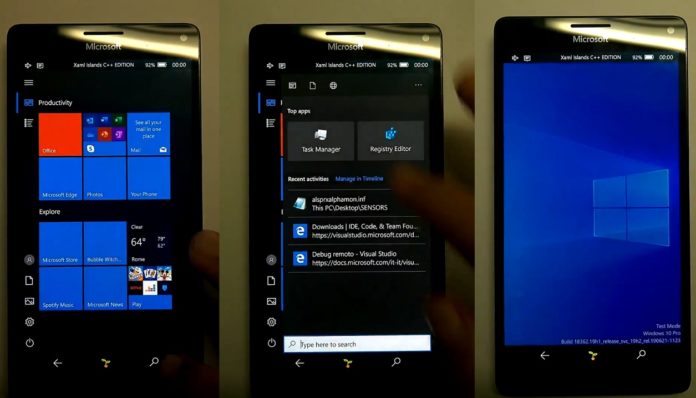 Microsoft is planning to end support for Windows 10 Mobile in December and the majority of apps will stop working in 2020. The dream of Windows on phone has so far lived on thanks to the community-maintained Windows 10 ARM project for Lumia 950 and 950 XL.
Windows 10 ARM for Lumia has reached a point where nearly everything is working, including WiFi, sensors, and Bluetooth. Windows 10 ARM also supports cellular data and calling, but the functionality has always been limited to older versions of Windows 10.
In June, Microsoft shipped new preview builds of Windows 10 20H1 without the cellular networking stack, which means calling and cellular data wouldn't work on devices with Windows 10 20H1.
However, the lead French developer Gustave has managed to enable modem support on Lumia 950 XL hacked to run the full version of Windows 10, bypassing the restrictions imposed by Microsoft. This could mean that we will finally get a Windows phone running Windows 10 20H1 update with cellular connectivity support.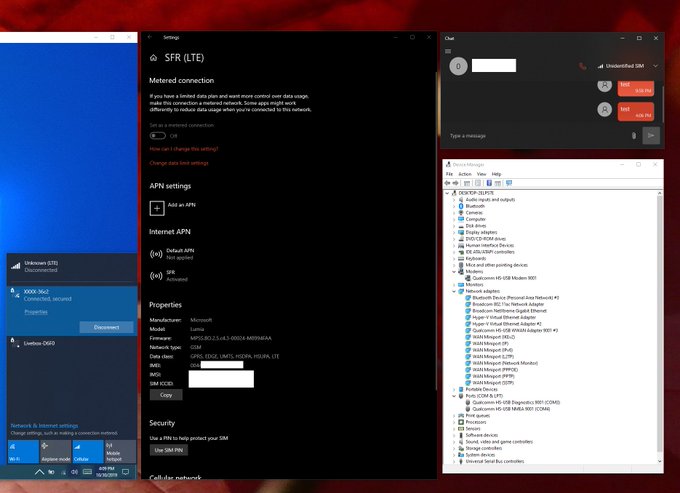 "Got the modem fully initialized on a 950 XL running 20H1. There's one downside to this: the OS can't seem to communicate with RILs anymore so it is not aware a modem is connected, if you use RMNET as shown here and use the cellular connection on a connected PC, it does work," the dev noted.
The phone is also able to get a list of available networks.
Windows 10 Mobile end of support nears
Microsoft's Windows 10 Mobile released in November 2015 never gained a strong market foothold due to the app gap, bugs on low-end hardware, and the mismanagement.
In a support doc, Microsoft advised both individuals and organizations using phones running Windows 10 Mobile to switch to Google's Android or Apple's iOS where all Microsoft services are available and regularly updated.
Windows 10 Mobile support ends on December 10, 2019, but devices running the unsupported OS will continue to work in 2020. However, end of support means Microsoft will no longer release patches and fixes for Windows Phones, and such devices will be potentially vulnerable to exploits.
It also means that various first and third-party apps including WhatsApp, Facebook, and Instagram would stop working.
After Microsoft ends support, you will have three options – continue using Windows 10 Mobile, install Windows 10 ARM if you own a Lumia 950/950 XL, or switch to Android/iOS for once and all.
Mobile Shell with Windows Store apps, Win32 apps via emulation, calling, and regular updates should make Windows 10 ARM a better choice on flagship Lumias.