Microsoft's Surface Products have had a good reputation for the hardware, type covers and also the Surface Pen. While the Surface Pen offers four thousand levels of pressure sensitivity and decent performance, competition in this area is fierce and Microsoft's styli is due for an upgrade.
A new patent has emerged online and it shows off a modular capsule for Surface Pen and other styli. The patent talks about a  capsule of a stylus which is sized and shaped to fit within a housing of the stylus and is modular.
Spotted by us, a new patent titled 'STYLUS CAPSULE' was filed by Microsoft in January 2018 and published by USPTO on July 11, 2019.

The capsule is made of plastics material and it comprises cylindrical housing tapered at a tip end. The capsule has a stylus tip comprising a tip antenna and one antenna printed on an outer surface of the housing.
More from Microsoft:
The figures show examples of two different capsules, either of which are inserted into the stylus. Each capsule has a shaft 108 which runs along a longitudinal axis of the capsule interior and has a stylus tip at one end protruding from the capsule. When the stylus is used a person holds the stylus in his or her hand, as if using a conventional pen or pencil, and presses the stylus tip against a surface such as a tablet computer screen or other surface. An optional pressure sensor in the stylus is able to detect the pressure on the shaft.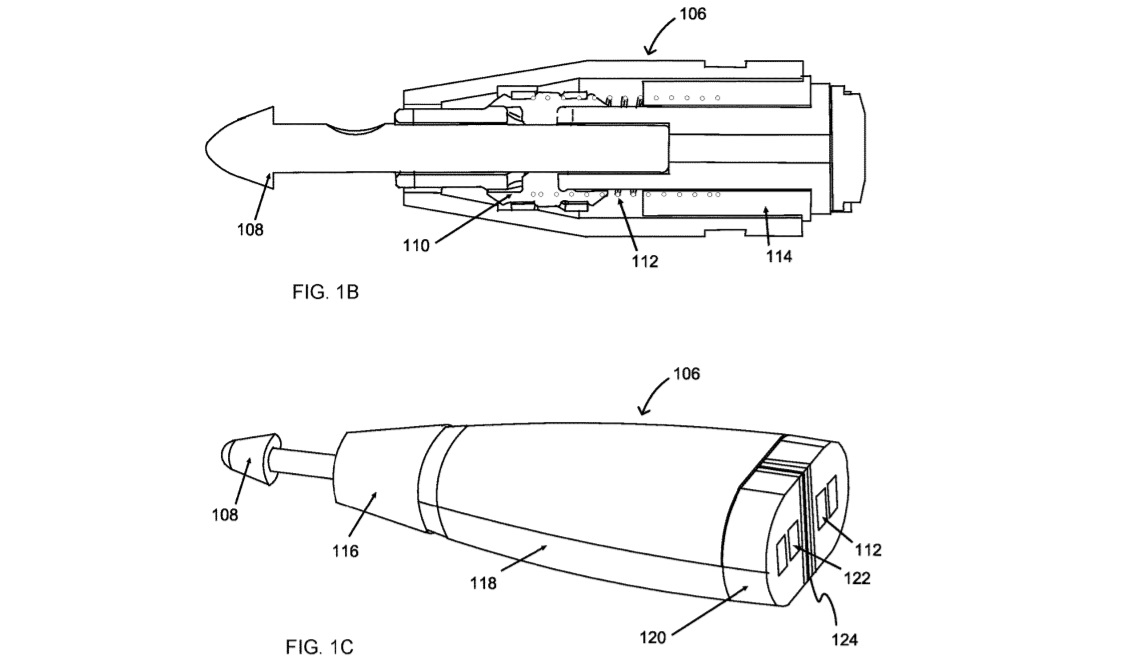 "In the case of the capsule of FIG. 1B the pressure sensor is external to the capsule. In the case of the capsule of FIG. 1C the pressure sensor is within the capsule. However, in both cases, the capsule contains moving components since the shaft moves slightly, back and forth along its longitudinal axis, and slightly side to side as lateral forces are exerted on the tip. One or more bearing surfaces in the capsule act to minimize the side to side movement and to convey the forces along the longitudinal axis of the shaft 108. By having the bearing surfaces in the capsule manufacturing is simplified as compared with having the bearing done on different parts. Note that it is not essential for the capsule to comprise a pressure sensor and that the pressure sensor of FIG. 1B may be omitted," Microsoft stated in the patent application.