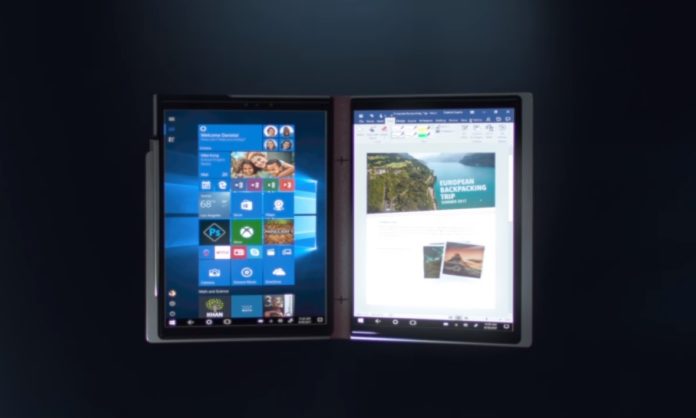 In December 2018, a wild rumour claimed that Microsoft is working on a dual-screen device which will carry the Surface brand, and we could see the device in the market by late 2019. According to reports, Surface 'Centaurus' is being developed in conjunction with Intel and it won't be a pocketable device.
Centaurus is said to be a full-sized tablet PC with two screens and a modular operating system. A new report today revealed that the dual-screen device from Microsoft is real and still being developed.
Microsoft recently showed its larger dual-screen device to some of its employees at a recent internal event. The report also adds that this is highly unusual. The move suggests that the device may launch within the next six months and that's in line with previous reports suggesting that Centaurus may arrive in late 2019.
Centaurus could launch with Windows Lite, which is a new lightweight and modular OS for Always connected, affordable Chromebook-like devices and dual-screen tablet PCs.
Last week Microsoft published a blog post to highlights its vision for a modern operating system which could be Windows Lite or part of Windows Core OS project. The modern OS, Windows Lite or Windows Core OS will be all about sustained performance, seamless background updates, security by default, internet connectivity through WiFi or 5G and support for various form factors.