On March 1, 2019, Microsoft began pushing out Windows 10 KB4482887 to October 2018 Update machines. This cumulative update advances the system to Windows 10 Build 17763.348 and it comes with tons of improvements, including support for Retpoline which will eventually improve the performance of Spectre patched PCs.
The update has also fixed bugs associated with Action Center, Microsoft Edge, Internet Explorer and other core components. As per reports on social media platforms, Microsoft's most recent Windows 10 update appears to be causing considerable grief for gamers.
After installing this update, some folks have hit gaming issues when playing certain games such as Destiny 2. A post on Reddit notes that games such as Destiny 2 may launch with unbearable performance issues. For instance, there'll be noticable lags when playing Destiny 2 on PCs with certain GPUs after installing the update.
There is another bug where FPS has drastically reduced on high-end PCs.
"I was pulling my hair out trying to figure out why Destiny 2 suddenly dropped 40 frames," a user noted in a Reddit discussion.
"I also had this issue, where when I moved my mouse I saw a loss from 60 fps to about 35 and the game began to fall behind and my audio quality distorted another fix is to resort to a controller, which I know us PC master race people groan and moan about that but it did fix my instance, hope it can help someone else," another user noted.
Another thread on Reddit details the bug. As per a user, the performance suffered and they noticed massive stuttering, huge mouse input lag after installing this Windows update.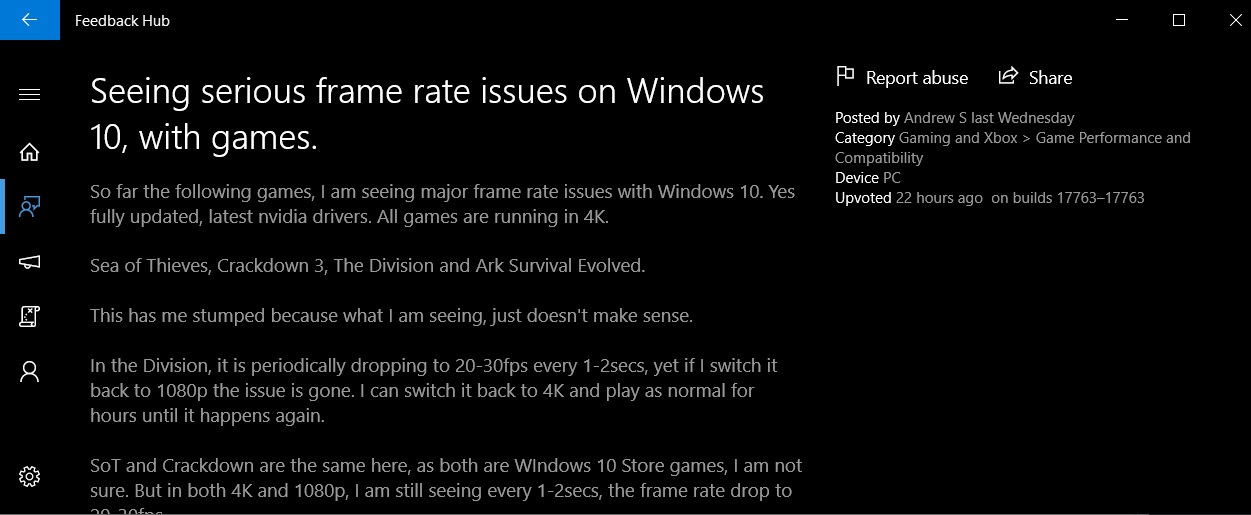 It's worth noting that users have also documented the bug on Feedback Hub, Twitter and as well as other forums.
Microsoft responds
In a Reddit post, Microsoft's Windows Kernal engineer noted that this bug is not related to Retpoline and he recommends users to report the bug on Feedback Hub.
It appears that you can simply uninstall Windows 10 KB4482887 to fix the issue and delay the updates until a hotfix comes out.