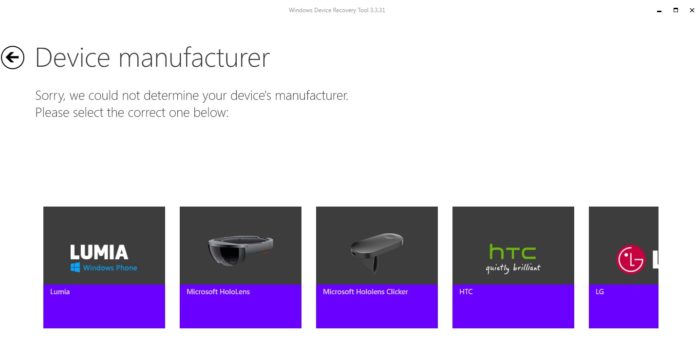 Back in 2015, Microsoft renamed Windows Phone Device Recovery Tool to Windows Device Recovery Tool and later the company also added support for HoloLens. Windows Device Recovery Tool (WDRT) is a desktop recovery tool for Windows Phone device and HoloLens.
WDRT provides users with a way to recover their phones back to a stable version of Windows 10 Mobile. Similarly, if you end up bricking your HoloLens, you can also use the tool to recover the headset.
It looks like Microsoft's firmware servers are down at the moment and the Windows Device Recovery Tool is no longer available for download, making it impossible for users to recover their phones.
The glitch at Microsoft's end has resulted in the removal of the Windows Device Recovery Tool from Microsoft's website. It's quite a big deal as, without WDRT, it's impossible to recover Windows Phones and first-generation HoloLens.
Microsoft Firmware server is now dead
That server served Lumia, HP, Hololens v1, Lumia dock, hololens clicker, blue etc firmwares

— Gustave Monce (@gus33000) February 24, 2019
As Microsoft's firmware servers are also not working, if you have WDRT installed, you may not be able to recover your handsets. Same goes for HoloLens v1.
"Something must be up with the WDRT no longer available for download. I'm hoping it's just maintenance. I realize MSFT killed off Windows Phones, but some of us use them still…that and my HoloLens 1 needs updating," a user complained to Microsoft's support team on Twitter.
"I just assumed they accidentally removed the files. side note, the existing WDRT installer is supposed to pull driver installers form Microsoft servers and since it can't anymore, WDRT fails to install," another user noted on Twitter.
@MicrosoftHelps hi there. does WDRT pulled down foreva? it doesnt works.

— Yves Genie (@hqqddy) February 25, 2019
HI Dona, why isn't WDRT not working? What gives? any ideas?

— Jesse (@1976charger) February 24, 2019
Appears to be a temporary glitch
Microsoft is supposed to support Windows Phones until late 2019, so it is likely that the outage is a glitch and it will be addressed soon.
I have mail out to a few folks inquiring on this.

— Jason (@NorthFaceHiker) February 25, 2019
Is Windows Device Recovery Tool working for you? Let us know in the comments below.