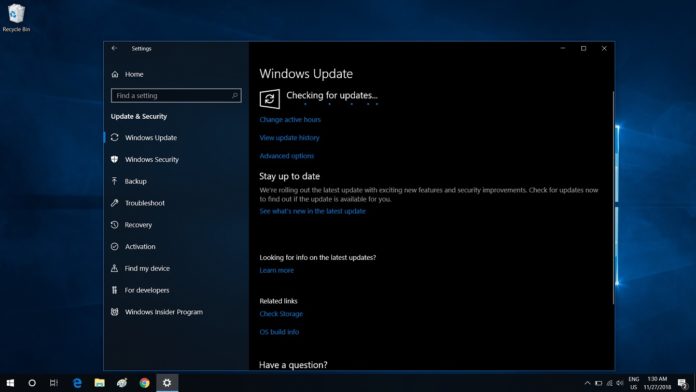 It looks like Windows 10 KB4023057 has been re-released and the update appears to be causing unexpected issues on some machines. We have come across some isolated reports from Twitter and Reddit which revealed that Windows 10 KB4023057 installation fails.
A thread on Reddit claims that the system downloaded the update but the installation of KB4023057 failed with error 0x80070643.
According to the support document, Windows 10 KB4023057 should show up on devices with April 2018 Update or older, and it is supposed to improve the reliability of Windows Update. In some cases, the update may make changes to important system settings and configurations. For example, it may reset network, clean up space to address all update problems.
The update was originally released in December 2018 and it has been re-released today. Windows Update is trying to install the update on devices where the update is already installed, this results in installation errors.
"Windows Update just tried (and failed) to install a "KB4023057″ update just now. I'm wondering, what on earth does it do? I can't seem to find a post on the official Microsoft website about it, and any news articles I find of it (from MONTHS ago) talk about it messing with files in the user directory and network settings," the Redditor explained.
Similarly, there is a thread on Microsoft answers forum that also documents the problem.
Some users have also documented the problem on Twitter. For example, David Gardiner says that the update failed to install with the following error:
2018-11 Update for Windows 10 Version 1803 for x64-based Systems (KB4023057) -Error 0x80070643.
No change… Took a look in Event Viewer and found this entry:

Product: Update for Windows 10 for x64-based Systems (KB4023057) — A later version of Update for Windows 10 for x64-based Systems (KB4023057) is already installed. Setup will now exit.

— David Gardiner (@DavidRGardiner) January 17, 2019
Similarly, another Twitter handle pointed out that there is something wrong with this update.
Windows 10 KB4023057 installations fails with error 0x80070643
As noted above, Windows is trying to install the update again on devices where it already exists. In our testing, we found that uninstalling the update package temporary addresses the problem.
It's worth noting that this update won't show up in Windows Update history, instead, it shows up in Apps & Features setting page.
How to fix Windows 10 KB4023057 error 0x80070643
To address the error 0x80070643 caused by KB4023057, you need to uninstall and reinstall that particular update. We've outlined the steps below that would show you how to uninstall that update to get your system back to the normal condition.
As shown in the screenshot below, open the Settings app, navigate to Apps & Features page and find the package.
Tap on the listed packages and click 'Uninstall' to remove them from the system.
Reboot the PC.
Open Settings > Windows Update and check for updates again.
If the update shows up again, install it and it should not throw any errors. In case the update is already listed on the screen, click on the retry button and it will install without any errors.
Uninstall update via Control Panel
Microsoft hasn't moved everything to the Settings app and some packages like the above one are still accessible via the Control Panel. In case the above method fails, you can navigate to the Programs and Features page in the Control Center to remove the update and reinstall it via Windows Update.
The update fiasco
For some odd reasons, the system is trying to install an older version of the update. The users are experiencing the aforementioned error due to the fact that package is already installed on their machines.
It's also important to understand you won't experience this glitch if your PC is on the October 2018 Update. Earlier today, Microsoft revealed that more devices are now allowed to install the Windows 10 version 1809 (October 2018 Update) as all known issues have been addressed.
Microsoft hasn't confirmed the reports of failed installation yet, but the issue is not very widespread and only a limited number of machines are experiencing it.