AdDuplex's latest report has revealed that Windows 10 April 2018 Update is now on 90% of Windows 10 PCs. What's more important to know is that the report is based on a data collected from around 5,000 Microsoft Store apps running AdDuplex SDK v.2 (and higher).
Microsoft rolled out the Windows 10 April 2018 Update in late April this year, and it looks like adoption is improving at a very fast pace. It's not an official data from Microsoft and there's a chance that the users who use AdDuplex-powered Windows Store apps are tech savvy but still, the growth chart is pretty much interesting.
The A18U added almost 3% to its share over the month and Windows 10 Fall Creators Update is on the second position with market share of 5.7%. According to AdDuplex, Windows 10 CU (1703) is on 1.7% PCs and Windows 10 AU (1607) still powers 1.8% of the devices.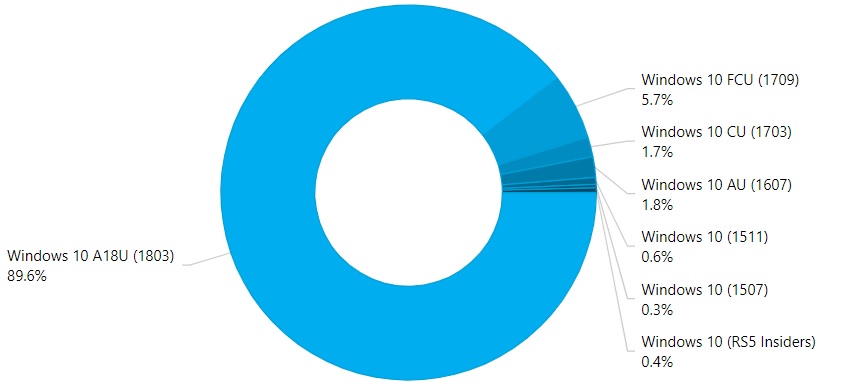 Again, AdDuplex's numbers only represent the devices that are running apps with AdDuplex ads and SDK so it's not a complete market share of the ecosystem.
Next month Windows 10 October 2018 Update will begin rolling out and users will upgrade to this version of Microsoft's OS from older versions. That means we'll see a change in the mix next month and the market share of A18U will start dropping.
Surface Pro (2017) is now the second most popular and Surface Pro 4 holds the first position and Surface Go has doubled its share since last month, according to AdDuplex.
Windows 10 October 2018 Update is arriving next week
The work on Microsoft's next big release to its desktop has completed and we're expecting the update to arrive next week.
The shreds of evidence that we discovered recently suggest that the next feature update called 'October 2018 Update' will arrive as early as next week.
Microsoft has already completed the development of Windows 10 October 2018 Update and the Build 17763 has been signed off as the RTM candidate.
After rolling out the Windows 10 version 1809 to the general consumers, Microsoft will start working on Windows 10 19H1 which is expected to arrive in the first half of 2019, presumingly April.
Windows 10 19H1 is likely to bring the highly anticipated Sets interface to all apps and tools including the File Explorer.