Microsoft has reportedly delayed the launch of a foldable mobile device codenamed Andromeda but this doesn't necessarily mean the software giant isn't thinking of ways to improve the project. Yesterday, we spotted a patent detailing the dual-screen device with video calling.
Today, we have discovered yet another patent for a foldable device filed on January 24, 2017, by Microsoft. The patent titled "Hinged device" was published by U.S. Patent and Trademark Office last week and it also shows off a foldable mobile device with a hinge. It's worth noting that the patent is identical to the ones published earlier this year.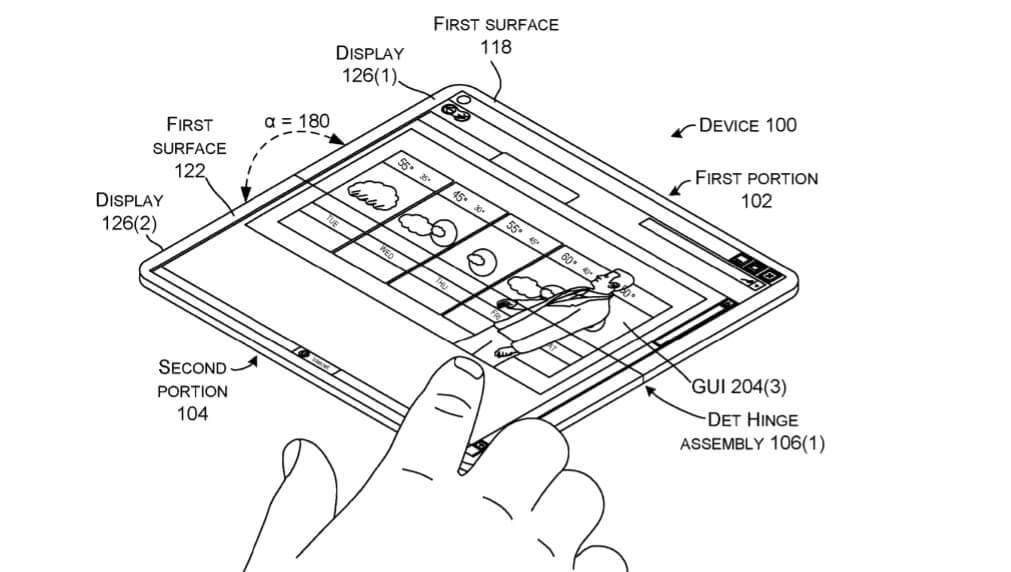 The patent explains a hinged device that features two displays. The closed/booklet form factor could be very compact and it may fit in the user's pocket. The patent also shows off the device in a laptop form factor with one portion featuring the virtual keyboard and second one has a GUI.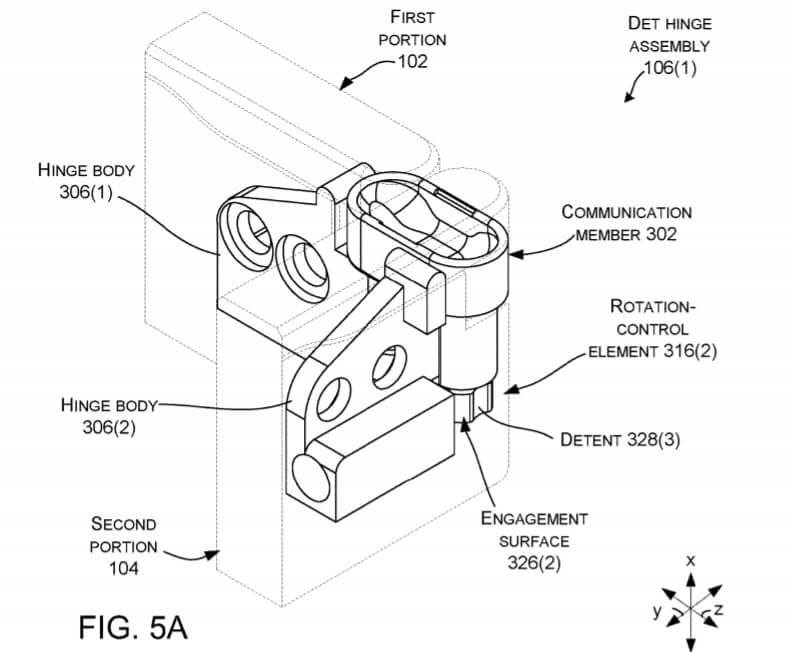 If the device is unfolded and is in flat mode, the GUI will adapt to the screen and the resolution will increase. Just like any other patents, this one also focuses on hinge found in devices like Microsoft's Surface Book. The hinge plays a vital role to ensure the device could be used in multiple form factors such as a laptop, booklet and mobile.
"The present concepts relate to devices, such as computing devices employing hinges that can rotationally secure first and second device portions relative to a first hinge axis that relates to the first portion and a second hinge axis that relates to the second portion. The order of rotation and/or extent of rotation can be controlled for the two hinge axes. For instance, rotation could start around the first hinge axis, switch to the second hinge axis, and then return to the first hinge axis. The rotation can be controlled through the use of detents associated with the first and second hinge axes. In some cases, relative sizes of individual detents can be selected to affect the relative order of rotation. Thus, from one perspective the hinges can be viewed as detent-priority determinant hinges. The detents can control the order of rotation relative to the two hinge axes, extent of rotation relative to the hinge axes, and/or provide resistance to maintain particular orientations of the first and second portions," Microsoft explains.