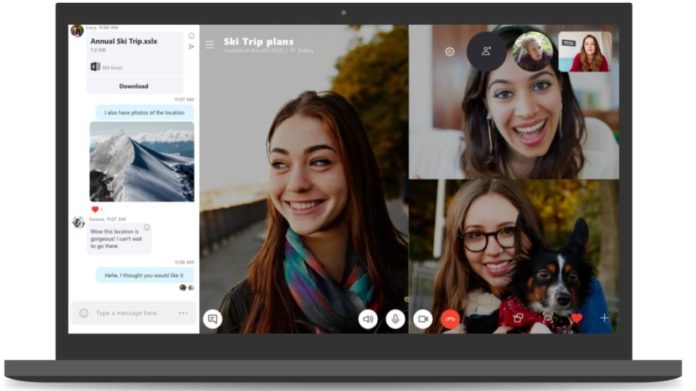 Microsoft yesterday announced a big update for Skype on Windows 10 and the company also shared some of the improvements that would arrive in summer. Microsoft also announced that the classic version of Skype would be retired in the fall and the users would need to switch to the modern version of Skype.
Microsoft says that they're retiring the classic version of Skype in favour of version 8.0 and you would need to update the app before the September 1 deadline.
Skype 8.0 is worth the upgrade as comes with a series of improvements like photo and video sharing, HD video and screen sharing calls, chat media gallery and more.
"As we roll out improvements, there comes a time when we must shut down older services and application versions," Microsoft said in a blog post.
"This is done to ensure that all customers have the best possible Skype experience, and that there are no quality or reliability issues resulting from old technology and new technology interoperating. We know change can be hard, so we're working to make the update as simple as possible," the technology firm explained.
The interface of Skype is more or less same so it shouldn't be a dramatic change for most of the users and it also includes a larger set of features.
What's next for Skype on Windows and other platforms
Free HD video and screensharing calls—Get together with 1 or 24 of your friends, families, or colleagues no matter what device they use Skype on. See everyone in high definition, view 1080px video, and share things together.
More productive messaging—Express how you're feeling by reacting to messages in conversations. Use @mentions to easily grab someone's attention in a group chat. Simply type the @ symbol followed by their name to trigger a notification for them. You can easily find all your @mentions and get back to people in the notification center.
Chat media gallery—Looking for the link or photo sent a few weeks ago? Chat media gallery makes it easy to find files, links, and photos that were shared in a conversation, whether it was yesterday or last month. No more scrolling through your chat history—just click Gallery under the chat name to see all the files, links, and photos in the conversation.
Share photos, videos, and other files—Share up to 300 MB at a time over Skype just by dragging and dropping files into your conversation window.
Skype version 8.0 rolling out on iPad—Features such as quoted messages, personalized themes, chat list, @mentions, and more are now available on the Skype for iPad experience.
Read receipts—See at a glance who's read your messages. Once someone reads your message, their avatar appears beneath it in the Skype chat—enabling you to see how far someone has read in the conversation without tapping every message. This is especially useful in group conversations to help you make sure everyone is caught up with the latest messages.
Private Conversations—Have end-to-end encrypted Skype audio calls and send text messages or files—such as images, audio, or videos—using the industry standard Signal Protocol. Messages and notifications in these conversations will be hidden in the chat list to keep the information you share private. More information can be found at the Private Conversations FAQ.
Call recording—Take call snapshots to the next level with call recording. Capture a special Skype calls with loved ones or record important meetings with colleagues. Call recording is completely cloud-based, and as soon as you start recording, everyone in the call is notified that the call is being recorded—so there are no surprises. Call recordings combine everyone's video as well as any screens shared during the call.
Profile invites—Easily start a conversation or call with people who aren't on Skype yet. Simply go to your profile in Skype and tap the Share Profile option to invite friends to join you on Skype.
Group links—Quickly get a group together on Skype, for either a group chat or call. Create a new group and tap the Invite More People option to share a link to your group. Anyone you send the link to can join your group quickly and simply.