Microsoft pulled the plug off its mobile OS – Windows 10 Mobile last year with Windows 10 Creators Update being the last major OS release in conjunction with the desktop build. Ever since Microsoft has been only releasing builds with security and bug fixes with no new features.
However, a Microsoft Store employee claims that the Microsoft engineering team is actively working on "a new line of phones". And no, it's not a part of the Lumia series (for some obvious reasons) neither we're sure whether the Surface team is behind it. What we know, however, is that this new edition of Android-powered phones will be sold on Microsoft Store.
It's likely that this is a mistake and we cannot verify the authenticity of the claims. There's a possibility that the employee is referring to Microsoft Edition Android phones from third-party OEMs. The fact that the devices will be powered by Android could be his speculation as well. Another Microsoft Store employee says that the agent probably had inside information and nothing is official at the moment.

We've lately seen Microsoft pushing its suite of apps on Android. Last year Microsoft bought Edge browser to Android along with Microsoft Launcher. This year Microsoft refreshed its MSN News app with Microsoft News with the same theme and logo that was previously found on Windows 10.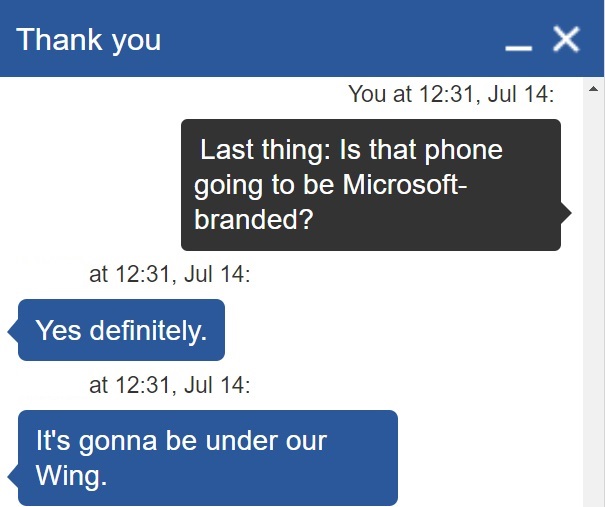 Along with apps, Microsoft has also been pushing a lot of its services on Androids that work with Windows 10. The best examples we have right now is Microsoft Graph and Windows Timeline along with Cloud-clipboard which is due this fall. Microsoft also showed off Your Phone app for Windows 10 that somewhat mirrors phone features with Windows 10 PC.
Again it's worth mentioning that this is entirely a rumour and nothing is official yet. Microsoft may scrape this idea at the last minute and we've seen this notion before.
What do our readers think? Would you ever by a Microsoft branded Android phone?
Disclaimer: The information contained in this article is based on a claim made by a Microsoft Store employee. Windows Latest makes no claims, guarantees about the accuracy or completeness in this article, and shall not be held responsible for anything we say in this article.