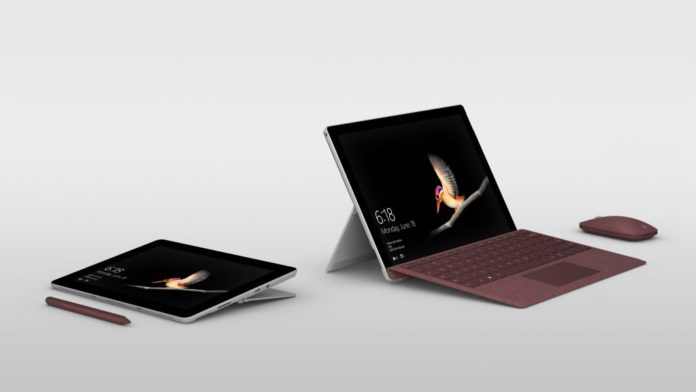 Microsoft today started taking pre orders for its Surface Go device on its website. The company plans to begin shipping the devices from August 2. The Surface Go is the cheapest device launched by the Redmond Giant and is basically aimed for the education sector.
The devices comes with Windows 10 in S Mode pre installed and is available in two configurations. The entry level configuration comes with an Intel 4415Y processor with 64 GB of Storage and 4GB of RAM and the second includes the Intel 4415Y processor and has been packed with 128GB of storage and 8GB of RAM.
Both the devices are sold at $399 and $ 549 respectively. The Surface Go devices can be pre ordered online from the product's page on the Microsoft Store.
The Surface Go has been launched keeping in mind the education sector and hence you will not be able to play games on the device. Surface Go comes with full experience of Windows 10 when upgraded from S Mode and users can also take advantage of the premium Surface experience.
Along with opening the Surface Go device for pre order, Microsoft has also started to take pre orders for the new Type Covers. The new Type Covers can be pre order directly from the company's website.
The Type Covers are being launched in four different colors Burgundy, Platinum, Cobalt Blue and Black. The Black cover is priced at $99 while the other three covers have been priced slightly higher at $129.
Burgundy, Platinum and Cobalt Blue Type Covers are made of special microfiber material, Alcantara and hence have been priced slightly higher than the Black Type Cover. The Type Cover similar to the Surface Go device are expected to be made available next month, August 2nd to be precise.
Microsoft is also taking pre orders for its colorful Surface Mobile Mouse which is expected to be made available on August 2nd along with the Surface Go and Type Covers.
The Mobile Mouse comes with a sleek low profile design and connects over Bluetooth. The Mobile Mouse can be purchased in three colors Burgundy, Platinum and Cobalt Blue for a price of $34.99.
If you are looking to purchase the Surface Go along with the Type Covers and Mouse then you need to hurry and pre order your device by going to Microsoft's official website now.
Pre-order Surface Go from here.